Sure, we're proud of our roadways and our roundabouts. But there also are plenty of ways to travel Hamilton County that don't require a car.
Check out the winding trails, popular waterways and sky-high adventures. Some excursions are seasonal, others year-round. But all are great ways to take in the sights and sounds of Hamilton County … without even stopping for gas.
1. Take a hike
The paved Monon and White River Greenway trails are favorites of hikers and their furry friends. Hike these trails for easy access to shopping, dining and local parks.
In Hamilton County, the Monon Trail starts at the 96th Street trailhead in Carmel and stretches more than 20 miles north, through Westfield and Grand Park to Sheridan. The White River Greenway starts just off the Historic Noblesville Square and stretches about three miles north, to Potter's Bridge Park.
Or enjoy any of the 62 parks in Hamilton County, where you can hike on prairies and in wetlands and nature preserves.
2. Push the pedals
Enjoy the trails and parks by bicycle, and take advantage of Pedal Perks from local retailers during select months. Not sure where to go? Check out these trail maps.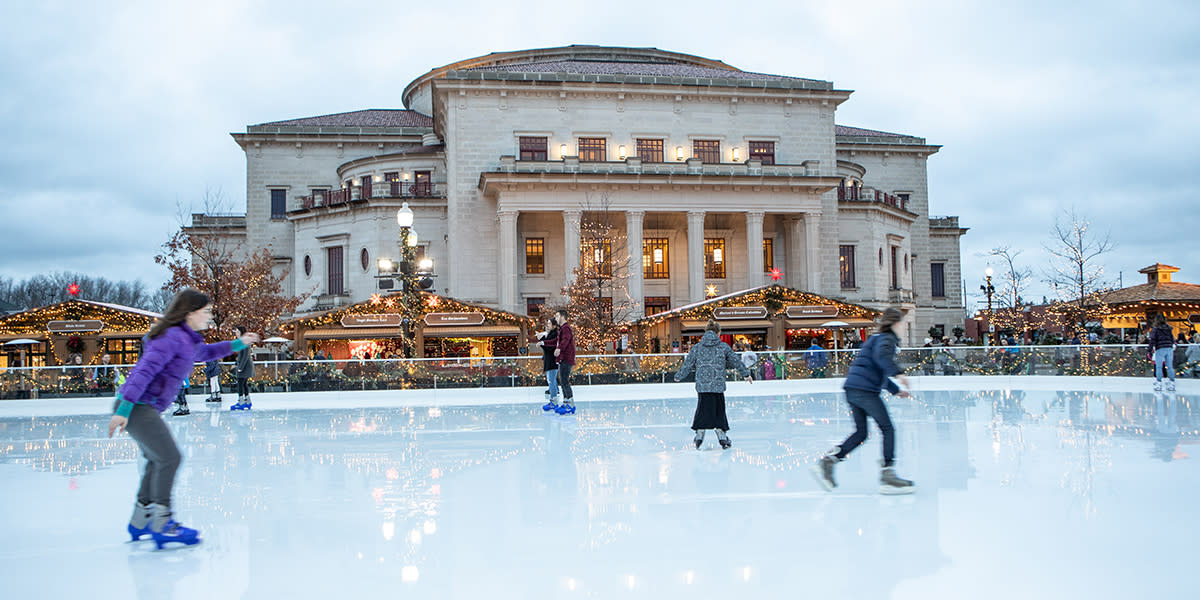 3. Lace 'em up
Give rollerblading a whirl out on the trails.
Or try lacing up something different on your feet: ice skates. Whether you're looking for indoor options or wintertime outdoor skating, Hamilton County has you covered. Visit indoor rinks at Carmel Ice Skadium and Fuel Tank at Fishers. Outdoor sites include Hamilton Town Center and Federal Hill Commons in Noblesville and the Ice at Center Green in Carmel during the winter months.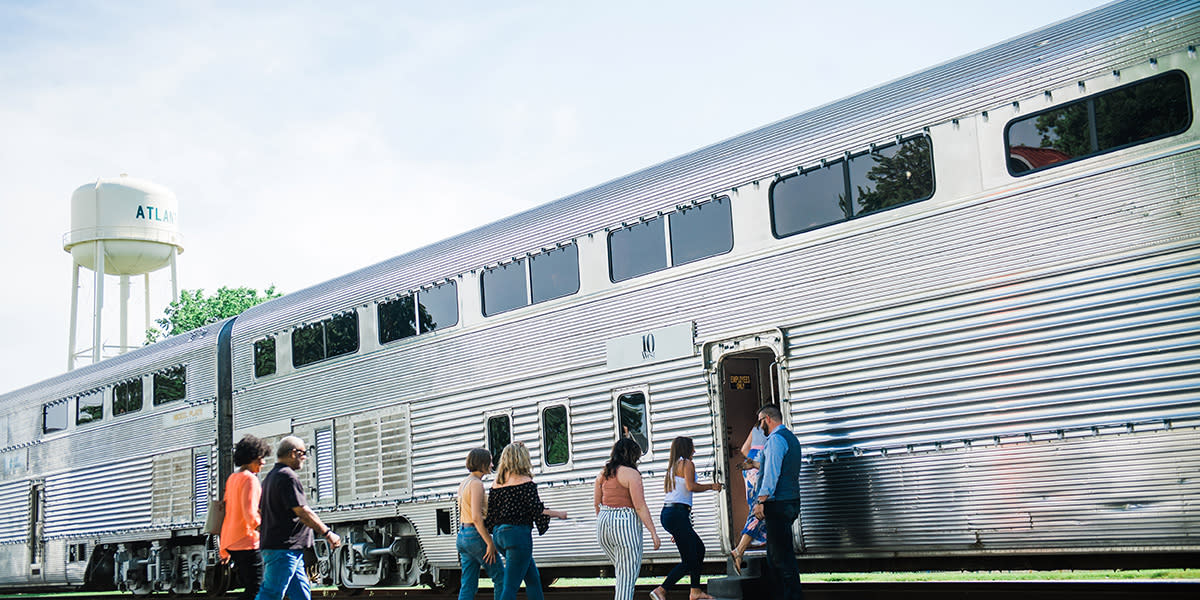 4. Catch the train
All aboard the Nickel Plate Express! Travel 12 miles of track through Atlanta, Arcadia and Cicero, with family-friendly train excursions scheduled throughout the year. Don't miss themed rides like the Pumpkin Express, Wizard Express and Reindeer Ride Express.
5. Head to the sky
Take your journey to the air with treetop trails and ziplining at Strawtown Koteewi Park in Noblesville.
Enjoy a balloon ride aboard the 1859 Balloon Voyage at Conner Prairie in Fishers.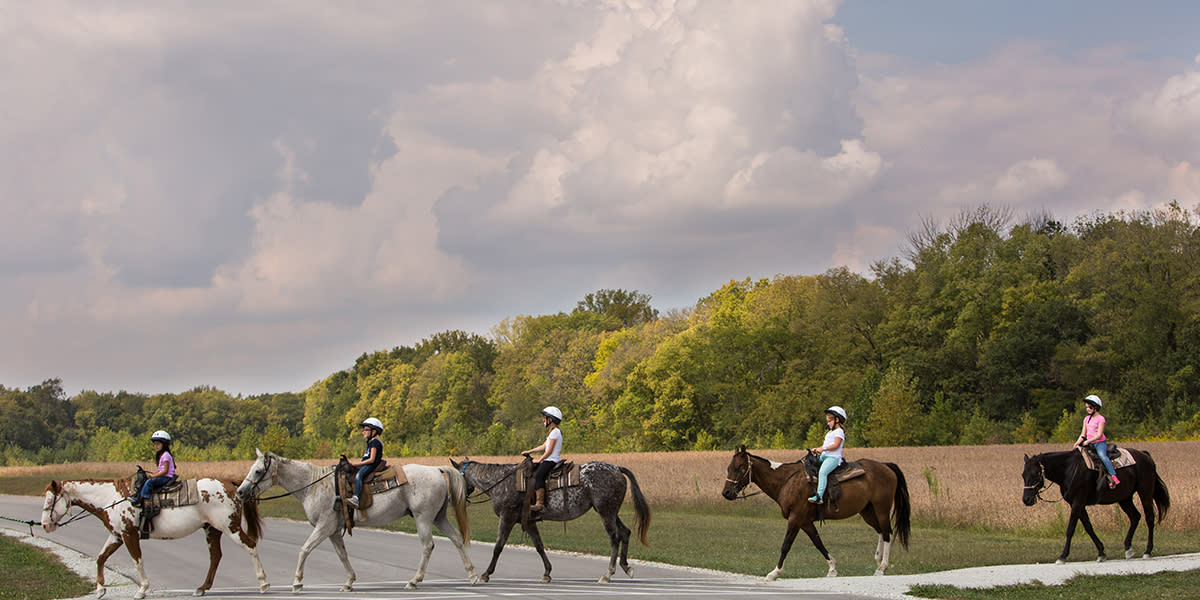 6. Grab a saddle
No experience is necessary to travel by horseback at K-Trails Equestrian Adventures, located at Strawtown Koteewi Park. Depending on age and skill level, choose from guided rides, sunset rides and pony rides.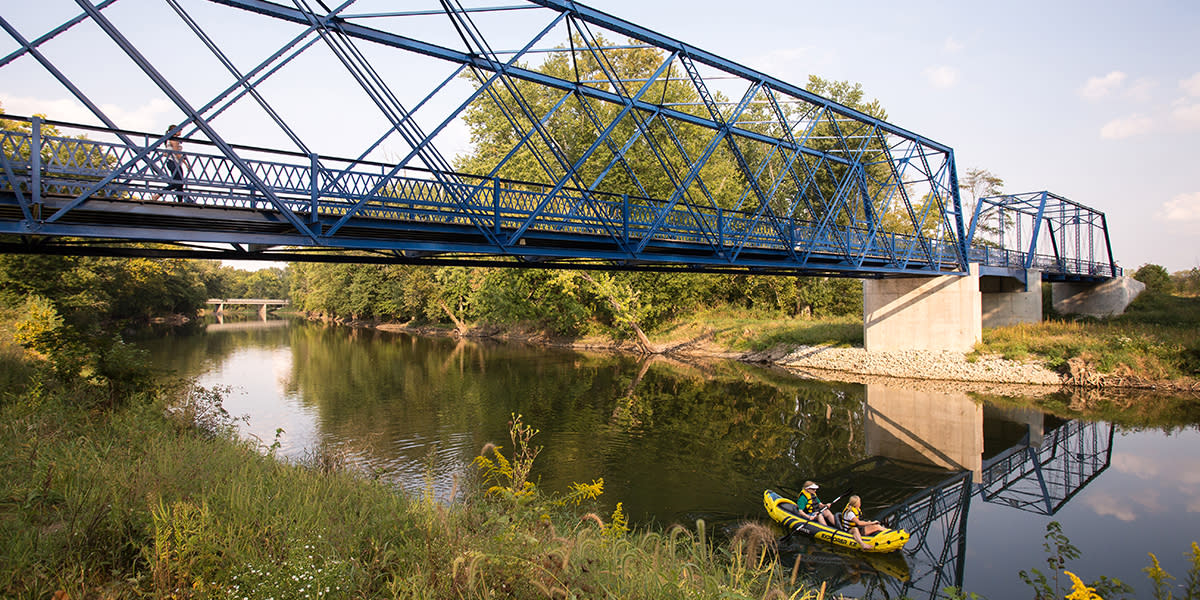 7. Hit the water
Enjoy boating on Geist and Morse reservoirs. Or head to White River Canoe Company in Noblesville, which offers nine trips along the river by canoe, kayak or river tube. Keep your eyes peeled for herons, hawks, turtles — and maybe even a bald eagle.
Saxony Lake & Beach in Fishers also offers kayaking and paddle boarding to get you around.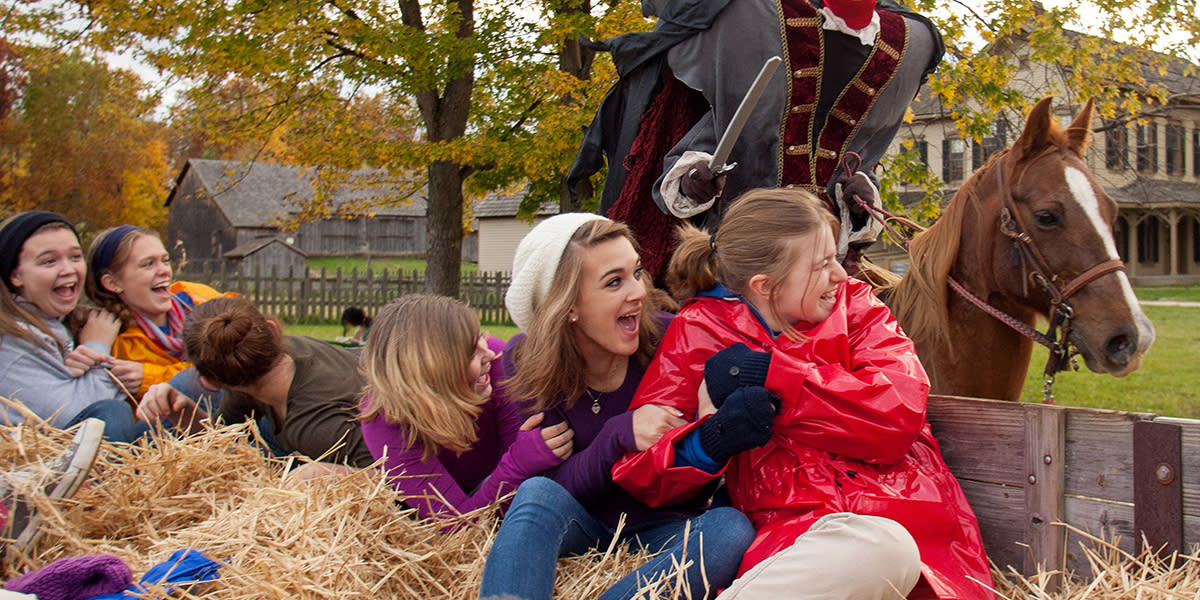 8. Travel by wagon
How about taking a hayride? Conner Prairie offers rides as part of its Headless Horseman activities each fall and during A Merry Prairie Holiday in the winter. Or try rides through Russell Farms Pumpkin Patch and Stuckey Farm Orchard and Cider Mill in Sheridan. Take a wagon to select a Christmas tree at Spencer Farm in Noblesville.
9. Navigate a maze
Wind your way through corn mazes at Conner Prairie's Headless Horseman, Russell Farms Pumpkin Patch and Stuckey Farm Orchard and Cider Mill.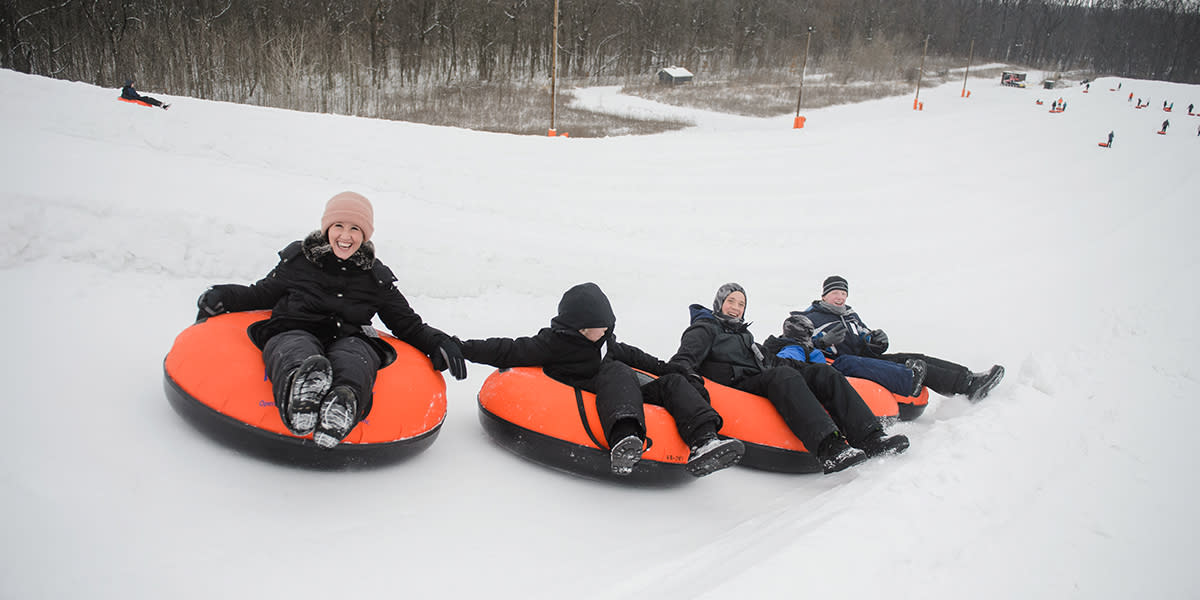 10. Find a hill
Winter calls for sledding and snow tubing. At Koteewi Run Seasonal Slopes, you'll snow tube down the length of more than two football fields. Or head down the Polar Bear Plunge dry snow tubing hill at Conner Prairie as part of A Merry Prairie Holiday.
Zoom along by sled at favorite spots such as Flat Fork Creek Park in Fishers, West Park in Carmel, Simon Moon Park in Westfield and Forest Park in Noblesville.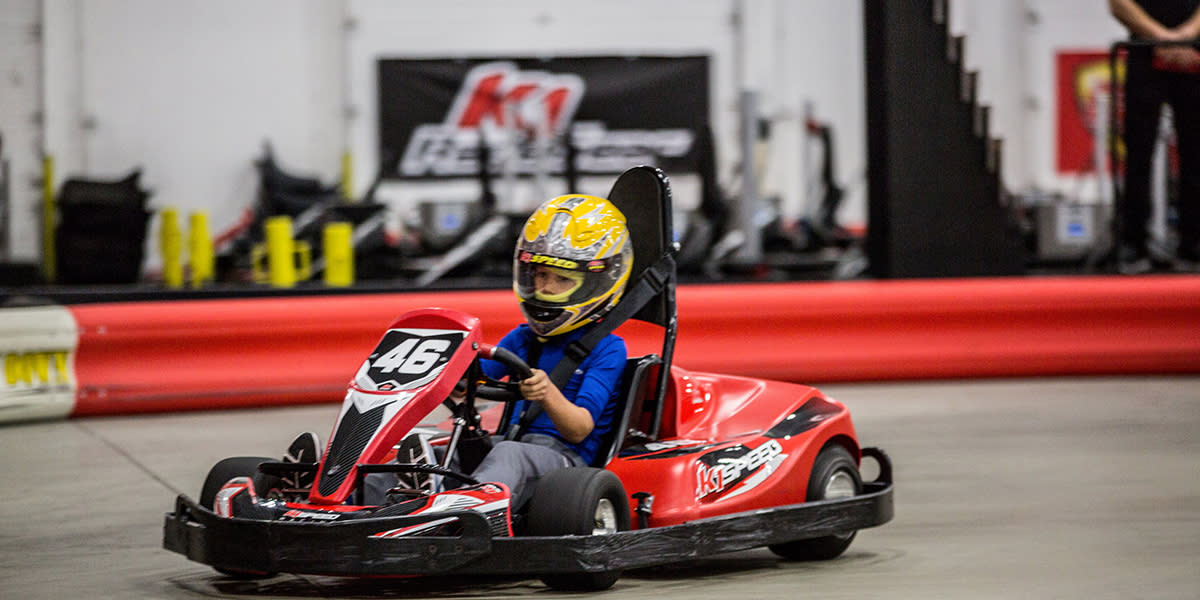 11. Win the race
Or you can travel by go-kart. Hamilton County is home to K1 Speed in Fishers, with high-speed indoor karting and authentic racing memorabilia, as well as Fastimes Indoor Karting.
Whether you choose something on this list, or try something different, let us know how you're traveling Hamilton County! Post your stories and pictures on Facebook, Twitter and Instagram, tagging us @VisitHamiltonCo and using #VisitHC.