From artful topiaries and gardens to concerts under the stars and more, this weekend in Hamilton County has no shortage of summer fun. Adults will love the Amp After Dark concerts, and kids won't want to miss the Fireside Tales in Sheridan. Read on for weekend getaway ideas and check out our online calendar for even more.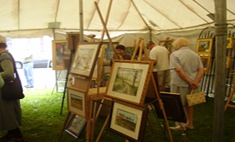 1. A staple in the art community for 6 years now, the Gathering of Plein Air Painters begins this weekend! Artists from all over will be visiting the Noblesville area and around the county to create works of art while painting outside (aka plein air). You can visit the artists and see a show of the final pieces at the Hamilton County Art Center.
2. Speaking of art, more artsy activities abound in Noblesville this weekend with the month-long Nickel Plate Arts Festival. Go to the First Friday Open House, visit the pop-up art sale and stage on Saturday, make crafts and much more. Plus you can take caboose rides around the square!  
3. Appreciate art of the green thumb variety during Gardens & All Things Green events in the next few weeks. This weekend you can meet Pearl Fryar of "A Man Named Pearl" documentary fame. Mr. Fryar is a noted topiary artist who on Saturday evening will be at the Historic Ambassador House & Heritage Gardens. Sunday he will be doing topiary demonstrations at the Nickel Plate District Amphitheatre- a sight that you won't want to miss!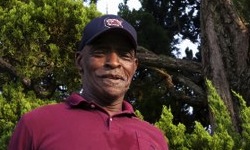 4. It's First Friday time again in Noblesville! This month's theme is Nickel Plate Arts fun. Enjoy artful activities on the square, caboose rides, and more. Check out an eatery on the square and don't forget to pop into some of the shops. On Saturday don't miss the Old Mill Festival that will have over 50 vendors with arts, crafts, antiques, and more.  
5. If you haven't been to the Nickel Plate District Amphitheatre in Fishers yet, you're missing out. This weekend is the perfect time to check it out. Thursday evening catch a concert featuring Austin Webb. Friday leave the kiddos at home for the more adult-focused Amp After Dark concert series. Saturday evening brings a special show with Fishers Music Works too. So pack a blanket and bring some friends to enjoy live music!  
6. Delight your ears even more with the music events in Carmel. Jazz on the Monon begins this Saturday evening at 6 p.m. It's a great time to explore the Carmel Arts & Design District! Plus you can also hear the croonings of Midwest School of Voice students the same evening at their Summer Showcase.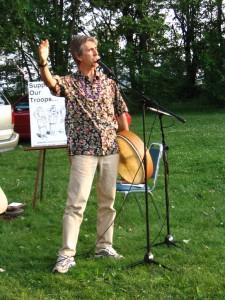 7. Head north to Sheridan on Saturday for a fun-filled day of kiddo-friendly activities. The annual Fireside Tales event begins at 5 p.m. and features a magician, music, and story-telling. The Critter Showcase is also happening- here you can catch a glimpse of exotic animals, baby animals and more.  
8. This Thursday brings the beginning of the Clay Terrace Summer Concert Series! Shows start at 7 p.m. and are each Thursday through July 17. Grab some grub before the show at a restaurant located at the mall like Petite Chou, Biaggi's, or Ted's Montana Grill.  
9. BONUS!  This week we're giving away tickets to see Backstreet Boys & Avril Lavigne LIVE at Klipsch Music Center!  Enter here: