The calendar is loaded with fun and unique experiences for the next few days, so make sure to take full advantage of this last weekend in July. Theatre and music are the stars of this weekend, so make sure to plan ahead and get tickets. Remember to check the event calendar to get the scoop, because there are still great things to do that aren't mentioned below. Okay, this just might be the best weekend we've had in a while!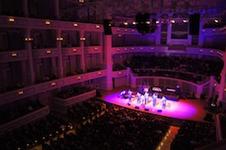 1. I just need you now... (tickets to the Lady A concert, that is!) Tonight's concert at Klipsch Music Center is sure to draw crowds. Try to snag some lawn seats and sing along! On Friday and Saturday, the great music continues at Marsh Symphony on the Prairie. This weekend's concert pays tribute to the famous English group, The Beatles.
2. There are so many music events this weekend that they couldn't fit into one section! If you haven't been to Carmel's musical gem, The Palladium Center for the Performing Arts, get seats to the "Great American Songbook High School Vocal Competition". Also in Carmel, Jazz on the Monon returns to feature music by touring jazz artist, Monika Herzig. Make sure to arrive early to get pizza from Bazbeaux to enjoy during the concert.  
3. Just gotta kick loose! Get tickets for the opening weekend of Footloose at the Booth Tarkington Civic Theatre. This weekend is also the start for the Belfry Theatre's Godspell performance plus "I Married An Angel" continues from Carmel Community Players.
4. The longest running outdoor Shakespearean event of Central Indiana starts its 21st season this weekend. Go to Seminary Park in Noblesville on Thursday, Friday, and Saturday for the free showings of Shakespeare's "As You Like It". Shakespeare in the Park is always complete with full costumes and sets, so it's sure to impress.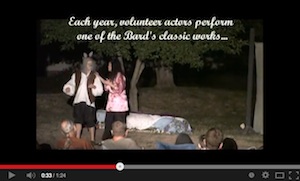 5. This weekend is also a great time to learn a new skill at a historic location. Conner Prairie offers many opportunities to learn a cultural craft. This weekend, visit Lenape Indian Camp and discover how beads were an important part of the fur trade and piece together an attractive bracelet to take home. There is also the option to create your own beads out of clay at this "make and take" activity.
6. Salads are a refreshing meal for summer, but it is easy to get stuck in a rut with the same recipe. Gisela Reibel, Master Gardener and Charter Member of the Indianapolis Herb Society, can help with that! Learn her secrets of creating "Savory Summer Salads" tonight at The Historic Ambassador House. Light snacks, along with samplings of her creations, are provided. The best part is that it's only $5 or free for garden club members!  
7. FREE MOVIES! Make sure to visit Asa Bales Park Friday night for a free double feature! Bring lawn chairs and popcorn to watch Cloudy with a Chance of Meatballs 2 (PG) and Man of Steel (PG-13) in the park. Parking is available at Westfield High School. 
8. All aboard! Both of the Indiana Transportation Museum's main train excursions are happening this weekend, The Blue Arrow, and The Hoosierland. Each train takes a different path, but they are both great ways to explore the county and find new favorite places! 
Make your weekend even better by entering to win some tickets to see either Keith Urban OR OneRepublic at Klipsch Music Center!  Winners will be announced Friday, July 25.
a Rafflecopter giveaway