Craving a lean and leafy lunch that goes beyond the garden variety? Or how about a hearty healthy dinner option?
We've got you covered. Hamilton County, Indiana is filled with restaurants offering vegan and vegetarian options. Locating what's right is a little bit like perusing the produce aisles of a fresh market – diners only need to know three things: where to go, what to ask for and what they are craving.
Where to Go
Think about local options.
Pure Eatery in Fishers has been in business since June 2010. Co-owners Dave Andrus and Jason Jacobi bring to the table a mix of Jacobi's homegrown Iowa farm life and Andrus' restaurant management (including Pearl Street Pizzeria & Pub, also in Fishers).
The restaurant offers such options as tacos (sautéed yellow squash, zucchini, Portobello, corn salsa, black beans, sun-dried tomato hummus, cucumber and tomato-basil vinaigrette), a southwest black bean, a grilled vegetable Panini and a Fountain Square falafel.
The signature hearty falafel includes two patties served on pita with a green garnish and an herbed ranch topping. A side (such as the tangy Brussels spouts) makes this a hearty lunch. Helpful servers suggest a variety of sides including soup of the day or seasonal fruit.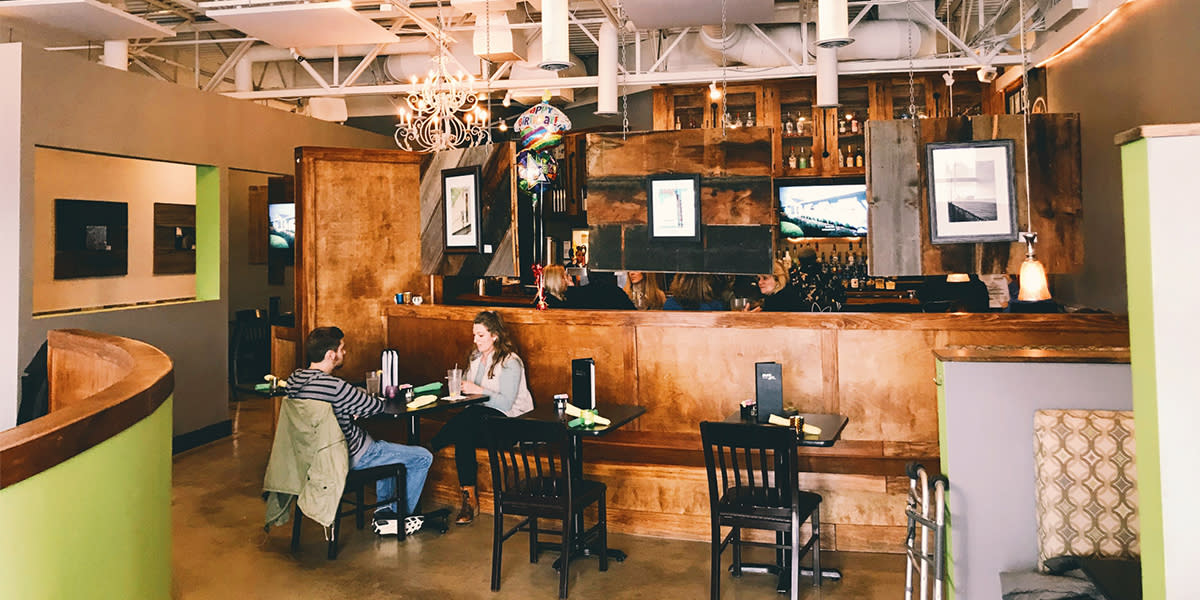 Another local option, divvy at Carmel City Center, is just steps away from the Center for the Performing Arts. Owners Kevin "Woody" Rider and Richelle Rider, who also operate Woodys Library Restaurant in the Carmel Arts & Design District, pride themselves on offering their own twist on trendy dishes. One of their most popular vegan dishes is blistered Brussels sprouts with red pepper flakes, pine nuts and roasted garlic. Another is squash tots with a lavender agave Dijon dipping sauce. Other house favorites are roasted vegetable bisque, raw root veggies and a generous vegetable charcuterie platter.
"My husband thought I was crazy putting the Brussels sprouts on the menu. Usually they are prepared with maple and bacon. We try to be trendy but we also try to hit it with our own ingredients. In this case, there's no bacon – our secret is they are just the right amount of crispy chard," said Richelle Rider, named one of "Indy's Top Ten Chefs."
What to Ask For
Taste is personal, said Rider. "A lot is about what mood you are in. Do you want something spicy, something with texture?" With everything made to order, dishes can easily be modified for individual preferences. Want a vegan option of buffalo cauliflower tacos? They will omit the ranch or blue cheese.
What Are You Craving?
Thinking about a crusty slice of pie? The Mellow Mushroom in Carmel can fill the bill with a specialty pizza. The "Great White," offers an olive oil and garlic base with sun-dried roasted tomatoes, provolone, Feta cheese, seasoned ricotta, fresh basil, mozzarella, Roma tomatoes and onions. The "Veg Out" combines a mellow red sauce base with mozzarella, spinach, green peppers, mushrooms, onions, black olives and tomatoes. The "Holy Shiitake Pie" starts with an olive and garlic base and combines shiitake mushrooms and caramelized onions, and finishes it off with garlic aioli and a spritz of black truffle oil. You can also build your own pizza from a list of vegetable ingredients.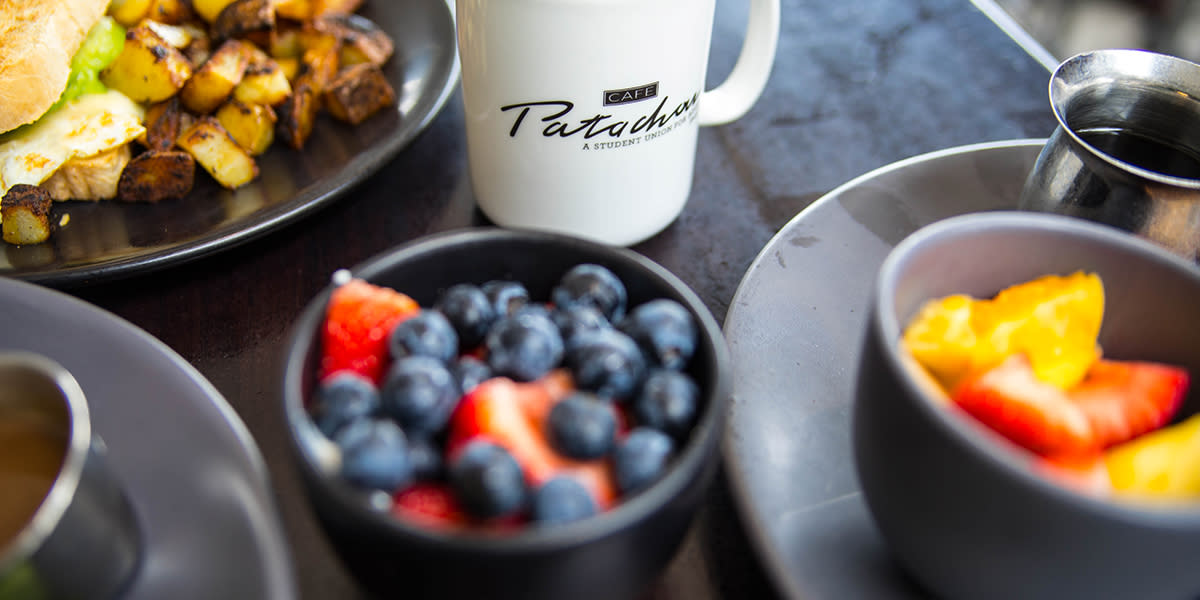 More Options
Craving breakfast at noon? Café Patachou, with two Carmel locations, has you covered. Founded by local resident Martha Hoover, the restaurant has been recognized for a host of awards including a James Beard Foundation semifinalist. Guests can choose a breakfast specialty such as vegan omelets – an open-faced garbanzo flour crepe that includes the texture and taste of black beans, tofu crumbles, arugula, avocado, salsa and spinach jalapeno pesto or a hearty Cuban breakfast that includes seasoned rice, black beans and tofu crumbles. The extensive menu includes a variety of grain options such as avocado multigrain toast and old-fashioned oatmeal. Homemade soups are always on the menu with a specialty each day of the week – split pea, mushroom, and creamy cauliflower are some of the vegetarian options.
Sure there is "meat" in the name but Mimi Blue Meatballs in Carmel offers a hearty plate of veggie balls enhanced with cilantro and fried Brussels sprouts. There's also a black bean quinoa on the menu and a signature vegan "Wonderball" that looks and tastes like meat. This restaurant named after longtime Indianapolis native Mildred "Mimi" Bluestein Kosene, also offers several vegan and vegetarian sides including linguini, creamy polenta, dirty mashed potatoes, mac and Queso, and chef's vegetables. And yes, it's a great place to dine with your meat-eating friends.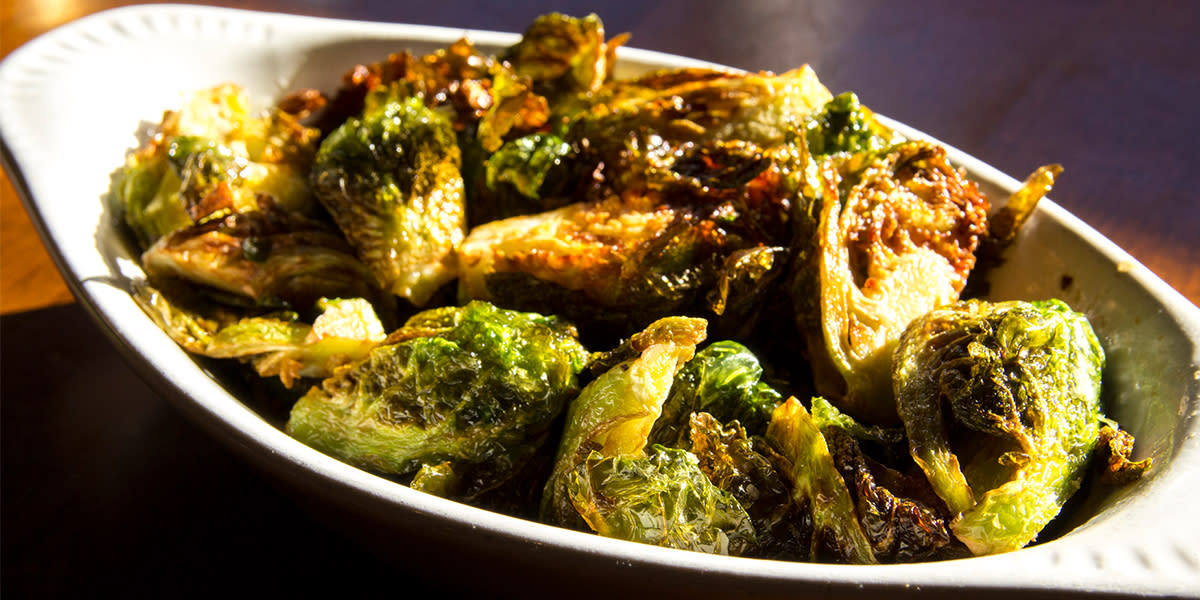 Looking for a sizable sandwich along with a brew house vibe? How about something that is truly Hoosier? Upland Carmel Tap House in Carmel offers a favorite "wheat meat" seitan tenderloin, served with tomato and red onion on a toasted vegan bun. Here's another plus to this sandwich – another local connection – the popular meat alternative was created by Ian Phillips, owner of Three Carrots Indianapolis vegetarian restaurant. There is also a Seitan Philly sandwich with Swiss cheese, red onions and mushrooms served on a hoagie bun. Diners can choose from several salad options including: Southwest tofu – mixed greens, vegan tofu, blistered corn, pickled jalapeno and garbanzo beans; a roasted vegetable option with mixed greens, grape tomatoes, cucumbers, roasted rainbow carrots, broccolini and sunflower seeds, or vegetarian potato salad.
Looking for a treat or a quiet retreat? Noble Coffee and Tea in Noblesville, is beautifully situated on the historic downtown square. The shop serves up cold and hot drinks, including teas – orange pekoe, ginger peach and hot cinnamon spice, and a variety of coffees with sweet flavors that include almond, caramel cream and hazelnut. Of note: The shop offers fair trade drinks. There's also a selection of vegan pastries.
Also in downtown Noblesville, Texy Mexy is true to its name and offers a menu filled with nachos, tamales, tacos and quesadillas. A vegan or vegetarian squash taco can be modified upon request and includes a chipotle black bean smear, spaghetti and butternut squash, Pico de gallo, Cotija Chipotle cream. There is also vegan or vegetarian tacos made with chili dry rub cauliflower, peppers and onions.
A fan favorite is Cicero Coffee Company in Hamilton County's Northern Towns. They offer a full breakfast and lunch vegan menu six days a week and vegan nights on Wednesdays. Customers love the vegan biscuits and gravy, cinnamon rolls, peanut butter pie, chocolate cake and more baked goods.
Looking for other options? Check out the restaurant section on our website. You can learn about the hottest places to eat and drink along with a host of local hot spots.