It's week #4 of our holiday shopping guide to Hamilton County, Indiana, and this week we're focusing on gifts for those who love the great outdoors.
"Some of the beautiful Bundy Ducks"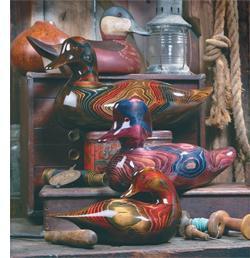 You can find the latest equipment for the outdoor sports enthusiast at Orvis in Clay Terrace in Carmel. They have equipment, clothes and accessories or those who have a passion for hiking, fishing, hunting or other outdoor activities. If you have a skateboarder, skier or snowboarder, find something "rad" at Zumiez in Hamilton Town Center in Noblesville. They have the apparel, shoes, backpacks and gear your teens want. Looking for something a little different? Give your favorite hunter a beautiful, handcrafted duck decoy from Bundy Ducks. These collectible pieces of American folk art will be a treasured gift for years to come. If you have an avid golfer on your list, many of our Hamilton County golf courses have pro shops where you can find brand name clubs and golf accessories. Plus you can get expert advice before you buy. You can give a gift to the casual outdoor type by making a donation in someone's name to the Hamilton County Parks. They even can helop you dedicate a tree or bench for that special someone. If you've missed one of our shopping guides, take a look back at our suggestions for foodies and crafters, and for gifts that create memorable moments. Tune in next week for the last installment all about last-minute gift ideas!