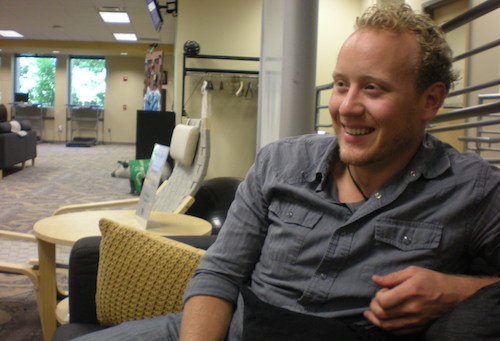 Where would you choose to volunteer with a goal of investing in the lives of youth in the community? A good question to ask may include "where do teenagers spend large amounts of their time?" The YMCA may come to mind, or clubs like the Boy and Girl Scouts of America, 4H and many notable others. But why not consider the organizations that house kids and teens all day, every day, for nine months of the year?
When people hear the word "organization," many do not include high schools in the mix of nonprofits and charitable organizations. But for Hamilton County VIP Kurtis Moss, Covenant Christian High School in Speedway is an organization where he can invest in the future of America: kids and teens.
"My wife, Carrie, and I believe in the importance of the next generation, so we use our time and resources to help out at CCHS where ever we can," the Launch Fishers executive director said. "We enjoy the opportunity to help the kids develop goals and plans for their futures."
The Moss's use shared skills and experience in event planning to plan, organize and run recruitment events where prospective students can visit the school, play games and meet other students. Carrie and Kurtis also chaperone trips for international students to experience the fullness US culture during their time staying with host families. On a smaller scale, Kurtis volunteers taking tickets at sporting and holiday events.
"Teens need positive role models," said Kurtis. "High school can be a tough time of transition, so I love be part of an organization that values those relationships."
When Kurtis is not volunteering or manning the entrepreneurial floor at Launch Fishers, he enjoys being outdoors and says the Monon Trail is his favorite place in Hamilton County.

Name: Kurtis Moss
Job: Executive director, Launch Fishers
Town: Fishers
Social: @KM12288
Birthplace: St. Louis, MO
Years in Indiana: 22
Show that you're All-IN and WIN! Share a photo of you and your family completing All-IN challenges on Twitter with the hashtag #Allin_HC or go to HamiltonCountyTourism.com/All-IN to enter!
Hamilton County Tourism has partnered with the Indiana Humanities to help encourage the Hamilton County community to complete activities to help connect them to each other and to make Indiana even better. People from all over the state have participated to complete a scorecard of 16 challenges in 8 categories. Follow seven VIPs in the community as they complete challenges and complete your own to win prize packs! Those who complete challenges can register to win either by tweeting about their experiences with the hashtag #Allin_HC or entering at HamiltonCountyTourism.com/All-In