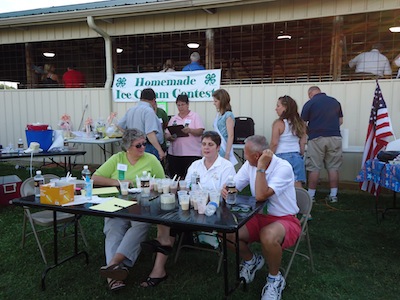 July is my favorite month of the year because it means
4-H Fair
season is in full swing! I exhibited at the fair for 12 years, then became a volunteer- so I'm going to share with you the in's and out's of having a good time at the fair. With no admission, free parking, activities, and inexpensive food, you may even want to go without hearing what I have to say!
First things first, this year's fair is open to the public Thursday, July 17th through Tuesday July 22nd. 4-H is a national organization that supports youth development through involving them in "learning by doing". The fair showcases the 4-H'ers work from throughout the year.
If you've been before, it's not just the same old, same old this year! To emphasize the "healthy living" part of the 4-H pledge, a "Color Me Green" Fun Run will be introduced and anyone can participate. There will be green paint powder, a slip & slide, and water stations to keep cool. New this year will also be a free Ice Cream Eating Contest that all ages can participate in; sign me up!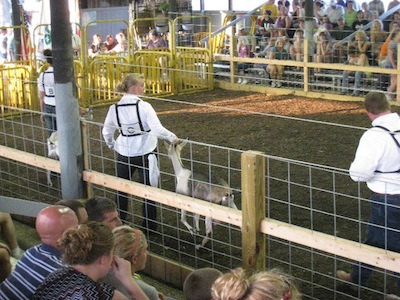 The food at the fair is sooooo good, but not greasy or over-priced, like you might imagine. A crowd-favorite ear of corn usually goes for $1.50 and most meals don't go much above $5. Most vendors are raising money to support youth education, so you can feel good about stuffing your face. My favorite is the fruit slush from the "Eat Healthy at the Fair" booth, but let's face it- I love it all. When I need to take an air-conditioned break, I always go to the Homemaker's Kitchen, where the sweetest people serve delicious home-style meals from breakfast to dinner at a great price.
It is always hot, hot, hot! Plan accordingly and go into the exhibition halls when you need a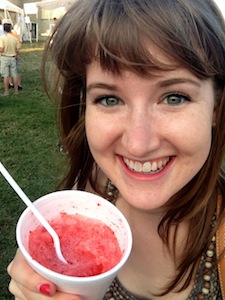 break from the sun. Make sure to check out the full event calendar before you go so that you don't miss your favorite activities. Apart from the events listed on the schedule, there is almost always something to watch in the main Show Arena. For ten years, I was at the fair each day, for almost the whole day, and hardly got bored.
Most of all, I love experiencing the fun community atmosphere at the fair. It's a family-friendly place where you might see people of all ages goofing around, but then turning to lend a hand. Don't be afraid to ask the 4-H'ers about their projects and animals- they've worked hard and usually love talking about them. If you are looking to get tips about baking a pie or caring for your garden- these 4-H'ers know what they are talking about. There are also always plenty of volunteers sporting 4-H t-shirts or council ribbons that will be happy to help if you have a question. So stop by and experience it for yourself. See you at the Hamilton County 4-H Fair!