What used to be a man's enclave, the golf course, is now a more shared world with wives and girlfriends. It is called couples golf and our Stay and Play courses host its many occasions.
It is often said that our play on the golf course shows our true nature. Our inner self is revealed in how we play; react with others, and to both the good and bad shots we hit. This observation might be applied to existing and future golf couplings.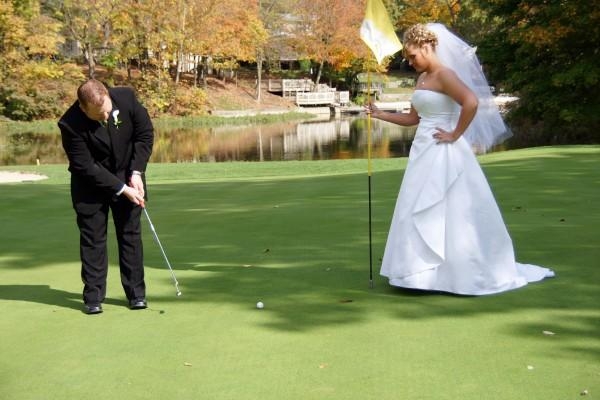 Practicing psychology without a license, I set out to inquire how this might play out in the popularity of Hamilton County's couples golf events. 
Ladies surveyed from area courses seemed to affirm that yes indeed, the time spent playing golf with their spouses was rewarding. While significantly in favor of couples golf, some comments came with a bit of qualification. With most starting golf later in life, women enjoyed their play most when the male was more a partner than hovering coach.
Some pointed out the four hours together was more than just golf. Mentioned were the fashions, outdoor settings and the chance to be "a sporty competitive gal" that men find attractive. That sentiment was seemingly confirmed in a men's survey comment, "There is nothing more charming than a pretty girl on a golf course."
The drinks and conversation back at the clubhouse extend the bonding event. "That's all good," said one woman, it blasts the "we don't talk anymore" bogey like a well-played sand wedge. Observing couples at the 19th hole suggests this socializing together-away from busy careers, home chores and kids-adds even more.
The survey of the men on the subject seemed to be a bit more guarded in comments. A central theme was concern on the level of the lady's playability on courses shared with others, perhaps forgetting their own golf beginnings.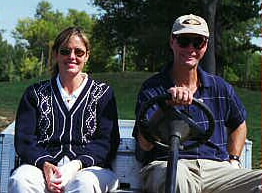 "It is a matter of give and take," said one..."do give support to the taking of lessons from a professional." Along this line was the perceptive counsel that play with one's own gender and peers only enhanced the fun when joining together in Mr. & Ms. golf.
"Don't just make couples golf the primary time one plays," suggested a long time golf partner. "Also make use of practice facilities," he added.
Those men that played golf with spouses, and enjoyed it, voiced the same social positives as mentioned above. Interestingly, the benefit of playing more golf and enhanced vacation trips was cited by both our local and Stay and Play golfers.
For existing couples the benefits of golf together can be a shared love of both the person and the sport. It can be a perfect parlay. For Singles looking for compatible love, golf can provide a new approach. With so much of the true person revealed on the golf course, they might best ignore eHarmony or Match.com and sign up for a tee time at the nearest Hamilton County course instead.