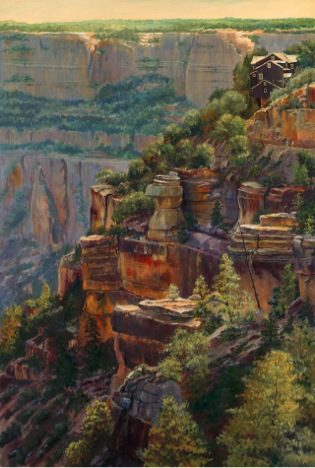 Hanging at the Grand Canyon is one of the winning paintings of the Paint the Parks competition put on by the National Parks. Artists from all around the world can enter this competition, but this one in particular is by Hamilton County's own Rodney Reveal. This is not the only accolade received by this oil and watercolor painter born and raised in Noblesville, Indiana. He has dozens of regional, national, and international awards to his name.
When I went to visit his studio on the first floor of the Stephenson House at the Nickel Plate Arts Campus, Reveal warmly greeted me. He was thoughtful in his approach to answering my questions and was very passionate when talking about his work. It is obvious this man has a deep love for what he does. His casual approach is evident from the way he interacts with visitors to the way he paints in silence, which serves him well in his retirement as a painter. He can spend anywhere from 2 hours to 30 hours on a painting, depending on the size, subject, and location. He gladly shared about his time at both the California College of Arts and Herron School of Art, where he learned to paint the way he does. He studied under Floyd Hopper for many years, where he learned to love watercolor. Martin Greele and William Matthews, both moved by the West, are his inspirations.
As evidenced by Grand Canyon piece, he loves to paint wildlife and landscape scenes from the American West. Also included in his repertoire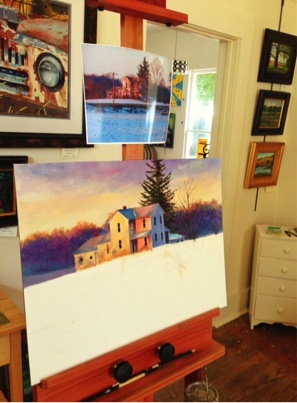 are nostalgic local scenes and detailed structural pieces. He enters competitions with the hopes of winning a huge national award, but is so in love with what he does that he says he goes into his "own little world" when he paints. He enters a place of "painterly realism", where his work becomes realistic yet stylistic. He says a part of every single day is devoted to something art-related. But in his spare time, he enjoys golfing and traveling.
Although he paints faster outside, his preferred location is right in his studio. The Nickel Plate Arts Campus has provided him a studio close to home while at the same time surrounded by other artist's studios, which is an advantage for Reveal. The campus is bursting with creative energy and inspiration. It would be a joy to take a class there, and Rodney himself sometimes teaches classes as do other artists there. Check out the Nickel Plate Arts website for more information on signing up for classes, seeing exhibits and more. More of his art can be found in his studio at Nickel Plate, or at www.jrodneyreveal.com.