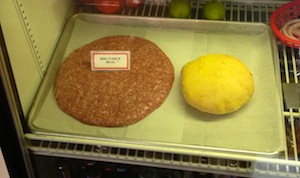 22 ounces of ground chuck. A half pound of bun. A plate garnished with fresh toppings. Three slices of melted cheese. Put it all together and you have... The Big Ugly Burger.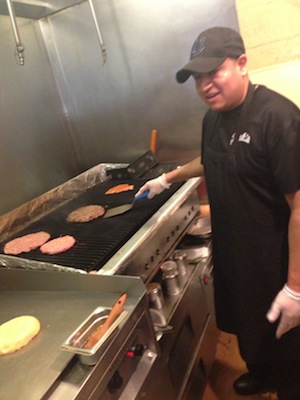 Since May of 2003, Bub's Burgers and Ice Cream has been a local staple in the Carmel Arts & Design District. Settled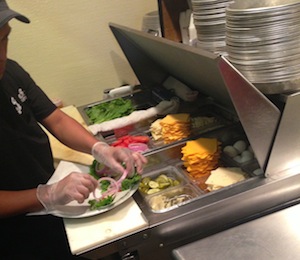 along the Monon Trail, the local eatery has fed TV personalities like Adam Richman, visitors, and locals (which of course includes the Hamilton County Tourism staff). Their claim to fame is the Big Ugly Burger, a one-pound burger cooked to order and sure to satisfy.
Just yesterday, I was able to sneak into the kitchen and watch them create the masterpiece. The chefs begin with a 22-ounce patty of ground chuck (which cooks down to a full pound) seasoned with a secret blend of spices (I tried, and failed, to figure out the mix), and toss it on the grill for eight to 10 minutes.
While the meat sizzled on the grill, I watched as one cook lightly toasted a custom sized, fresh baked bun, and a prep chef filled a plate with lettuce, tomato, pickle, and onion. Cheese is optional, but if you make the Big Ugly a cheeseburger, three slices cheese top your burger. I definitely went with cheddar cheese for my meal.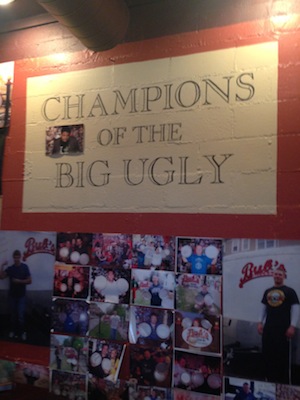 While I waited for the burger to cook, I had a chance to ask one of the managers, Amanda, how guests can make the Big Ugly their own. Some add something as simple as sautéed mushrooms, while others go all out and add a treat called Sloppy Waffles - a mix of waffle fries, melted cheese, bacon, and sour cream. I also learned that while the Big Ugly is the big draw, the quarter pound "Settle-for-Less" burger is their highest seller, so there is a burger available to fit all appetites.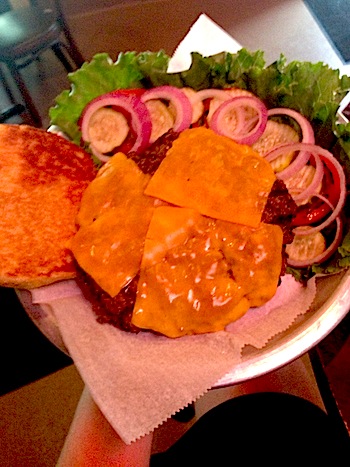 Once my cook, Pascual, finished the burger, he sent me back to my seat and my awesome server, Carla, brought the dish out to my table. I stared in awe for a moment and then... I took a bite... YUM.
Guests who are able to finish the entire Big Ugly get their photo placed on the wall - I am sad to say that I left WITHOUT having my picture taken for the wall of fame! 
For more details on Bub's Burgers, and all of the other delicious places to dine, download the Visit Hamilton County app or check out the restaurant page on the visithamiltoncounty.com site!