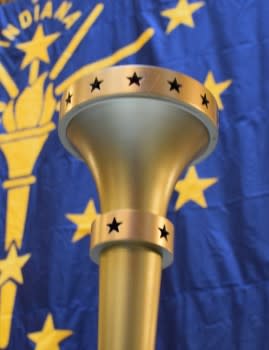 I have always wanted to see the Olympic torch run into the stadium. But for some reason (likely my total lack of athletic prowess) I've never been asked to run a leg of that epic journey. I also don't get a chance to travel the world all that often. So, schlepping myself to another country to watch a torch is about as unlikely as me being asked to run with it. However, this year we get an opportunity to watch the Indiana Bicentennial Torch Relay as it travels 3,200 miles through all 92 counties in Indiana – including Hamilton County!

On Oct. 13, you'll have 37 opportunities to watch it change hands from one Hamilton County hero to another! A complete list of the torchbearers can be found here. Torchbearers range in age from 10 to 95 and come from all corners of the county, serving their communities in various ways.

So, how does it all work? On Oct. 13 at 3 p.m., the torch will be handed off from Boone County to Hamilton County at the Zionsville Presbyterian Church. The first five handoffs will be covered by car, as it's important to keep up a good pace so the star of the show isn't late to any of the celebration stops along the way. However, at stop #6 (the Monon Center) the torch will travel by foot - this is a great place to take children to jog along and cheer!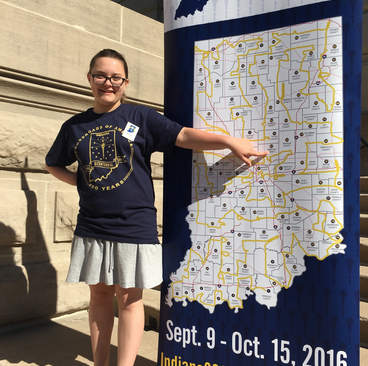 There are several celebration stops along the way that will make it easy for you and your family to find a time or location that works for you. The first is at the Palladium from 3:50-4:15, followed by Union Bible College in Westfield at 4:45-5:10, Conner Prairie at 5:30 (stay for Headless Horseman!), Fishers City Hall at 6:15-6:50 and finally Noblesville Square from 6:45-8:30 with the torch arriving on foot around 7:20 p.m. Stick around for the after party once torchbearer David Heighway places it at the historic Hamilton County courthouse! 

    
While the celebrations promise to be worth your time, I'm looking forward to watching a few of the handoffs because of the unique transportation methods. For example, Albert Chen will walk with a Chinese dragon! The torch will travel in Hamilton County by tractor, wagon, vintage fire truck, sidecar, horse and even the Conner Prairie helium balloon!
The torch relay should be an exciting event that you and your family won't soon forget. I'm ecstatic to be a part of this amazing place as we mark our 200th year of statehood and even prouder to be a citizen of Hamilton County's county seat: Noblesville! For day-of updates, follow us on Twitter @VisitHamiltonCo. Take any pictures along the route? Post on social media using #HCTorch and #Indiana 200.
For a full map of the torch's route in Hamilton County, click here.