Pancakes. Quiche. Biscuits & gravy. Breakfast tacos. Pork tenderloin eggs benedict. Oh, and the ooey gooey butter cookies.
Hungry yet?
Rosie's Place opened its doors on the square in downtown Noblesville in 2010 and quickly became a local favorite, with the charming vintage interior featuring exposed brick walls. Since then, the owners have opened locations in Zionsville and Carmel and continues to serve breakfast and lunch to loyal customers.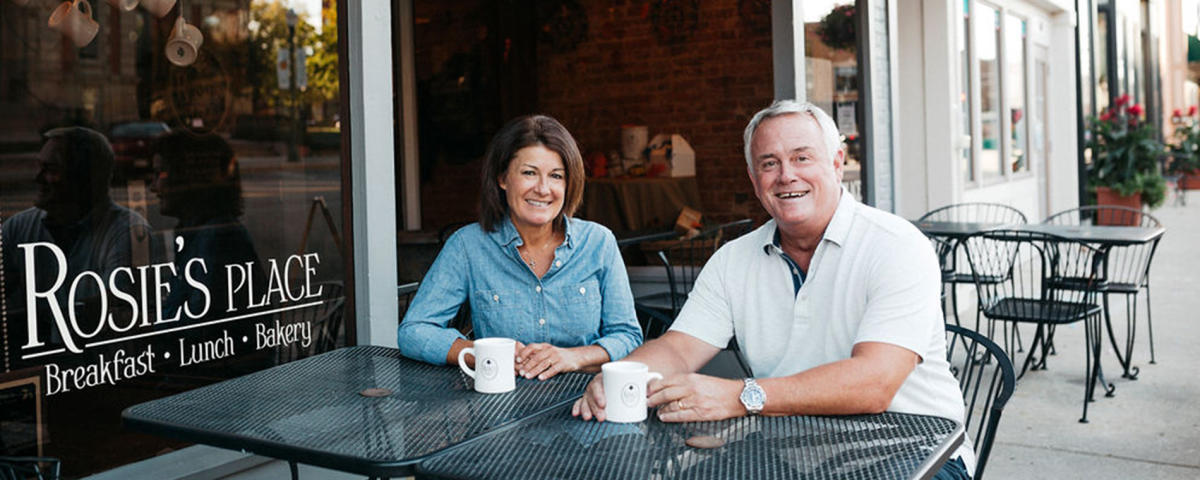 Rosie's Story
Back in 2009, Debbi Bourgerie, a stay-at-home mom of three, had a vision. After throwing all of her love into being a mom for the last 18 years, she knew her three girls were getting older, and it was a good time for a new venture. Debbi, with the help of her husband Michael, started looking at potential locations for a breakfast restaurant she wanted to name Rosie's Place.
 
Who is Rosie? Rosie was Debbi's grandmother. She wanted to name the restaurant in her honor.
Debbi comes from a family of restaurateurs. Her father has owned and operated restaurants in St. Louis for more than 45 years. Debbi grew up knowing two things: how to cook delicious homemade food and how to treat people well.
 
Rosie's opened its doors on Oct. 1, 2010, with a 10-item breakfast menu, coffee from her father's vendor in St. Louis and a small selection of fresh-made baked goods, including gooey butter cake (not yet a cookie).
 
After 10 years and the addition of two more locations in Zionsville (2014) and Carmel (2018), Rosie's now employs more than 90 people. Best known for the Ooey Gooey Butter Cookies, created by Debbi shortly after opening, Rosie's sells the addictive sweet treat in several local grocers and butchers and ships across the U.S. And if you haven't heard about the gooey butter cookies, well, they are sort of a thing. They even make seasonal varieties like pumpkin and caramel apple.
Addictive cookies aside, the real key to Rosie's success may be Debbi and Michael's commitment to the communities they serve.
 
"It has been an extremely rewarding 10 years in so many ways," Rosie's Place owner Debbi Bourgerie said. "We love that Rosie's has become a family, ingrained in the community. Year 10 has been by far the most challenging. There was a point we didn't think we'd make it to this milestone. Luckily the community rallied behind us, and we reopened our doors and are now more devoted to serving our communities than ever."
On the Menu
Everything here is made from scratch, and the menu changes seasonally. Breads are baked and meats are roasted in house, not to mention the expansive bakery counter that greets you and tempts you upon entry. Don't leave without grabbing one or two of the famous gooey butter cookies. A St. Louis classic, this sweet treat always sells out. Rosie's bakes about 2,000 per week.
Beyond the traditional breakfast and lunch fare, don't miss the Pork Tenderloin Benedict, a twist on the classic Hoosier pork tenderloin sandwich. This "benny" is a split biscuit topped with hand-breaded tenderloins, two poached eggs, cheddar cheese and sausage gravy with country potatoes on the side.
If you're at the original location on the Historic Noblesville Square, walk it off with a stroll around the charming downtown. Check out our blog to see how you can spend a whole day exploring the galleries, antiques and boutiques in downtown Noblesville.
For more places to eat in Hamilton County, visit our dining page. Be sure to follow us on Facebook, Twitter and Instagram to see what's happening in #VisitHC.