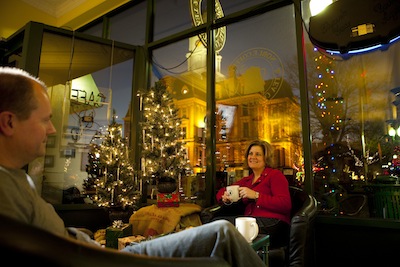 As you stumble out of those warm, blissful covers one weekend day, you can look forward to waking up to a steaming cup of Joe at one of
Hamilton County
's local, independently owned coffee houses. Make a day of it and follow the "caffeine trail" for a day of rich, steamy brew, flaky pastries, and warm ambience.
A coffee house typically focuses on serving espresso and drip coffees and a limited menu of pastries and perhaps lighter lunch fare. A good coffee house offers guests a haven for relaxing, chatting, reading with comfortable seating and a variety of drink options. These days, coffee houses most always offer WiFi since many guests find the ambience perfect for studying, surfing the Internet, or holding productive meetings.
Heading north, stop in Noblesville at the town square and visit one of the earliest Hamilton County coffee houses, Noble Coffee. & Tea. The business opened on April 17th 1996 before Starbucks was a household name. The concept was simple-- provide affordable fresh roasted quality bean, coffee and espresso beverages made to exacting technical standards, and, according to the owner, "combine with a comfortable coffee house environment in which to enjoy one of the best pleasures in life." If you love a particular roast during your visit, bags of coffee are available for your home brewing. Grab a morning brew and enjoy wandering the many shops around Noblesville's square.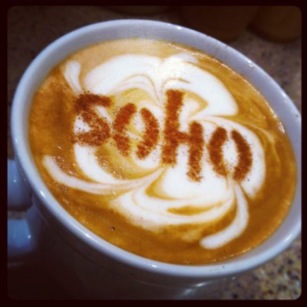 Leaving Noblesville, drive south towards Carmel. Accompanied by a tea lover? Make a stop in Carmel's Arts & Design District at Tea Buds. Variety after variety of loose teas will please any tea connoisseur, including the popular bubble tea in a wide range of flavors. If you insist on coffee as your caffeine source, Tea Buds has recently begun brewing coffee from local roaster, Julian Roasters, so coffee lovers won't feel left behind. Tea Buds is a perfect stop as you enjoy the galleries sprinkled along Main Street in the Arts & Design District. 
Ready for your afternoon espresso? Just a couple miles from downtown Carmel is City Center where you'll find shops, restaurants, the Palladium, and one of the newest coffee house additions, Hubbard & Cravens. Sleek, modern, and shiny, this local roaster's newest location will provide your afternoon espresso , roasted and brewed by this local roaster. The Carmel location has expanded a bit over the other locations, adding a fresh juice bar, along with wine and beer choices, along with savory menu items. Take a look at the state-of-the-art espresso machine while waiting for your brew, and pick up a few bags of their freshly roasted beans to take home.
 Rather than drive to your final destination, grab your walking shoes and head north on the Monon Trail. Just two blocks north, you'll find SoHo Café & Gallery, recently named Indy-A-List's Best Coffeehouse 2013. Named after NYC's SoHo district, you'll feel that traditional coffee house ambience as soon as you step inside. Enjoy one of Soho's monthly signature espresso drinks, fruit smoothies, or perhaps it's time to settle back in front of their fireplace for a cold beer or glass of wine. Fresh pastries, made-from- scratch soups, sandwiches, and salads are also available. Visiting on a Thursday? Stick around for Open Mic Night and enjoy the talent of local musicians from 7-9 p.m. or perhaps you'll be ready to perform after your day on the Caffeine Trail!