If you're looking for evidence of the Carmel Christkindlmarkt's authenticity, look no further than the little hut that houses the workshop of Christian Werner.
It's not just that Werner looks every bit the part of a German craftsman, with his colorful felt cap flopping over his shoulder, his starched white shirt buttoned to his chin and his eyes dancing impishly behind round wire-rim spectacles. And it's not just that the wooden figures he creates by sending ribbons of wood flying from his lathe are identical to the ones Erzgebirge artisans have rendered for centuries.
No, Werner's authenticity comes from, well, his authenticity. Discovered by Christkindlmarkt CEO and Market Manager Maria Murphy when she was on a scouting trip to Germany in 2017, Werner brings his artistry to Carmel direct from his hometown of Seiffen, a tiny Saxony village famous for its wooden toys. This marks the third year that he has crated up his handmade lathe and tools and shipped them to Carmel so he can share his genuine Old World Christmas tradition with Carmel Christkindlmarkt guests.
"He loves doing these demonstrations," Murphy said. "And he's really good at it."
Want to amp up the authenticity even more? Watch Werner work while you're sipping on a Glühwein, nibbling on Pfeffernusse or woofing down some wurst. Those treats and countless other Christkindlmarkt edibles, crafts and experiences will get you as close to a truly German Christmas celebration as you can get without an airline ticket.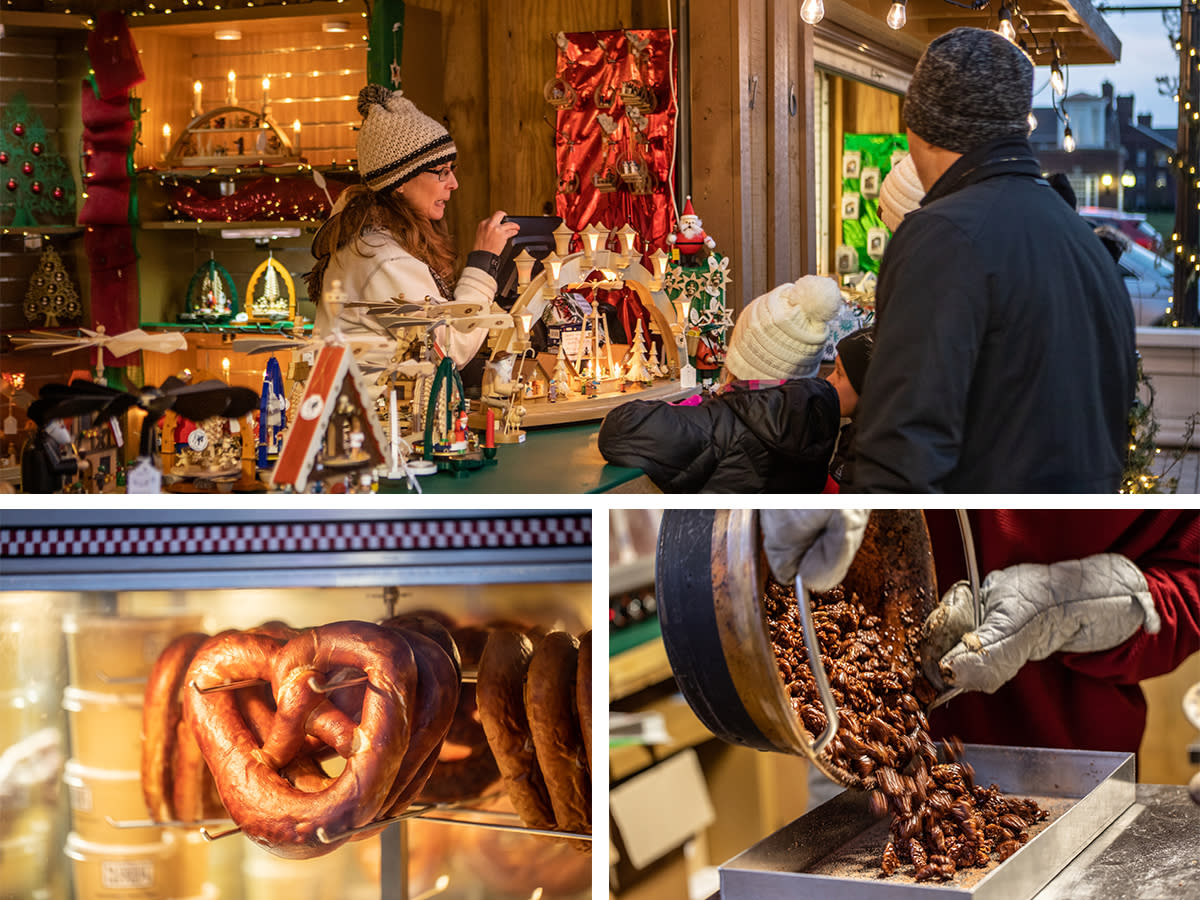 Dedicated to Authenticity
Ask Murphy what authentic Old World German traditions, treats and activities have to do with an American Christmas, and she'll tell you, "Just about everything." Countless American holiday traditions – from the songs we sing to the tree in our house, and from the treats we eat to the ways we decorate – originated in Germany. The Carmel Christkindlmarkt celebrates these connections as well as the community spirit that wells up around them.
First held in 2017, the Carmel Christkindlmarkt is a holiday festival modeled on Christkindlmarkts held throughout Germany. With food, crafts, gifts, demonstrations, family and children's activities, a skating rink, music and more, the festival was a hit from Day One. Its first year, it attracted more than 150,000 people, with nearly 17,000 people gliding across the ice on the skating rink. Last year, it more than doubled its attendance, to 328,000, and drew nearly 20,000 skaters to the ice. This success allows the festival to increasingly stand on its own two feet. In Year One, Carmel supported the Christkindlmarkt with a $420,000 grant; in Year Two, that grant dropped to $125,000. This year, the event will receive no cash from Carmel.
Murphy attributes this success to the kind of authenticity represented by Werner, a quality she sees to personally. Since she joined the Carmel Christkindlmarkt as CEO just a few months before its 2017 debut, she has searched high and low for the perfect vendors and partners. Included in this effort have been a few trips to Germany, a welcome opportunity for this Yorktown native whose family has long celebrated its German heritage and who lived in Hamburg, Germany, briefly as a teenager.
Murphy was working as an assistant vice president for Lake City Bank back in January of 2017 when she first heard Mayor Jim Brainard describe his vision for the Carmel Christkindlmarkt. Excited by a chance to tap into her German roots, she approached the mayor and offered to volunteer for the event, so he invited her to join the organizing committee. After a few meetings, he called her at the bank and said he'd like to meet with her.
Brainard offered Murphy a job leading the festival. Within weeks, she was on a plane to Germany. She's been scouting out authenticity ever since.
New Features, New Fun
In addition to investigating genuine German traditions, Murphy also has continually looked for ways to expand the festival. Last year, Carmel Christkindlmarkt added a number of features, including new vendors, fireplace tables and activities, but its most noticeable addition was the Glühwein Pyramid.
A common feature of German Christkindlmarkts, Christmas pyramids tend to be massive, ornate wooden structures layered like a wedding cake. The Carmel pyramid stands 33 feet tall, weighs in at about 10 tons and is illuminated by some 3,000 lights. It was created in Germany then disassembled and packed in crates for delivery to Carmel, where it serves as a Glühwein stand where workers dispense alcoholic and non-alcoholic beverages. Thought to be the only Christmas Glühwein pyramid in the U.S., Carmel's pyramid is now a permanent feature of the Carmel Christkindlmarkt.  
While additions to this year's event won't be quite as noticeable, Murphy says visitors can expect new features. She's especially excited about an exhibit that will help visitors appreciate the many connections between German and American Christmas celebrations. Created in collaboration with the Indiana Historical Society and the Indiana German Heritage Society, the walk-through space will explain 10 holiday traditions that Americans likely didn't know had German roots. In addition, the exhibit will showcase other information about German heritage in Indiana, along with an overview of one of Indy's best-know German families, the Vonneguts.
In addition to that exhibit, visitors will find additional food and drink options, as well as some new vendors specializing in German crafts and products, including one dedicated to classic cuckoo clocks.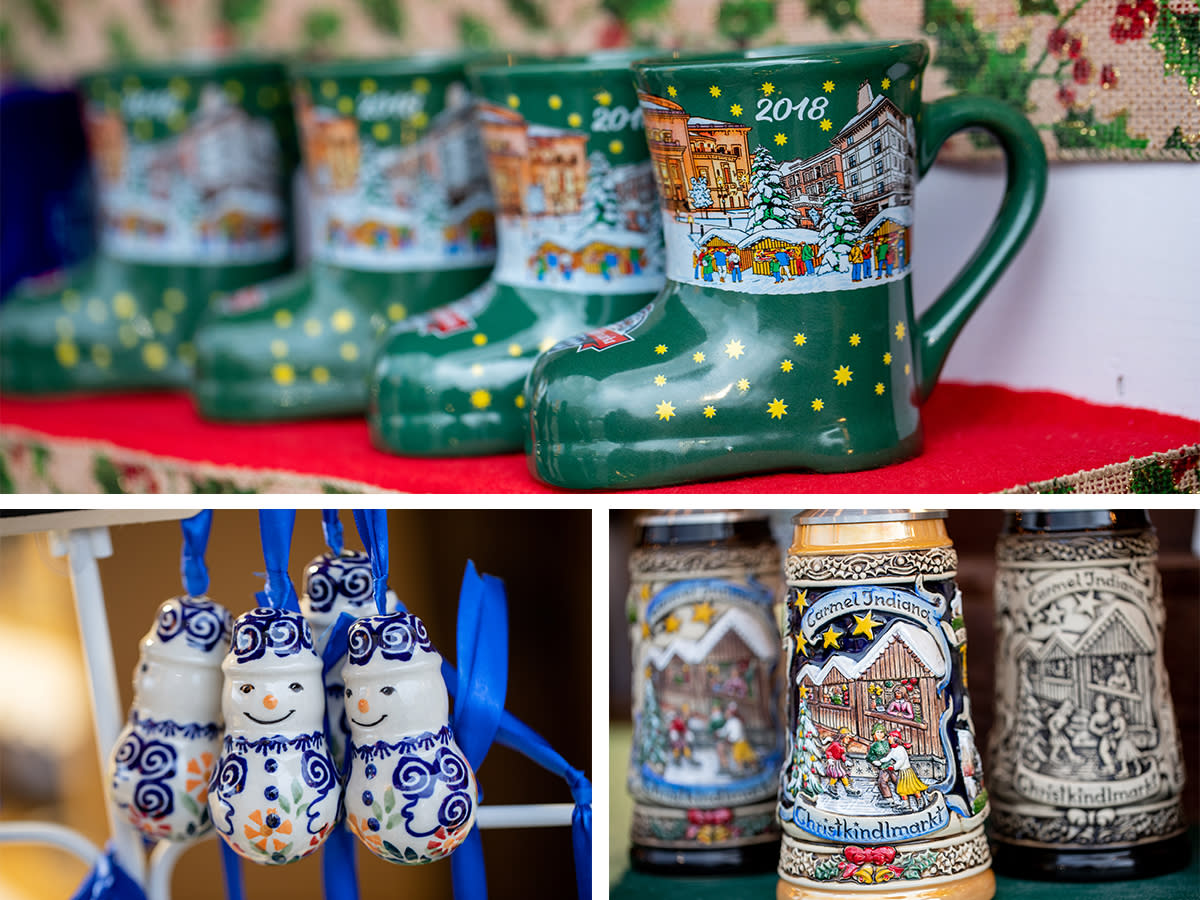 A Seasonal Success
Even with the Carmel Christkindlmarkt's growth and success, the thing that seems to make Murphy proudest is the fact that the market is an affordable family activity. Entrance to the market is free, which means visitors can watch the artisans at work and enjoy all of the music and the event's many sights and sounds. While vendors sell plenty of food and drink, she says families are welcome to pack lunches, bring thermoses of hot chocolate or other non-alcoholic beverages and find a spot in the marketplace for a picnic.
The skating rink charges fees based on the time spent on the ice and the day, but skaters can save a few dollars by bringing their own skates. Murphy encourages those interested in skating to sign up online ahead of time so they can choose their skating time.
Regardless of what visitors decide to do at the Carmel Christkindlmarkt, Murphy is confident they'll find plenty to enjoy. She's also confident that visitors will find that the event is a fun and meaningful addition to the city's holiday festivities.