I love cooking. I really do. I love scouring recipes, shopping for ingredients, and the therapeutic effect of chopping and dicing in my kitchen alongside a good Pandora station and a glass of wine. LOVE. Truly.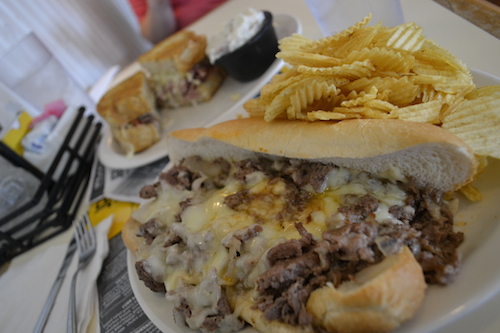 But sometimes, it's nice to get out and let someone else take care of the chopping and dicing...and dishes. Taking our family of five out to a restaurant can get pricey pretty quickly if we hit the wrong spots, and that's why we have a handful of tried-and-true places that have great food and even greater price points.
Yats is a clear front-runner when it comes to inexpensive and delicious meals. Most plates hover around $5 and I'll let you in on a little secret-they serve rice-and-cheese plates for kids for just a dollar. The atmosphere is fun, laid-back and fast. And we all know that's the essential trifecta when dining out with little ones.
Jersey's Café delivers BIG meals for low prices. Their huge selection of hoagies run in the $8-9 range and seriously fill up the biggest, hungriest man alive, so bring a big appetite! The owner is a New Jersey native and knows a thing or two about deli meats and cheeses. So trust him.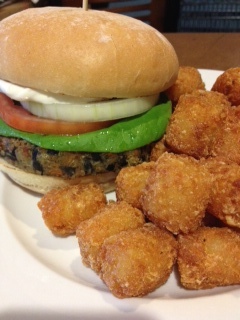 Bub's Burgers is a great spot for the quintessential "All-American" burgers, fries and shakes we all crave sometimes. It has an energetic vibe and great food, and it won't break the bank. (Unless, of course, you all order a Big Ugly.) 
Greek's Pizzeria is perfect because 1) everyone loves pizza, and 2) Greek's does pizza uniquely well and their breadsticks are delicious. Plus, it's very affordable and they have locations in Carmel, Fishers and Noblesville. 
Local Eatery & Pub is one of my very favorites for a night out. Don't let the higher price points on their larger entrees scare you away, either. While those options are delicious, you can still enjoy an amazing meal for less cash if you stick with their salads and sandwiches. Many ring in under $10 and offer unique flavor profiles you don't get just anywhere (goat cheese and apple panini sound good?) so it's a still a solid and wallet-friendly bet.
Affordable deliciousness awaits in Hamilton County!