Farmers' market season will look a little different this year due to COVID-19. The farmers' markets in Carmel, Fishers, Noblesville and Westfield plan to open this summer, but with health and safety protocols in place to protect vendors and the general public.
These altered plans allow customers to support the local food system and local businesses, who may not have a chance to sell their products anywhere else. Most markets will focus on "essential" food vendors that offer meat, dairy, eggs and fresh produce.
The Carmel Farmers' Market is located at Carter Green, formerly known as Center Green, just south of the Palladium. In order to maintain CDC social distancing guidelines, the market will have a temporary, modified layout. All vendors will be required to wear masks and gloves, and organizers request the general public also wear masks and gloves.
Update: Consumption of food and beverage on-site is allowed. Restrooms will still be closed, and customers are encouraged to park on the street. The Tarkington Garage is open, but the elevators are not open to the public. The market has one-way directional signage to help with social distancing. Be aware of those around you and allow six feet. Masks are not required but highly encouraged.
The Fishers Farmers Market takes place at the Nickel Plate District Amphitheater. Fishers Parks will make adjustments as needed to keep its staff, vendors and market visitors safe. Vendor booths will be safely spaced around the AMP and visitor capacity will be limited. Wearing a mask is recommended.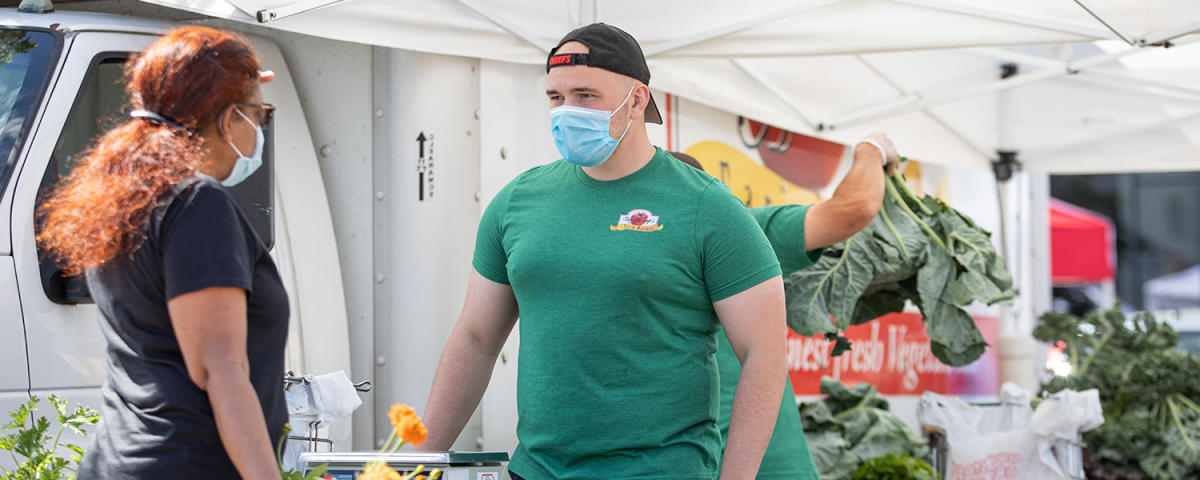 The Noblesville Main Street Farmers Market extended its season to October 24, 2020. Participating vendors will only include those deemed "essential." Vendors will be spaced out through Federal Hill Commons and will wear masks and gloves. Organizers encourage customers to wear masks, as well.
The Noblesville Fire Department is partnering with the Hamilton County Mask Brigade to hand out masks at a booth at the farmers' market. They will also provide hand sanitizer stations, hand sanitizer, and information pamphlets.
The Westfield City Market organizers plan to implement a new set-up to allow for distance between each vendor to adhere to CDC social distancing guidelines. Participating vendors will only include those deemed "essential," such as meat, dairy, eggs and produce. Vendors will wear masks and gloves, and there will be no food trucks, on-site prepared foods or samples available.