After all, if you hurry, you might miss out on a big part of what's being cooked up at Anthony's Chophouse in downtown Carmel.
    
So … slow … down. Take your time. Really see the exquisite woven-wood planking on the ceiling of this massive-but-intimate space, the earth-tone brick accent walls and other design features. Listen to the symphonic clang and sizzle emanating from the kitchen. Breathe in the aromas of spices and sauces, and feel the high-count luxury of the linen tablecloths and the cool weight of fine cutlery. And – most of all – truly taste the mix of old meets new, east meets west and trendy meets traditional Chef Justin Miller has designed for your meal.
It all matters to Justin. His title might be "chef," but he's not focused only on food. He wants you to enjoy every aspect of your time at his year-old fine-dining eatery at the corner of Main Street and the Monon Greenway. And you can't do that if you're in a rush.
Who's in a Rush?
Of course, you could say Justin's in a rush. Only 24 when he landed his first executive chef gig, less than a decade later he's serving as executive chef for one of the area's highest-profile chef-driven fine-dining restaurants. Then again, if you consider how long Justin's been playing with flavors, he's an old pro. He first tinkered in the kitchen when he was 8 or 9 years old, mixing items from his mom's pantry to see what he could concoct.
Back then, culinary experiments competed with sports for Justin's attention, but he eventually saw his future being brighter in the kitchen than on the court or course. Motioning to his sub-pro-basketball stature, he said, "When I figured out the NBA was probably not going to work out for this, and the PGA Tour wasn't calling me, I knew what I wanted to do."
A job in a restaurant in his hometown of Terre Haute sealed the deal. "As I soon as I walked into the kitchen, I was hooked. I loved the environment, the culture, the people … everything about it," Justin said.
In 2007, Justin moved to Indianapolis to attend the International Culinary School at the Art Institutes. After graduation, he landed his first job with the Country Club of Indianapolis, followed by gigs with Hillcrest Golf and Country Club in Batesville and Indy's unrelated Hillcrest Country Club. A few years ago, he was introduced to Anthony Lazzara, who, at the time, was looking for a chef to head up his planned restaurant in downtown Carmel. The two hit it off, and the result is the Anthony's Chophouse we know today.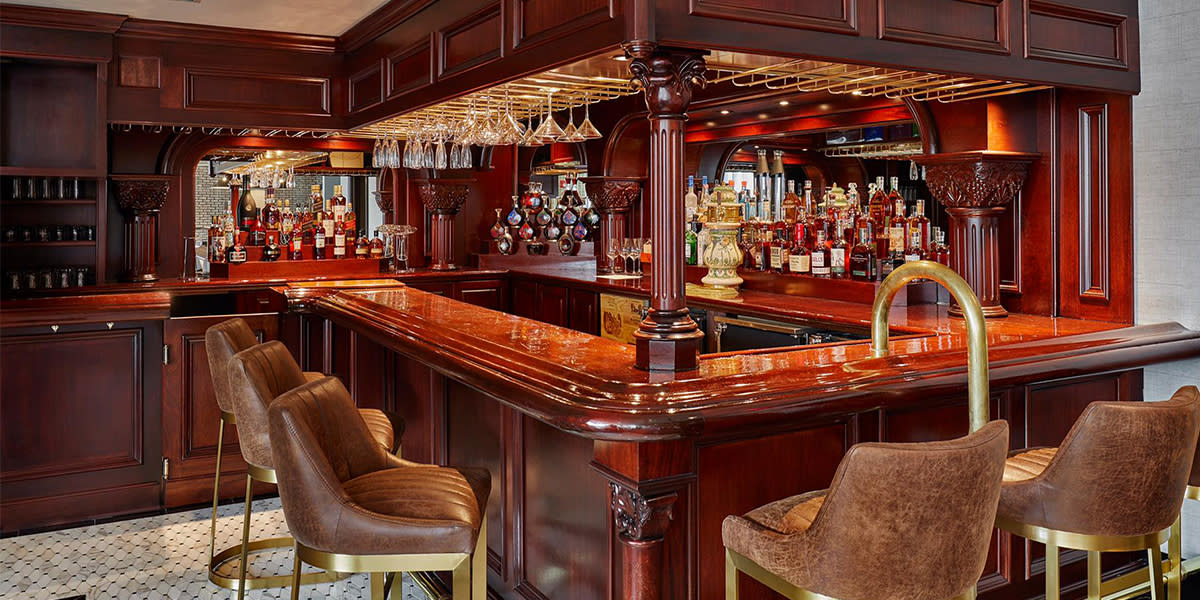 The Point Guard
If you do take Justin's cue and slow down, you'll see that Anthony's Chophouse offers a fine-dining experience without fine-dining stuffiness. This is in part a product of Justin's and Anthony's collective style, but it's also a reflection of current dining trends. Today's diners want chef-driven fine dining, Justin says, but they want it in an environment where the wait staff is more likely to sport tattoos than tuxes. It's what Justin says is, "Proper service, not pompous service."
Plus, in Indiana, people want to be both adventurous and comfortable. So Justin gives them familiar favorites with a signature flair. As a "chophouse," Anthony's must serve steaks and other staples, and it does – Anthony's offers some of the best cuts of beef you'll find in this area, Justin said. But your steak won't be slapped onto a plate with a standard baked potato. Instead, it will be complemented by innovative ingredients and interesting side dishes.
Knowing that today's diners also want to know what they're eating and where it came from, Justin displays source information for his ingredients on a board in the kitchen. That way, servers know what to say when a diner asks, "Where did these oysters come from?"
To develop his menu, Justin reaches in a number of directions. Certainly, he still savors the flavors he toyed with in his mom's kitchen, but he also draws from discoveries made during his stint as an exchange student in Japan and from his time working under mentor Glenn Brown. In addition, he draws ongoing inspiration from the fresh and unique ingredients he gets from carefully curated suppliers and at different times of the year.
The result is a menu that sports the exotic and the intriguing. Mushroom medleys, shaved black truffles, A-5 Miyazaki wagyu beef, Brussels sprouts au gratin and caviar populate the menu alongside fresh takes on frites, short ribs, mac and cheese and more. Justin says his joy comes from discovering what is possible and working with his team to put it on the table. Dishes are carefully plated so they not only feature the right balance of flavors but also the right visual feast. Because Justin likes to be responsive to seasonal ingredients and diner wants, Anthony's Chophouse is on its fifth menu in a little over a year.
To ensure everything works smoothly, Justin has claimed a key spot in the kitchen, stationed by a door just a few feet from diners so he can monitor not only what happens at the cooktop but also at the tabletop. In an unusual role for an executive chef, he serves as a kitchen expediter, making sure orders come into the kitchen smoothly and everything moves out in a timely fashion and looking just right. In this way, he says, he's once again like a point guard, managing the action and helping his teammates succeed. "It works, and people love it," Justin says. "And it sure beats putting chives and bacon bits on potatoes all day."
Up on the Rooftop
Want something even more hip and laid-back? Grab an elevator or take the stairs up a few flights and you'll find Anthony's Chophouse's sibling, 3UP, a 21-and-over rooftop bar and restaurant that offers its own twist on casual cuisine. For those who want something to complement an afternoon or evening cocktail, 3UP will feature a menu that responds to guest preferences, focusing on handheld entrees and "walk-around" food. For example, pimento hush puppies share menu space with poutine confit and crispy chicken drumettes, as well as pork belly tacos and a wagyu burger with maple bourbon mustard seeds.
The sleek glass-and-steel space is dramatically lit and offers locals and visitors a high perch in a setting that feels more like downtown Chicago or LA than suburban Indiana. With fire pits and heaters prepared to knock off virtually any level of chill, 3UP aims to be open all year.
A Sense of Responsibility
Of course, if you're on your way to a concert or a show, or if you've got to be somewhere in a jiffy, Justin and his team will make sure you get there on time. And they'll work to make sure you don't feel hurried, even if you are.
But if you do have the time to savor your meal, Justin is determined to deliver a complete, multisensory experience. A well-decorated chef who recently earned placed seventh in the World Food Championships in Dallas, Justin feels it's his responsibility, since you're investing precious time and money at Anthony's Chophouse. "We're fortunate you trust us with your evening," he says. "We want you to slow down and enjoy each step of the process."
Photos by Anthony's Chophouse