The owner of Xchocol'Art is from Austria. She learned about making high quality and high-end chocolate in Europe. She imports her chocolate from Ecuador, and she traveled to London this year to receive the "Top Truffle Artistry Award" for her mouth-watering whiskey honey morsel.
And then there's the location of Xchocol'Art in Carmel, Indiana. It's like walking down a Parisian alley and stumbling onto a delectable treasure.
Owner Joann Hofer said the space was intentionally selected – tucked away on the thoroughfare of the Carmel Arts & Design District.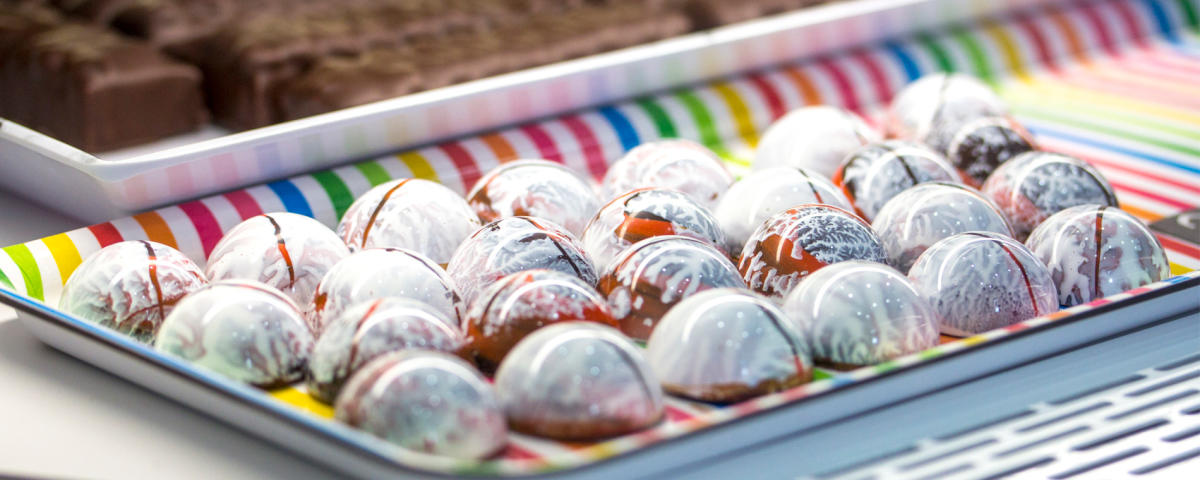 Sweet Success Story
"I think the location chose us. We'd been looking at Main Street Carmel for a couple of years and when this place became available, it was perfect and there's lots of shade, which is great for the chocolate business," said Hofer. She opened Xchocol'Art in 2011 and operated out of a commercial kitchen before opening her storefront in 2018.
The location is within walking distance of its Carmel Arts and Design District neighbors, offering leisurely shopping at local boutiques and the Carmel Old Town Antique Mall. Within a few blocks are several favorite wine and dine spots, including Peace Water Winery, Donatello's Italian Restaurant, Mudbugs Cajun Café, Main Street Poké, Bazbeaux Pizza, Bub's Burgers & Ice Cream and Anthony's Chophouse.
It's a good mix for Xchocol'Art, where a commercial-grade kitchen is used to create the tasty delicacies. There are a couple of other surprises in the two-story building, known for its selection of truffles and caramels. Above the chocolate shop is a two-bedroom Airbnb known as the "Chocolate Suite," decorated with framed antique chocolate wrappers from Spain, Portugal and France. Hofer provides two bikes for her guests to explore the area – including the Monon Trail. When the condo is unoccupied, Hofer offers chocolate-making classes in the spacious kitchen.
"Participants get hands on experience by making truffles the old-fashioned way – rolling them," said Hofer. The two-hour classes can accommodate about eight participants – all who walk away with a recipe to try at home.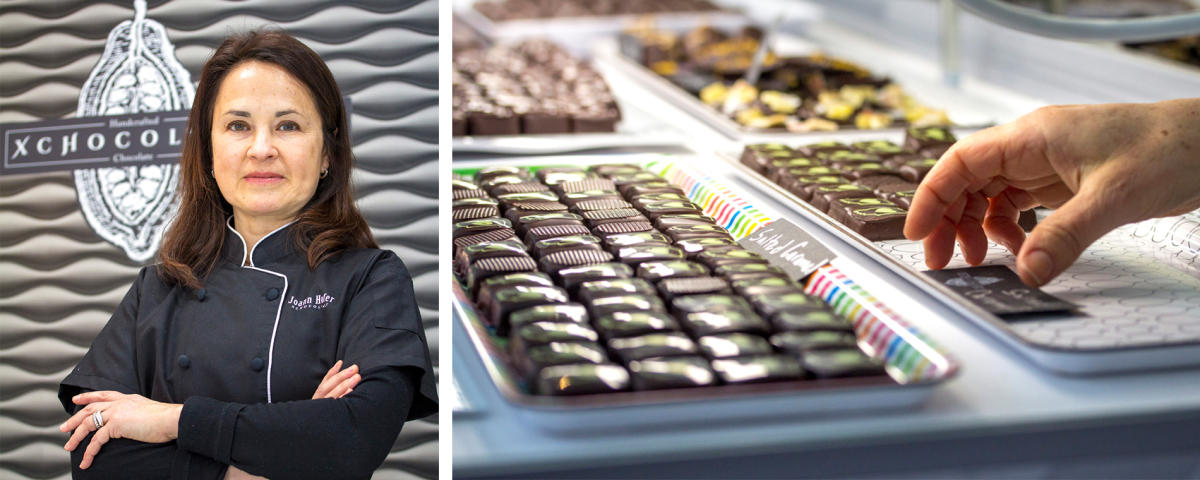 For the Love of Chocolate
So what made Hofer so passionate about something so luscious?
"I read an article about chocolate and I became enamored with the tree, the bean and how the flowers pollinate by one particular insect," said Hofer. So she enrolled in a "bean to bar" chocolate making school in Canada.  "I learned everything about the beginning of the making of cocoa and then I visited a well known chocolatier in Austria and began importing and distributing his products in the United States. Through that experience, he allowed me to work in his manufacturing of chocolate in the summer," said Hofer, who moved to Carmel in 2000 when her husband's job was transferred to Indiana. They never left.
"We love Carmel and it's a great place for a business. People are so interested and so supportive," said Hofer, who brings a unique detail to her chocolates. She used to paint acrylic on porcelain. Now she shifts that artistry onto her chocolates.  
Monday and Tuesday are production days, when she spends hours creating beautiful chocolates for her display case. The colors are what catch the eye of her customers but once they bite into one of the delicacies, they are hooked on the flavor. There's an assortment that appeals to a variety of tastes – including a chili truffle – a gold winner of a spicy chocolate award and a whiskey honey that took top honors this year at London's Academy of Chocolate. There are seasonal flavors such as passion fruit caramel, pumpkin spice, ginger bread, pralines and dried fig filled with ganache.
"It's the ganache that makes the truffle – an emulsion of chocolate and other ingredients," said Hofer. She introduces others to her tempting treats at the Broad Ripple and Carmel Farmers Markets on Saturday mornings.
Taste for Yourself
Hint: Weekends are the best times for shoppers along Main Street to catch a whiff of the Xchocol'Art sweetness. Hofer has a tempering machine situated near the shop's entrance, melting chocolate morsels. For $7 guests can make a chocolate bar with their own additives including nuts and fruit. For $4 they can purchase a steaming cup of hot chocolate.
Since October, Hofer has been busy with corporate holiday gift orders. She also has decorative boxes available for guests to create their own chocolate gifts.
"When people come in, I want them to see and taste the chocolates," said Hofer. "This is a sensory experience and one that is meant to be enjoyed."
Interested in attending a hands-on chocolate making class? Visit Joann's website for details.
XChocol'Art is located at 228 W. Main Street in downtown Carmel. Free parking is available on the street or in nearby parking garages. Normal business hours are 11 a.m. to 4 p.m. Wednesday-Friday and noon-6 p.m. Saturdays.