Winters in the Midwest (usually) require lots of indoor activities for our children. Although this year has been exceptionally mild, it has been so muddy there isn't much opportunity to play outside. That's where I come in. We have lived in Hamilton County for a year and a half and have yet to visit all the cool indoor places HC has to offer because there are so many. Combating cabin fever in Hamilton County is super easy.
Traditional Indoor Fun
Not a week goes by without stopping into one of our awesome libraries. Hamilton East Public Libraries have wonderful programs and classes for all ages, family movie and game nights, holiday events oh and books! Their staff is always so friendly and the BookMyne app is an easy way to put books on hold using your phone. Check the Noblesville or Fishers location for information on what programs they're hosting.
Bowling was how we had fun back in the 90s and I'm happy to see it's still going strong! Pinheads (with luxury arcade), Woodland Bowling Center (with Pirate's Quest Laser Tag) and Bowl 32 (with indoor Put-Put) are some of the top bowling alleys in the Indianapolis area and they're all right here in Hamilton County!
Nothing beats the smell of movie popcorn and seeing the latest film at the movies. We have several theaters in Hamilton County showing all the latest blockbusters, like Regal Cinemas 10 in Noblesville, Goodrich Hamilton 16 at Hamiton Town Center, Regal Cinemas at Villiage Park in Carmel, United Artists Galaxy 14 on 96th and Flix Brewhouse in Carmel (bring an appetite!)
The Escape Room is an interactive adventure game designed for everyone (suggested 10+). The concept: You and your team are locked in a themed room where you have 60 minutes to find clues, solve puzzles, and discover keys and combinations to escape the room before your time is up!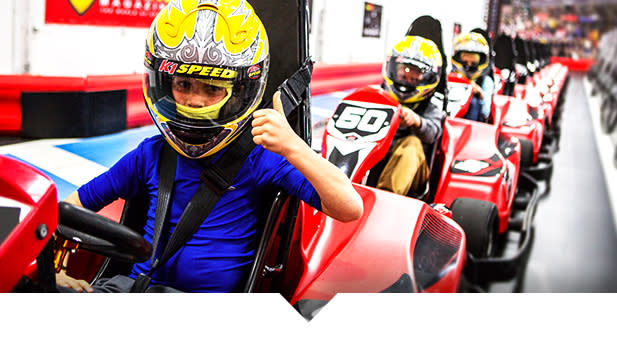 Active Indoor Fun
Do your kids love speed? K1 Speed is an indoor cart track for juniors and adults who are at least 48." An especially cool spot for Birthday parties.
Hamilton County Indoor Sports Complex is THE place to go for the sporty family. The 64,000 square foot facility holds basketball courts, fitness classes and A Plus gymnastics complex gym (including a foam pit, trampoline, zip lines, gymnastics equipment and a bouldering rock wall!) This is the perfect spot for Parents Night Out!
Getting enough exercise is difficult in the winter months. Skyzone is a trampoline park perfect for high energy kids of all ages. Be sure to check their hours and extra activities. There are preschool hours Friday and Saturday mornings, glow nights, fitness classes and dodge ball tournaments throughout the week.
Bounce U (Fishers) or Jump N Play (Noblesville) are both great options for cabin fever. They're filled with various bounce houses and obstacle courses for children 2+ to play on. Check their websites for open bounce times and information on special events like Cosmic Jump!
If you're also wanting to get out of the house, check out The YMCA. There are pools and special events for the entire family to enjoy. They also have a Child Watch area your kids can play while you work out.
Laser Flash in Carmel is the ultimate laser tag facility in Indianapolis. Their complex can accommodate 42 players per game, seating for 90 in our party area, 24 in our VIP/Audio visual conference center, and offer Noble Roman's pizza, soft drinks, beer and wine. If you're a parent and have never done laser tag, I highly recommend it. It's thrilling!
Indoor playgrounds
Cornerstone Lutheran Church: Newly opened, this indoor playground offers plenty of climbing opportunities for the older kids and a separate area with toddler-friendly equipment, making it a safe and inviting space for all ages.
Carter's Place: This is innovative play space is ideal for both children with special needs across all age groups and neurotypical kids from infant to 10 years old. The 4,000-square-foot space is filled with everything from swings and slides to a zip line and a spring-free trampoline. Discovery Station at
Conner Prairie: Did you know Conner Prairie has an indoor facility open during the winter? The Discovery Station is suited for infants through age 9 and is equipped with a book nook, play home and store, fort building area and jungle gym. There is currently a pop-up Maker Workshop in the Craft Corner where children can learn about tools. It's a sneak peek at what's to come with the new Maker Space.
Play Zone at Recreation Unlimited: The Play Zone is equipped with 15 play systems, three trampolines, an indoor basketball court, playhouses and Thomas the Tank Engine play tables. It's all set up on a rubber safety floor in our climate-controlled building. For children 8 and under you can pay $8 Monday-Friday and $12 Saturday and Sunday. Sign up for their newsletter for a free visit.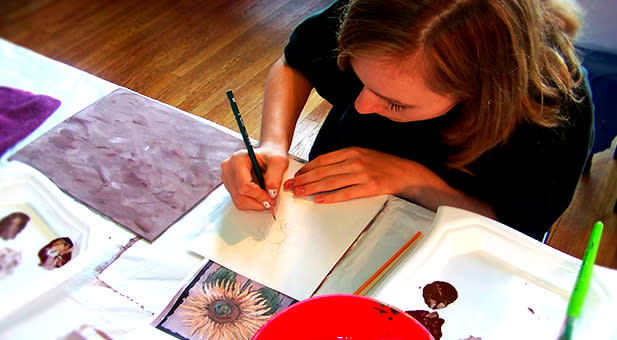 Indoor Arts and Music Fun
One of our favorite places to visit when Sophie was a baby was the Urban Chalkboard. The Urban Chalkboard is a lovely place for a change of scenery that feels like home. There is a reading area, play kitchen, train table and many other toys for little hands. Check their website for special events like Mr. Daniel, Toddlers Play Music and Art with Esther.
If your little ones are into little things, check out the Museum of Miniature Houses. This quaint Carmel museum is home to all things miniatures. The current featured exhibit is The 'Furnishing' Touch, which tells a history of American home furnishings in miniature.
Michele's Studio, located in Fishers, is great for the budding musicians who just can't stop singing and playing! They offer lessons in piano, guitar, voice, preschool music and are specialized in 'arts' camps.
Noblesville is home to Nickel Plate Arts where Adventures in Art was created to teach kids all forms of art techniques. There is also a Monday night drawing class for your older children. Check their events page for family events throughout the year.
Another Noblesville favorite is Kiln Creations where artists of all ages can paint a piece of pottery while spending quality time with friends and family. No experience is needed and they welcome walk ins. Check out this post for the expansive list of art galleries in Hamilton County, many of which offer classes!
Let us know if there are additional family fun spots you enjoy visiting during these cold winter months! Tag us on social using #VisitHC and @VisitHamiltonCo to show us some of your favorite spots.