In a few short weeks, Conner Prairie Interactive History Park will have their annual Opening Weekend celebration. While the weekend of March 27-29 at Conner Prairie will be an action packed three-day event - my kids just could not wait to get back to their favorite place to play. So, to get a jump-start on the fun, I took Christopher, 6, and Emmy, 4, to spend Sunday at the museum. Last year, we spent a full day exploring outside, but I let them know that the snow and chill in the air this year would keep us indoors. The fun thing about Conner Prairie is there is still so much to do inside.
We began the day in the science area. The kids spent time building ramps for balls, exploring wind, and creating, then launching, paper airplanes. After a little while in the science area, my kids made their way over to the Discovery Station, which is a giant room of PLAY. The kids happily ran around the space, slowing down to play with old-fashioned toys, do a craft project, read a book, or playing pretend. The Discovery Station is closed, but the room is open, so I was able to comfortably sit in one spot and watch the kids work together and have a great time.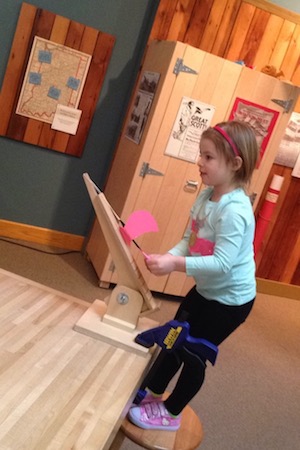 As we left, they begged me to bring them back soon. This year, WFYI's Sid The Science Kid will be in attendance for opening weekend - and both of my kids are BIG fans of Sid. Sid the Science Kid will help kick off the outdoor season, so bring the kids to meet Sid and discover the science behind the balloon and flight with a variety of fun, hands-on activities designed with preschoolers in mind.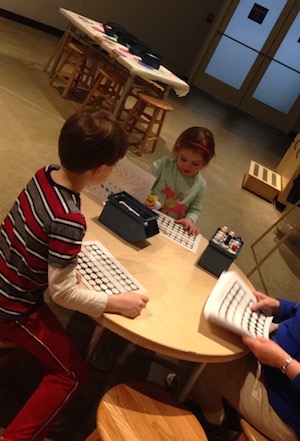 If you are out of the age range to visit with Sid the Science Kid, stop in to see the newly updated 1859 Balloon Voyage outdoor exhibit and balloon! After flying 350 feet into the air, get up close with the baby animals, explore a new location in Prairietown, take a nature walk, visit the 1863 Civil War Journey, and much more. 
The outdoor area officially reopens on Thursday, March 26. For more information on hours, activities, and costs visit ConnerPrairie.org.