When I first started not eating meat at the age of 10, my mom kind of panicked. She didn't know how I was going to survive in part because she didn't know what to fix me for dinner. Fast-forward an amount of years that shall remain vague to when my babysitter, now a high school student, decided to go vegetarian. Her mother took a different approach by buying peanut butter and bread in bulk and not sweating it. Suffice to say, we both thrived.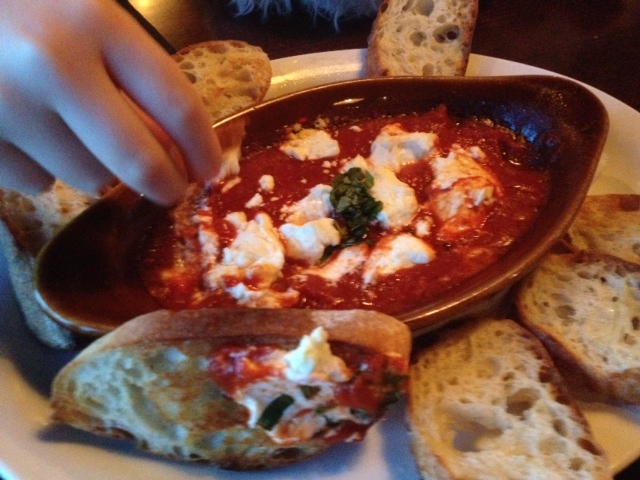 Still, however, when it comes time for my friends and I to choose a restaurant, some worry there won't be any vegetarian options for me. I want to allay everyone's fears: People who shun meat do not need to eat at any special restaurant designated as acceptable by some pretentious vegan association. (Although if one is vegan, the options will dwindle rapidly.) Most of us can find something just about anywhere. Of course, some places have more of a variety than others, and I find ethnic restaurants typically have more to offer, such as: 
Amber Indian, 12510 N. Meridian: I love their palak paneer and vegetable samosas.

Thai Castle, 19 East 126th & Rangeline: While a bit disappointed in their pad Thai, which is one of my favorite dishes, I enjoy their crispy tofu appetizer and chef Nikone is just a fun person, so I love going there.

Sichuan, 11588 Westfield Blvd.: Their lunch buffet is a vegetarian paradise.

My current favorite place, which is Italian, is Crust Pizzeria Napoletana, 12505 Old Meridian St. in Carmel.
It's cozy, warm and inviting. "Cozy" and "warm" are due in large part to the large stone hearth oven. Kept glowing at 700 degrees, it perfectly bakes their superb pizzas, which are topped with your choice of fresh (local and organic when possible) ingredients. And, oh, the options. For the carnivores, Amish chicken (from a small Hoosier farm), prosciutto, Italian sausage and homemade meatballs are choices alongside the standard pepperoni. For those of us who prefer pizza without a face, there is no need to limit yourself to cheese alone, although the Quattro Formaggio (mozzarella, parmesan, gorgonzola and ricotta cheeses) is a pleasant, but slightly bland, option. We thought it might benefit from the addition of mushrooms or onions.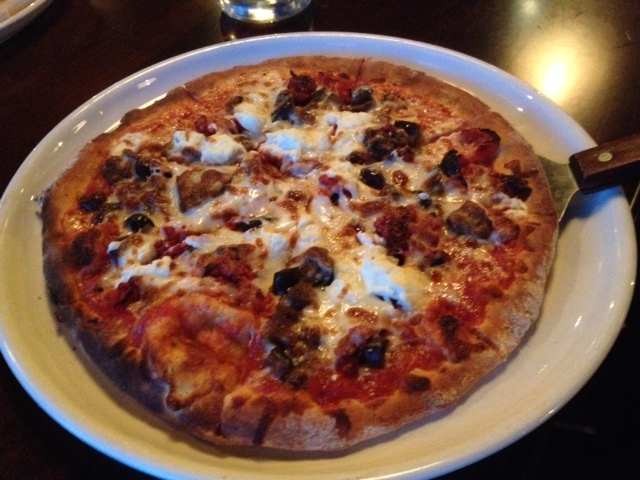 Other tasty meatless options:
Margherita: fresh mozzarella, basil, and homemade pizza sauce
Four Seasons: Roasted peppers, roasted mushrooms, artichokes, fresh basil, and fresh mozzarella.
Vegetarian: Roasted peppers, artichoke, zucchini, eggplant, squash, and fresh mozzarella.
Sicilian: Eggplant, roasted tomato, goat cheese, olives, and fresh mozzarella.
The Atlantic: Smoked salmon, capers, and cream cheese topped with arugula. (Yes, I know, it has fish, which I also eat. Because you know, it isn't meat. It's fish.)
Pizzas are 12" and prices range from $12 to $16.

My suggestion, however, is to come hungry. Your meal will begin with complimentary hummus. But by all means, that should not stop you from also ordering the amazing baked goat cheese appetizer ($8) Yes, it's a simple dish, but many of the best things are. The pungent, bubbly cheese and warm homemade marinara are just about the tastiest things you could ever spread on garlic bread. And it isn't the only vegetarian appetizer option. There's also bruschetta ($8), mac and cheese ($8), and spinach artichoke dip ($9). Salads are the vegetarian standard, and Crust has plenty from which to choose. Prices range from $6 to $9. Panini as well are a great choice with a couple of meatless options that move beyond the standard tomato, black olive and onion mixture you might be served at other pizza places. Prices are $9 to $9.50.
But don't skip dessert, either! We loved the Nutella, ricotta and coconut calzone. Other options, all priced at $5, include gelato with amaretti cookies , tiramisu and cheesecake.