Conner Prairie's outdoor grounds are open March through October, when guests can explore 1836 Prairietown, Civil War Journey and more while interacting with costumed interpreters representing Indiana settlers. But did you know there's a special program in the winter months where you can cook an authentic 1800s meal hearthside in the William Conner House?
About Hearthside Suppers
Hearthside Suppers is a historic food program at Conner Prairie. The event only runs January through March when the outdoor grounds are closed for the season. Tickets go on sale each fall in September and sell out quickly.
Guests arrive in the lobby inside the Welcome Center where they are met by costumed interpreters, who are also the hosts for the evening. At this point, you can purchase tokens for beer, wine and cider. You are then escorted to the William Conner House in 1836 Prairietown.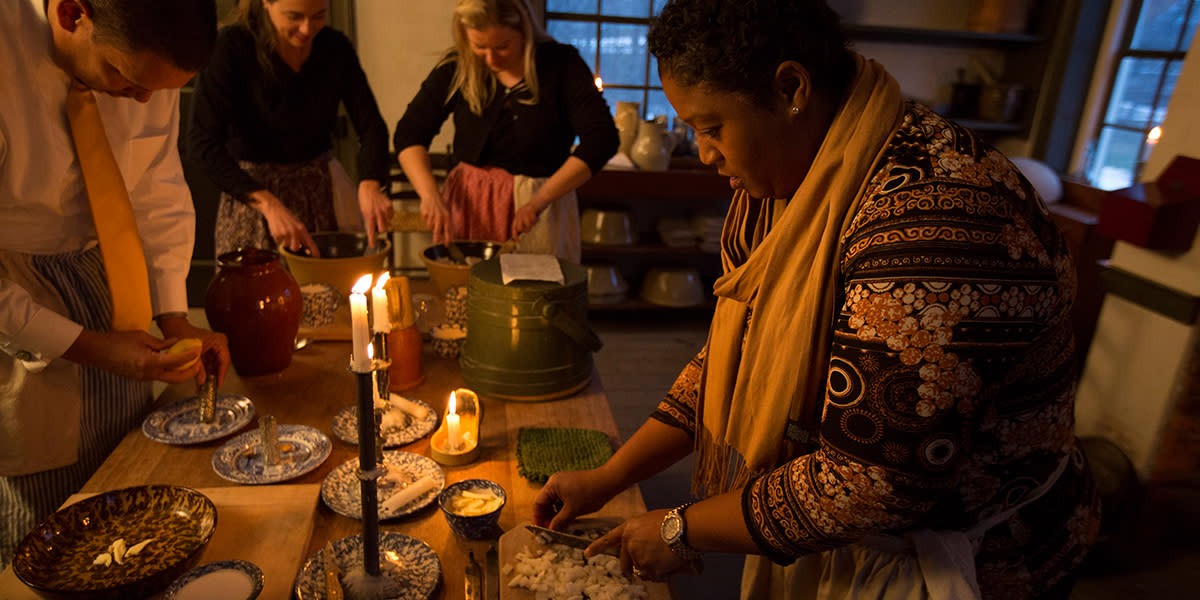 The interpreters guide you through the evening and invite you into the kitchen to help prepare a historically representative meal. All the recipes (called "receipts") are from 1800s cookbooks and feature foods you would find in Indiana in the winter. Think root vegetables, potatoes, carrots, meats, biscuits and more.
Interpreters help the guests churn butter, grind coffee, knead the dough for biscuits and create sauces and jams. Dinner is served at a candlelight table and is a true feast much like Thanksgiving by today's standards – soups, breads, side dishes and meats to pass around and share. It's a chance to break bread and make friends with your dinner companions.
From there, guests enter the parlor for 1800s games and entertainment. There are no smartphones or video streaming services to keep you entertained in 1836! Dessert is then served and the interpreters break character, introduce themselves and explain their full-time roles at the museum.
Guests receive a pamphlet with the "receipts" from the evening's meal so you can recreate the feast at home. Then, with a full belly, guests can depart the museum for the evening, using a  lantern to navigate through the cold winter's night and back into present time.  
Interested in attending this historic event? Mark your calendar and check the Conner Prairie website in September to snag your tickets.