There's not much my husband and I enjoy more than sampling the impressive array of local restaurants throughout Hamilton County. Our most recent adventure took us to Westfield, where the choices have multiplied in the past few years thanks to the influx of visitors from nearby Grand Park Sports Campus—to say nothing of the city's planned Grand Junction Plaza in the heart of downtown.

Because we made the trek on a Sunday afternoon, our options were more limited than usual: foodie favorite Rail Epicurean Market was closed, as was next door neighbor The Italian House on Park. Billed as a farm-to-table restaurant and bar, Rail was the first to plant its flag on Park Street, transforming an old barn into destination dining using local ingredients. Before long, The Italian House and Greek's Pizzeria renovated and moved into houses on each side of Rail.



On nearby Union Street, family-friendly Grand Junction Brewing Co. serves up craft beer and an inventive take on some traditional bar favorites.  Even snail haters will find it hard to resist the Redneck Escargot, which features chicken tenders and banana peppers wrapped in bacon and fried. Fish and Chips stands out from the sandwiches and flatbreads as the lone "signature dish," but be sure to save room for Keltie's Signature Bread Pudding, a holdover from the days when the building housed a popular local catering operation.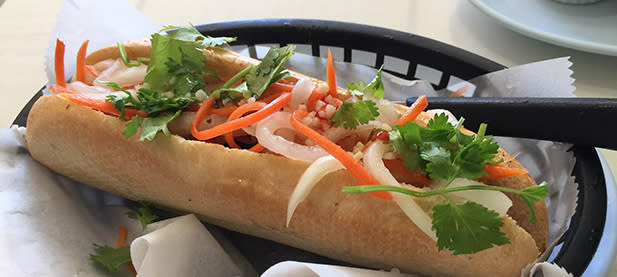 We were tempted by Grand Junction as well as neighbors Jan's Village Pizza and Erika's Place—especially after I got a taste of Erika's tenderloin this summer—but in the end we opted for Vietnamese. Super Bowl Pho has been open about three years, and it appears the secret is out.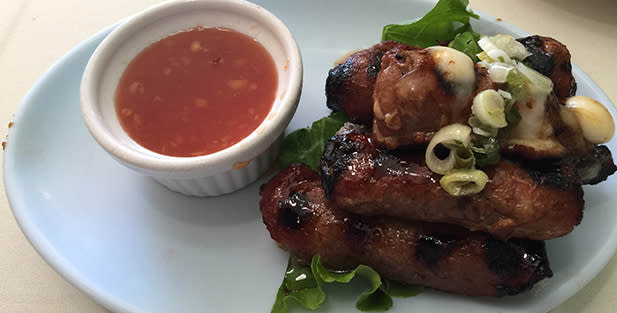 In addition to its namesake dish (a savory beef broth with rice noodles, veggies and a choice of protein) Super Bowl Pho offers a delectable array of options sure to appeal to any palate. Take the Grilled Beef Lemongrass appetizer we tried, for example: mozzarella cheese wrapped with thin slices of sweet onion and beef, marinated in a lemongrass sauce and grilled. What's not to like? The Grilled Pork Banh Mi sandwich was another big hit. Thin slices of marinated pork married well with the perfectly crunchy French bread topped with pickled veggies and cilantro.

We ate our fill and headed home to Fishers pleased with our choice, but we still added Rail and The Italian House to our must-try list. We hadn't even made it a mile outside of downtown before the list grew to include Big Hoffa's Smokehouse Bar-B-Que, J. Razzo's 2 and Lincoln Square Pancake House. We'd better get to work!