Hamilton County has lots to do in the way of outdoor activities and historical attractions, but resident festival expert Andrea Davis says there's no match for HC when it comes to festivals. "No matter what you're looking for, you can find it somewhere," Davis said.
Davis takes little prompting and almost no reaction time to rattle off a list of the festivals and outdoor activities that make Hamilton County a standout. Here's what came to mind for her: 
Looking for a family-friendly way to spend some time with the kids? Try Fishers Freedom Festival or CarmelFest, Noblesville's Street Dance or Westfield's Grand Junction Derby. 
Want an even smaller small-town festival experience? Try the New Earth Festival in Atlanta.
Looking for a more adult experience? Try Art of Wine in Carmel, Fishers on Tap, Noblesville's Beards and Brews or Rock the Junction in Westfield.
First Fridays are happening in downtown Noblesville, especially at Nickel Plate Arts which has a month-long celebration of the arts.
Fishers has "art crawls" and block parties in its Nickel Plate District downtown. Free concerts at the amphitheater are also fun and have a decidedly "festival-like" atmosphere.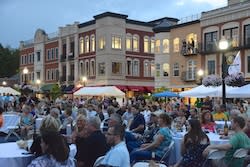 There's a Renaissance Faire in Fishers, amazing cars at Artomobilia in Carmel on Aug. 27 and all kinds of celebrations on the courthouse square in Noblesville.
There are parades all year long. Frequent fireworks. Free movie nights. Friendly faces everywhere you turn.
To make matters even better, Davis assures us that nearly every venue in Hamilton County has free or nearly free parking within a few blocks walk of the main event.
She recommends first-time festival goers pick an event that looks like fun and just explore.  Bring some cash and get a program to make sure you see everything there is to see. Davis stresses, "Don't plan to 'stop by' a festival on the way to something else, because once you get there, you will want to stay."
As a frequent visitor to many of the festivals mentioned, I'd have to say I agree! Check out our festival calendar and take your pick. Then get out, see your neighbors and bring out-of-town friends! Don't forget to tag us in all of your Instagram pics using @VisitHamiltonCo and #VisitHC.