O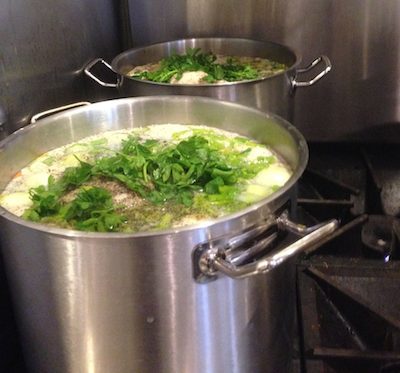 ne of my favorite things about winter has to be soup. I know soup isn't entirely seasonal-I've downed my fair share of summer gazpachos and rainy day tomato bisques. But there's undeniable warmth-soul warmth-in a steaming hot bowl of soup on a freezing night.
I've been experimenting with different soup recipes this year, and while I've found a few winners I can make on my own, other types are best left to the culinary pros. Hamilton County has no shortage of soup masterminds who can make a perfect roux and handle immersion blenders in their sleep, crafting unbelievable chowders and chilis to fight off the winter chill. Here's a roundup of some local favorites, so grab your spoon!
Café Patachou's Tomato-Artichoke soup will satisfy any carnivore with its meaty, delightfully artichoke-y texture and mounds of house-made croutons and shaved Parmesan. You can practically stand your spoon up in this heavenly creation, making it the perfect pick for a stand-alone meal. No grilled cheese necessary.
The Upland Carmel Tap House makes a chunky Buffalo Chili loaded with black and white beans and simmered with their own (and my favorite!) Bad Elmer's Porter. Thai Castle in Carmel makes a perfect Tom Yum soup, which marries the flavors of chicken and lemongrass. Kona Grill's Clam Chowder takes the classic to a new level with applewood bacon and creamy white cheddar (and wouldn't be complete without a healthy shower of cracked black pepper). And Fishers beloved steakhouse Peterson's knows how to cook more than just filets; their Maine Lobster Bisque is made with lump lobster meat, herb oil and chives (this "surf" is so good, you just might forget your "turf")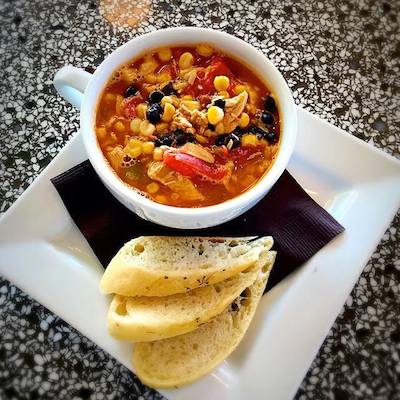 Also on the radar is Urban Ladle , makers of gorgeous gourmet (and gluten-free) soups. Quarts are $10 and sold at the Carmel Farmers Market, Hubbard and Cravens City Center location, Moody's Butcher Shop and Joe's Butcher Shop. Take home pre-made soups like Split Pea, Butternut Squash, Chicken Tortilla and Beef Vegetable. Check their website for which soups they're offering as samples at the Carmel Farmer's Market each week!