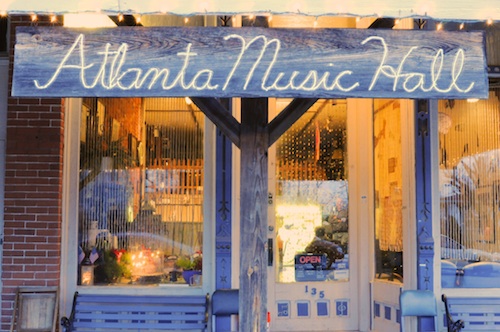 When I went to the Atlanta Music Hall, I planned to stay until intermission.
But they had me at 7:00 when banjo player Gerald Terry said, "Here we go," to open the night of great music with  Under the Double Catfish, the Music Hall Band's take on a lively Chet Atkins, Hank Snow piece.
I was still there at 9:30, one of the last to get a "Thanks for coming" from Gerald's wife and Hall co-founder, Roberta.

In between, I thoroughly enjoyed swing, jazz, show tunes, a little Bossa Nova and even some Dixieland. I heard songs by Duke Ellington, Lerner and Loewe, Leon Russell and Count Basie. The versatile sextet (banjo, two guitars, drums, clarinet/sax and piano) performed The Girl from Ipanema and Lida Rose with the same flair as Whatever Lola Wants (Lola Gets).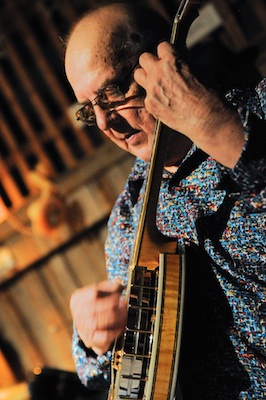 The Music Hall's big sound fills a little storefront in Hamilton County's smallest, northern-most town. The main room could be politely described as intimate. Truthfully, people in the front row probably feel the "whoosh" as piano player Greg Duncan (who performed five years with the Navy band) flips from one page of sheet music to the next.
But whether you're in the front row or the last, the sound doesn't overwhelm. You hear every sweet note and can still whisper words of appreciation (or sweet nothings) to your date. No wonder the typical guest is an older Baby Boomer.
My tip: Go a little early to the Music Hall, especially if you have a preference about your seat. It's open every Saturday night, and regulars from throughout central Indiana fill the assortment of castoff chairs ("the groom's side," says Roberta) and padded park benches. Or go even earlier and have pizza, pasta or an Italian specialty at DeLullo's, a few steps away on Main Street.
After you claim your seat, enjoy the eclectic mix of musical memorabilia on the walls and wander into the back room to see the Hall of Fame - a bulletin board filled with photos from years of Music Hall highlights. If you're thirsty, buy a soft drink or go with the hardest drink in the house, fresh brewed coffee. Since the doors close at 9:30, you'll have time to find libations elsewhere and still be home before the sitter goes into overtime.

Atlanta may not be the first place you think about for a lively and cheap Saturday night. (There's no admission at the Music Hall but donations to pay utility bills are accepted.) It shouldn't be the last, either.