There's a one-stop shop holiday shopping party that you don't want to miss. Yelp's Totally Bazaar returns to the Indianapolis Central Public Library in downtown Indianapolis Saturday, Dec. 7, with more than 150 local businesses and 10 local food vendors participating – including many businesses based in Hamilton County. See who's attending and find more details on the event below.

Brick & Mortar Businesses
Xchocol'Art Gourmet Chocolate
Handmade, artistic chocolates in unique flavors like whiskey honey, chili pepper and pumpkin spice.

Sun King Brewery
Fresh, local beer you know and love, like the Sunlight Cream Ale and Wee Mac Scottish-style ale.

Agave Bar and Grill
Serving up chips, salsa and authentic Mexican food.

Jamaican Reggae Grill
Get a taste of island life with jerk chicken, Jamaican patties and plantains.

Punch Burger
Grab a juicy burger, using only local grass-fed Angus beef.

Indie Coffee Roasters
Whole bean coffee roasts like Ceiba (Guatemala) and Acacia Sidamo (Ethiopia).

Four Day Ray Brewing
Cheers to craft beers like the Track Jumper IPA and Blood Orange Blonde.

Peace Water Winery
Bottles of California wine in varieties like Grateful Red and Wishful White.

Metalmark Fine Jewelry
Boutique jewelry store with rings, earrings and custom designs.

The Shop
Selling t-shirts representing your favorite sports teams like the Colts and Pacers.

Penn & Beech Candle Co. (coming soon)
Pour your own candle blend at this storefront, opening soon in Carmel Midtown.

12.05 Distillery (coming soon)
Purchase rhubarb liqueur and other spirits from 12.05, opening a Westfield location this winter.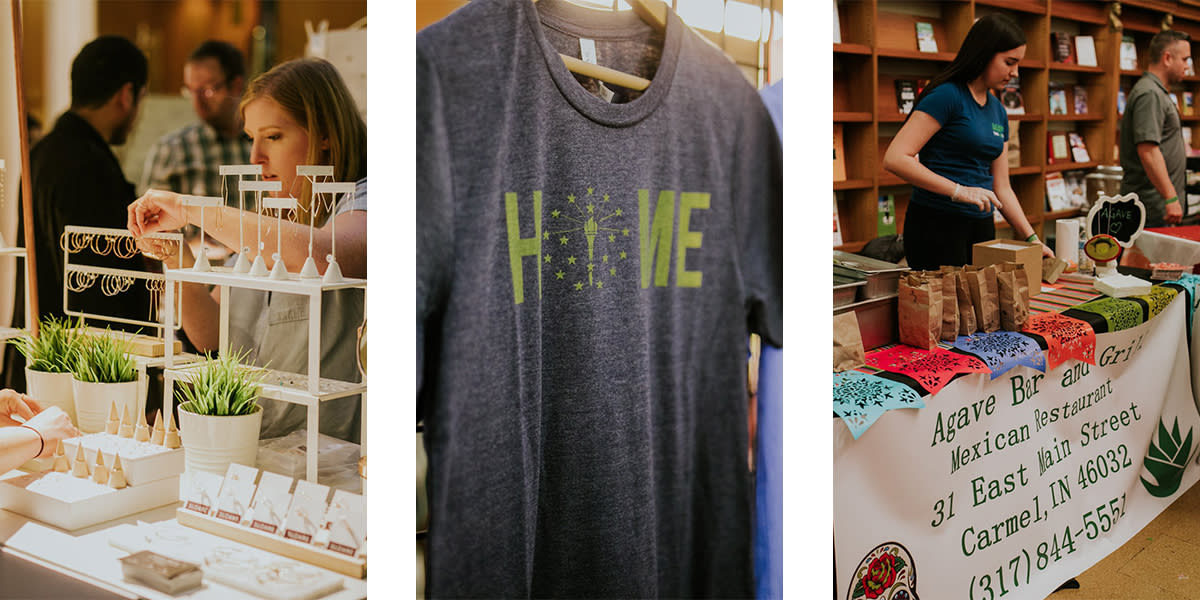 Carmel Winter Farmers Market Businesses
Arepas
A South American tradition (arepas) with an American twist.

Tailored Toddies
Handcrafted cocktail mix for your holiday party.

3 in 1 Restaurant
Serving tamales and pupusas.

Aahha Chai
Pick up an all-natural, organic, fair trade gourmet chai and tea blend.

Artisano's Oils & Spices
Browse high-quality oils, vinegars, infusions, salts, spices and peppers.

Amazing Hazel's
Selling gourmet chili sauce and premium Bloody Mary mix.

Batch No. 2
A local vendor making mustard, catsup and BBQ sauce.

Café Baby
Fresh baby food, free of chemicals and preservatives.

Circle Kombucha
Fermented tea in flavors like Ginger Lemon and Pomegranate.

Mallow Run Winery
Offering blends like Winter White, Reindeer Red and Rhubarb.
Yelp Bookmark Collection
Click HERE to see all the businesses above listed in a handy Yelp bookmark collection.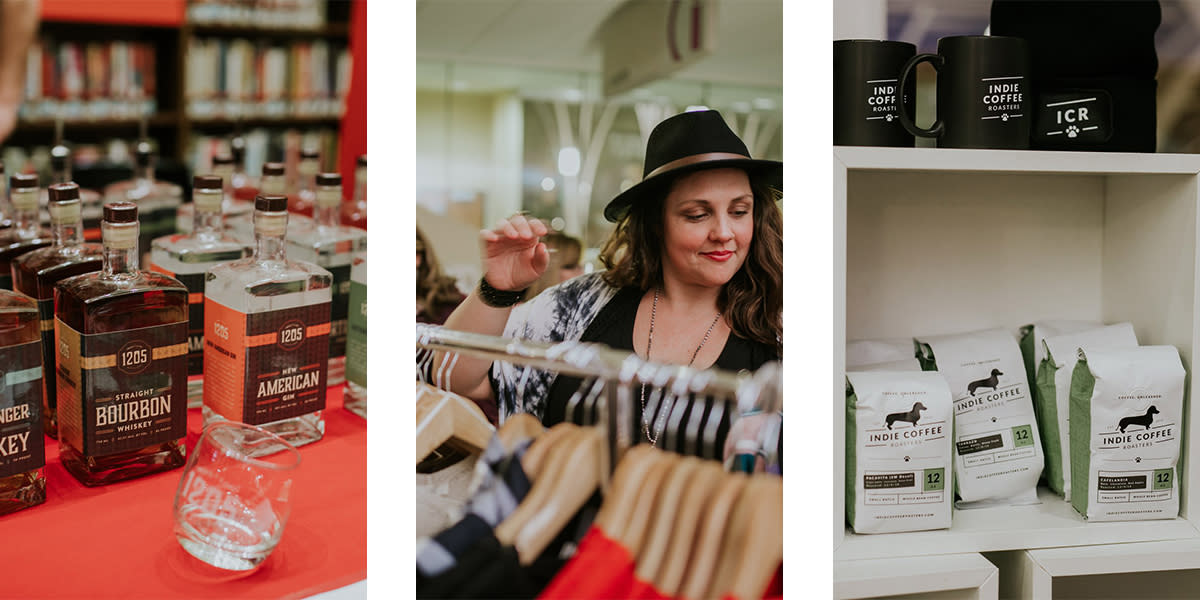 About Yelp's Totally Bazaar
Yelp Bazaar is at Indianapolis Central Public Library, located at 40 E. St. Clair Street in Indianapolis Saturday Dec. 7 from 6:30 p.m. to 10 p.m. This is a Yelp-produced, free event for all ages. Each attendee who is 18+ MUST RSVP on this page prior to the event so organizers can share parking info, vendor locations and more. Be sure your Yelp email settings are *turned on* in order to receive your event confirmation.
Download the Yelp app on your phone before you arrive and follow @YelpIndy on Instagram, Twitter and Facebook and use #YelpBazaar.
Use 15% off two rides to/from Yelp's Totally Bazaar with code YELPBAZAAR (for both new and existing users) on the Lyft app. Metered street parking is available, as well as the Central Library underground parking garage, but both fill quickly. Carpooling is encouraged.