Riding solo can be fun, but sometimes you want to ride with some other people. Luckily it's not that hard to find a group ride in
Hamilton County
.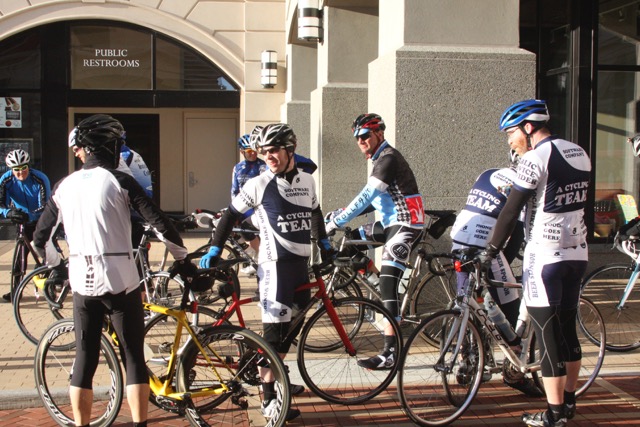 Over the last decade, I've ridden most of the established group rides in the county. It's a great way to get a great workout, meet new people and become a better cyclist. I've learned so much from other riders noticing things I was doing wrong.
A quick word of warning: If you haven't ridden in a large group before, either go early and talk to the ride leader or ask some tips from a more experienced friend. Group rides - particularly the faster ones - depend on everyone working together efficiently and, more importantly, safely.
The best place to find group rides is the Central Indiana Bicycling Association's website, cibaride.org, looking under the repeating and non-repeating rides. The rotating weekend CIBA rides are often held in Hamilton County, so it shouldn't be hard finding one nearby. I love doing these rides because there are enough people riding that you can always find people riding at your pace, and the support stops give you all the bananas, trail mix and water you need. As someone who has gotten more than my share of icy stares in truck stops when I stop for Gatorade and a Snickers bar, those SAG stops are awesome. 
If you're starting out, Nebo Ridge's Thursday night ride features a no-drop, fun and fitness ride. There's a pretty committed group of regular riders who show up every week and give guidance to less-experienced pedalers. If you're still rocking a hybrid bike, but considering upgrading to a flashier drop-handlebar road bike, this is your best bet. You can ride as little as 17 miles, or as many as 36.
Another good ride for cyclists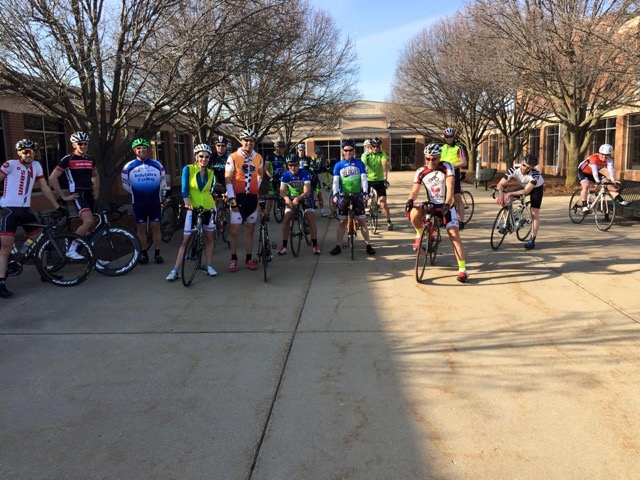 who want to enjoy the experience is the CIBA breakfast ride that starts in the Cool Creek Nature Park parking lot every Saturday morning at 8 a.m. Riders pedal 11 miles to Lincoln Square Pancake House, then after a quick bite, goes another 5 to 32 miles, depending on how fueled you are from the morning's flapjacks. The average speed usually hovers between 15-20 mph.
More experienced riders might want to check out both Motion Cycling's Saturday morning ride and Bike Line's rides Tuesday and Thursday. I've ridden the Bike Line ride several times; it can be a 22-plus mile hammerfest. It's a great alternative to riders who feel uncomfortable with the massive number of people riding the Nebo loop. I haven't ridden Motion Cycling's Saturday ride yet, but I plan to this spring. The route isn't marked, but riders regroup several times along the way. Average speed is 20-22 mph, so be ready to go fairly fast.
Aspiring racers need to hop into the Smoky Row ride, based out of Smoky Row Elementary School. But beware, the fast group is a no-holds-barred, take-no-prisoners ride. If you get dropped - and trust me, you will get dropped - no one is going to sit up and wait for you. Luckily, according to my friend Bri, a couple of other pace groups have formed as well, so you can always ride in with one of them.