Imagine dining at the table of a seasoned chef – sitting just inches away from the epicenter of an epicure. Or picture peeping in on an up-and-coming chef who is prepping tasty original eats.
This is the Signature Table and Fishers Test Kitchen – one of the newest dining options in Hamilton County, opening February 2020. An idea that started over a cup of coffee might now be considered a full-course meal. Also on the menu for the Fishers District are new retail, residential and restaurant offerings.
One of the first businesses to open is also one of the most hyped concepts spreading across the country – the culinary accelerator. What's that, you say? Essentially, the Fishers Test Kitchen is a startup space for three culinary entrepreneurs.
Fishers District
Nestled next to Topgolf and IKEA, Fishers District is a multimillion dollar development at 116th Street and I-69. Opening in phases, the complex will include a new six-story Hyatt Place Hotel and a 252-unit apartment complex. Visitors enter the development through a Main Street that winds south through the district. Hungry patrons can choose from several restaurants including two owned by the famed St. Elmo's – HC Tavern + Kitchen and 1933 Lounge, a prohibition-themed bar. Other eateries will include Sangiovese Ristorante, Havana Lounge, a cigar and whiskey bar, and RAWkin Juice Bar. In all, there will be about 20 restaurants in the complex. Several specialty shops are also rolling out in the plan that will continue taking shape into the spring.
But among the first to entertain guests will be Sun King Innovation Brewery – also the location of the Fishers Test Kitchen restaurant accelerator. Inside the 13,000-square-foot brewery are three 150-foot food stands for small independent restaurants that will serve Sun King guests. The idea is that each culinary entrepreneur will remain at the test kitchen for at least a year and maybe longer.
"Sun King was looking to grow beyond downtown Indy and when we heard about Fishers Test Kitchen we were drawn to the concept," said Clay Robinson, brewer and co-owner of Sun King. "As we have grown, we've looked at ways to adapt to our guests without becoming restaurateurs. To be able to operate in tandem with Fishers Test Kitchen is a win-win and brings a variety of options and tastes to Fishers," said Robinson.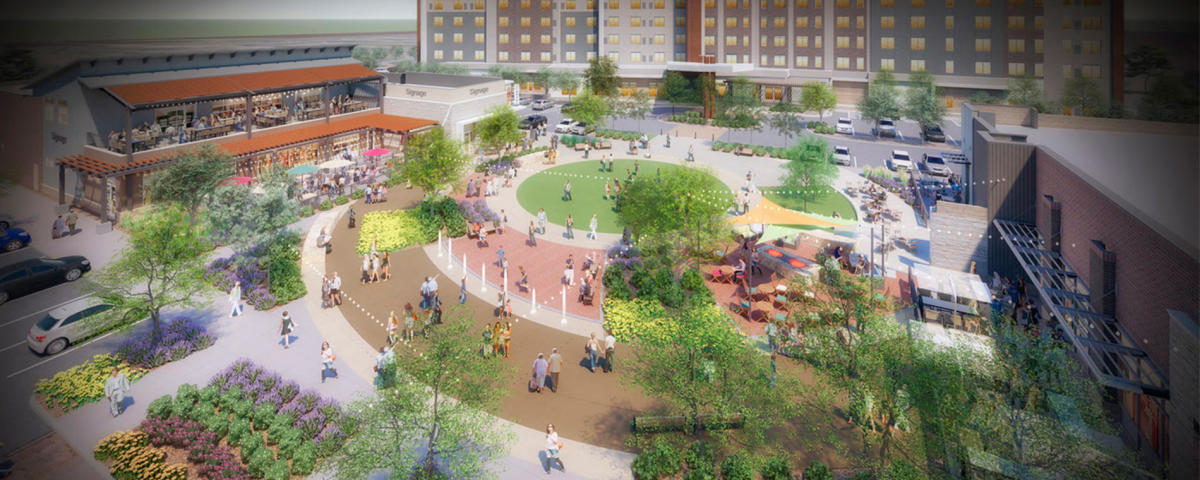 Fishers Test Kitchen
So where did the idea of the Fishers Test Kitchen begin?
It was a coffee meeting between veteran Indy food writer Jolene Ketzenberger and John Weschler, co-founder of Launch Fishers and the Indiana loT Lab.
"Every time I go to a restaurant, I'd rather be in the kitchen watching the chefs than any other place in the restaurant," said Ketzenberger, who shared her vision with Weschler – imagining a space where chefs would cook in front of their guests. Over time, Fishers Mayor Scott Fadness embraced the concept and the idea of a new kind of Hamilton County hospitality began to take shape.
"Fishers has been successful with tech companies in the area, and we're now taking the tech accelerator model and applying it to the restaurant industry," said Wechsler. "We hope this not only surfaces local talent but also brings chefs from across the country and introduces them to what Fishers has to offer."
Another component under the same roof of the 350-seat Sun King and Fishers Test Kitchen is a private culinary space called "the Signature Table." The area provides an intimate dining atmosphere where guests can sit around a table and watch chefs perform their culinary craft.
"We imagine this space being used for a variety of functions from classes to wine or beer tastings to corporate outings and private parties," said Ketzenberger. "I'd love to bring in regional chefs for special dinners and even authors for cookbook signings."
Meet the Chefs
To kick off the Fishers Test Kitchen opening, Ketzenberger, Wechsler, Fadness and Sun King co-founder Dave Colt sampled chef specialties and selected the following restaurants. There are a variety of offerings including chicken skewers, Asian poké, pulled pork, honey Sriracha chicken wings and vegan carrot fries. All the chefs are Fishers residents.
First up, Little Dumplings with chef Carlos Salazar. A graduate of The Chef's Academy, Salazar is known for his Asian-inspired restaurant Rook, located in downtown Indy. He has been a contender of Food & Wine Magazine's People's Choice Best New Chef Award and has participated in the James Beard Foundation events in Chicago. He will be adding a bit of his Filipino heritage to his global street food restaurant.
Next, Natural State Provisions from Adam and Alicia Sweet. The couple opened King Dough Pizza in Bloomington in 2015 and a second location in Indianapolis in 2019. Natural State Provisions will feature menu items like fried chicken and root beer braised pork, among other fare inspired by Adam's hometown of Little Rock, Arkansas, the namesake of the restaurant concept.
Finally, Korave Korean BBQ with brothers Jung Gyu Kim "Chef John" and his brother Jung Min Kim "Chef Kim." After attending culinary school at Salt Lake City Community College, the brothers worked in various Utah restaurants and participated in a food incubation program. They launched a food truck in Utah and moved to the Midwest last year. Guests can expect their specialty dishes such as barbecue beef poutine and barbecue chicken rice bowls.
"Fishers residents have said time and time again that they want more culinary vibrancy," said Fadness. "These chefs are here to offer that and to provide us with choices and variety. It's a great boost for the local restaurant scene."