Fall is the season of leaf peeping, the unofficial term used to describe travelers who seek out fall foliage to view and photograph. The leaves overhead will soon be ablaze in a stunning array of yellow, orange and red. Here's a list of places to view fall foliage in Carmel, Fishers, Noblesville, Westfield and beyond - and fun family activities to enjoy along the way.
Located at 101st Street and Cyntheanne Road is Flat Fork Creek Park, one of Fishers' most popular parks. The 60-acre park has hiking trails, a progressive mountain bike course, fishing pond and three tree houses, one of which is ADA accessible. Climb to the top of the 60-foot sledding hill, also ADA compliant, to the trees in their glorious fall blaze.
Family activity: Bike the picturesque wooden boardwalk to immerse yourself in the fall colors, hopping off the path to explore the hidden tree houses. Can you find all three?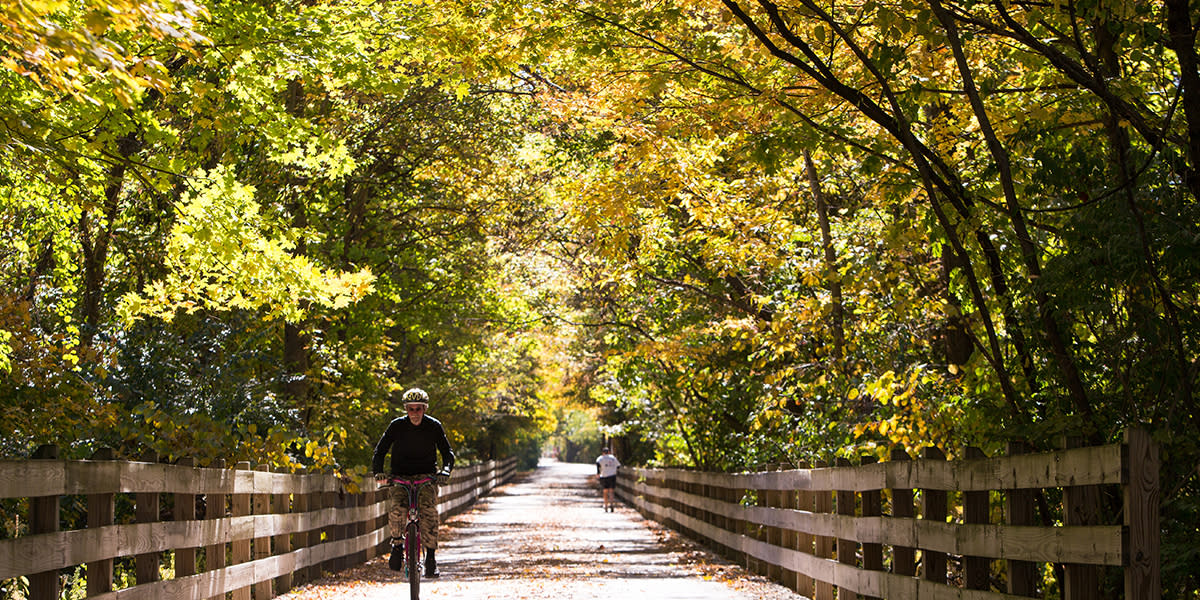 The Monon Trail runs north-south from Westfield to Carmel, connecting to Indianapolis. Lining most of the paved pedestrian path are trees that will change from green to orange and red once the temperatures drop. Start in the Carmel Arts and Design District on Main Street and pedal north to 151st Street to see the canopy of trees.
Family activity: Rent an electric bike from Pedego Electric Bikes Carmel.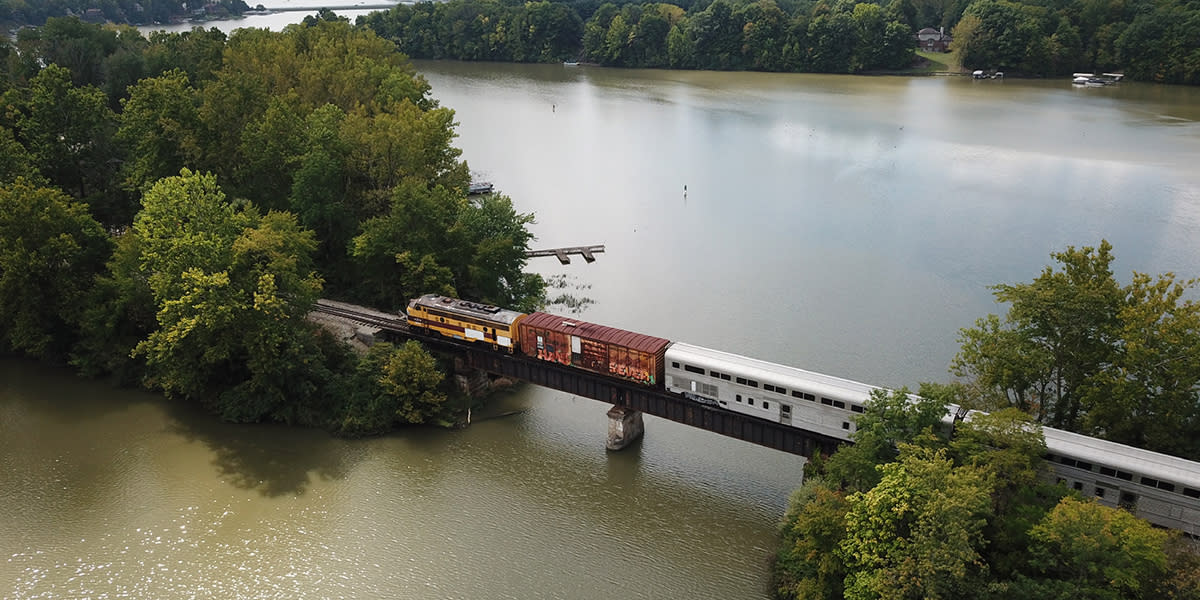 Central Indiana's newest attraction, the Nickel Plate Express, takes passengers in historic 1950s Santa Fe trains from Atlanta south to Arcadia. Along the way, the route passes pastoral farmland, trees and Morse Reservoir.
Family activity: Ride the Pumpkin Express to the pumpkin patch to pick out a pumpkin and enjoy the free fall festival.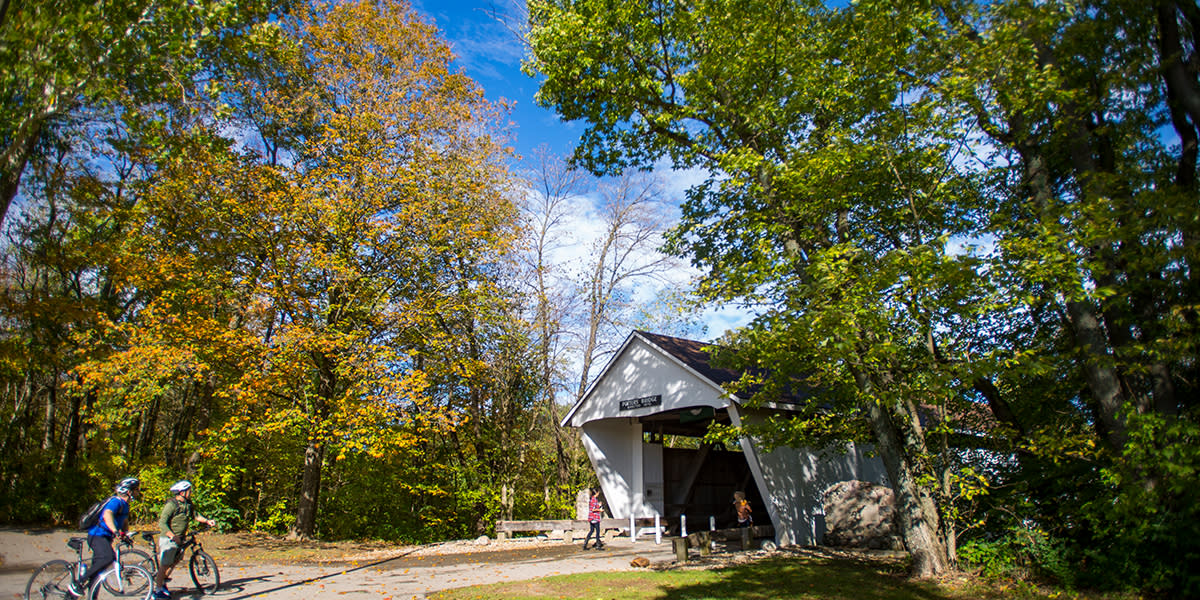 Potter's Bridge is Hamilton County's only covered bridge, built in 1870 and spanning across the White River. While it's closed to vehicles, pedestrian traffic is welcome to walk across the wooden planks. Find two viewing windows on each side of the bridge to peek at the stunning fall foliage.
Family activity: Rent a kayak or a canoe from White River Canoe Company.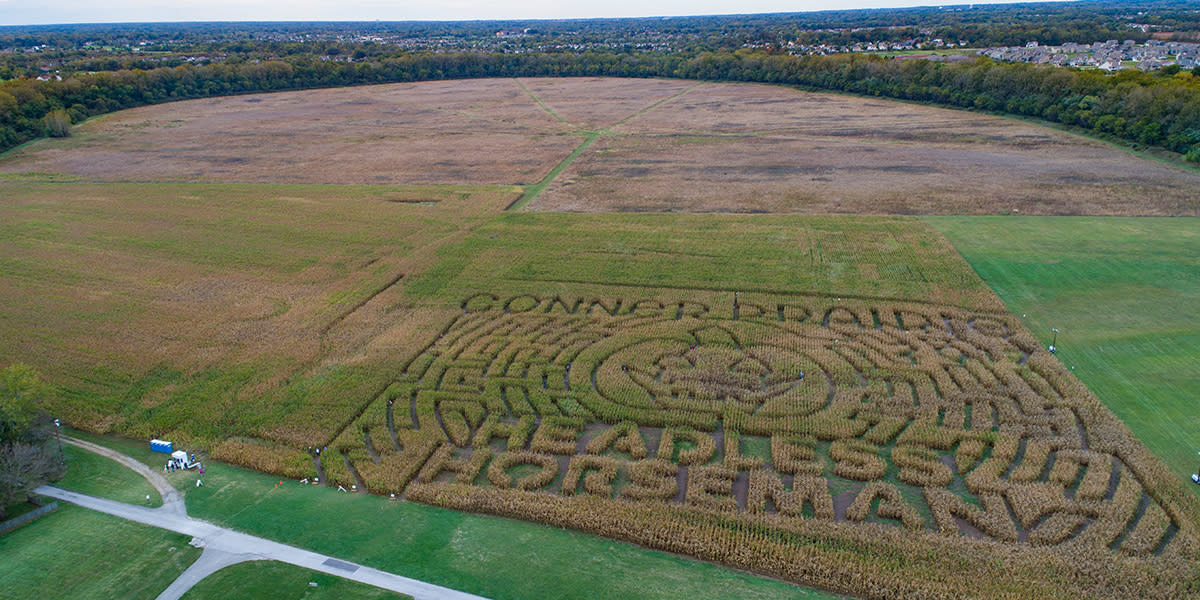 Conner Prairie's historic grounds are spectacular any time of year, but they're even more beautiful when autumn arrives. Get a birds' eye view from Treetop Outpost and the new White River Outlook.
Family activity: Ride the 1859 Balloon Voyage 350 feet in the air to see the grounds from above, including the corn maze. Once back on the ground, explore the corn maze by foot and stick around for the annual Headless Horseman festival in October.
For more things to do this fall in Hamilton County, click here and be sure to follow us on Facebook, Twitter and Instagram.