In recent years, the holidays aren't as much about "giving" as they are "going." Calendars fill with office Christmas parties, picking up the ham, running out for another roll of wrapping paper or taking an armful of boxes to the post office. The frenzied back-and-forth is enough to make anyone's head spin with visions of dancing sugarplums and grandparents at the mercy of runaway reindeer. Despite our best intentions, the busyness of the holidays often puts us in a "holidaze."
This year, Hamilton County Tourism decided to pause the "holiday crazy" to honor the people for whom giving is not only an act, but a lifestyle in Hamilton County.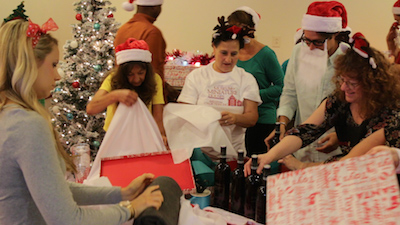 For the project we're calling "Tourism Gives," the Hamilton County Tourism staff identified nine organizations doing big things for the community. We then asked for nominations of particularly stellar volunteers - those who regularly go "above and beyond" what is asked of them. Next, we put together special "staycation" packages with hotel, restaurant and attraction certificates from our tourism partners as a "thank you" for the giving these volunteers do every day.
The catch? None of the volunteers had any prior knowledge of the covert giving operation. Until we surprised them and caught their reaction on camera, that is.
Over the next five weeks, you can follow along on our blog as we introduce and give to nine Hamilton County "serial givers." You'll meet two "dog whisperers," an expert equine handler, a Nigerian microcomputer processor turned nurse and more, as well as the organizations working year-round to benefit the communities of Hamilton County. These organizations don't get to take a break once the holidaze begins, so we've also included ways to help you pause from "going" to give this holiday season.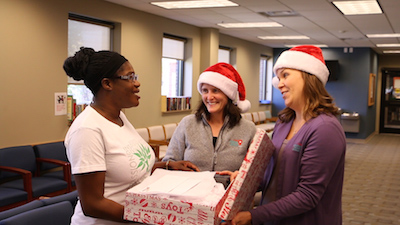 Join us in celebrating the people and organizations that tirelessly give to Hamilton County.
Feel like giving a little yourself this holiday season? Please consider supporting one of these worthwhile organizations with your time, talent and money or give for grants sustainability to the Legacy Fund. 
Also, enter to win this week's "get one, give one" prize! Each week there will be give away for a pair of prizes so you can enjoy one prize and give the other away to someone special.