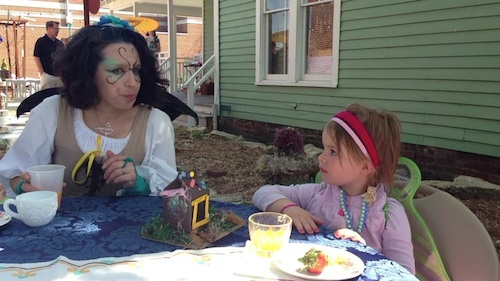 My three year old daughter, Emmy, loves fairies. She loves the houses made of sticks and moss and tiny pine cones, she loves the glitter and the gold and flying fairy wings. So when I learned of the Nickel Plate Arts Fairyville event, a several day long celebration offering fairy themed crafts, a walking trail of more than 20 hand crafted fairy houses,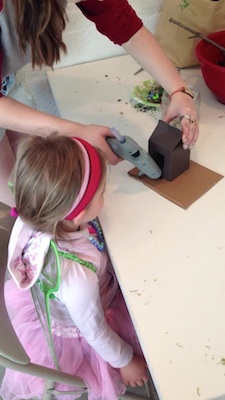 and a garden tea party with fun fairies, I knew that was the event for my girl. So on Saturday afternoon, I dressed Emmy up in her hand picked outfit (ballet leotard, pink sweatshirt, pink tutu, blue necklace, two pink headbands, green fairy wings) and we headed over to the Nickel Plate Judge Stone house.
The event was so much fun. We spent the first part of our afternoon creating a little twig and grass covered fairy house (Emmy slept with the house by her bed and is patiently waiting for a fairy to appear). After the last of the sparkles were glued to her masterpiece, we sat down in the backyard of the Nickel Plate house for tea. The staff set out pretty tea cups and little muffins, fruit and cupcakes, but the best part was when the fairies arrived to the party. Dressed in fancy dresses and full make up, the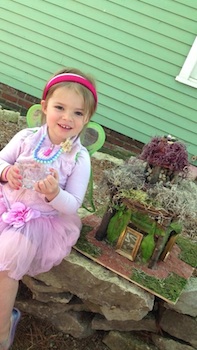 fairies walked around and chatted with all the little guests. Emmy spent an hour smiling for pictures and talking with real live fairies.
"Do you fly?" "Do you live in a different world?" "Do you like my dress?" The fairies happily answered all her questions and marveled over her ensemble.
After the tea, we walked around and looked at the fairy houses on the trail - these are so beautiful and a must see for any fairy fan.
As we were leaving Emmy tugged on my skirt and said "Mommy, this is better than Disney World, right?" (We spent a total of $15, so I would say "YES, this is better than Disney World!").
The two of us are already looking forward to the 2015 event!