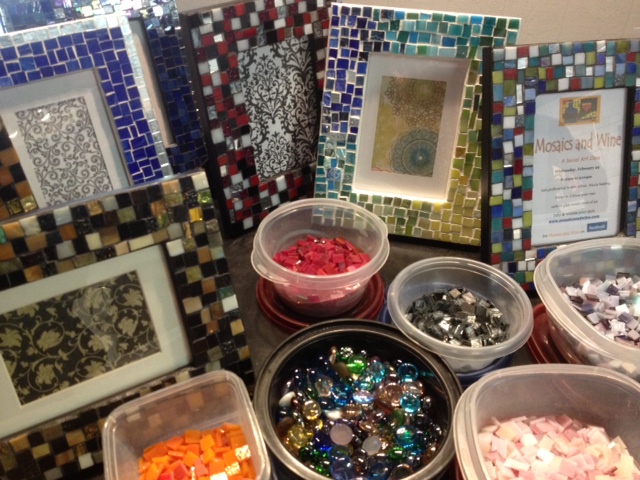 Feeling more artsy rather than crafty of late? Lucky for you (and me!) there are plenty of outlets to get your creativity flowing-along with the wine, in some instances-in Hamilton County.
A friend of mine and I recently headed over to SoHo Café and took part in a Mosaics and Wine class that fit the bill beautifully.
Taught by local professional mosaic artist Nancy Keating, students in the level-one class decorate a frame (either black or white) from a lovely array of tesserae (glass tiles skillfully pre-cut by Keating, stones and shells). Keating has many examples of finished frames on display to inspire you, but encourages you to create something unique-and she promises the finished product will be lovely. She allows students to move at their own pace, and walks around to answer questions, offer advice, and custom cut tile for a hard-to-fit area on your frame.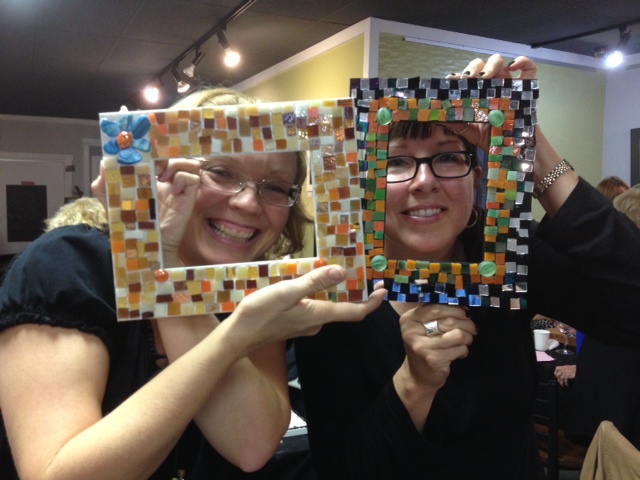 Students in this class, which costs $55, need only lightly sand and glue their designs to the frame. Keating will grout and polish the frame for you to pick up a few days later. As promised, the resulting piece is absolutely gift-worthy, but once you see the finished product, it's likely you'll want to keep it for yourself. Still, there are a couple of classes prior to Christmas if a present is your goal. But the experience is a fun one to do with a friend, and wine is close-at-hand to enhance the evening if you so desire.
If you'd rather paint, Paint it with Pinot is an option that meets at local establishments, such as SoHo and the Fox & Hound, or you can hire the two Carmel founders to teach you to create a piece at a private event. Check their calendar for public events and to see their availability for private ones. (Prices may vary for public events, but are generally around $30 per painter. For private events, there is a $280 minimum fee, so invite five friends and divide it up for $46 per person.)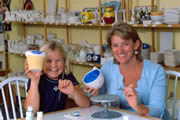 Into ceramics? Kiln Creations in Noblesville and The Creative Escape Pottery & More in Carmel offer plain bowls, plates, mugs, piggy banks and more that you paint and they fire and finish. Prices vary on the ceramic piece chosen, but you can bring your own wine and create your own party ware at the same time.
Or, there's also Nickel Plate Arts in Noblesville, which offers a variety of classes for a variety of creative outlets. A few recent examples include earring making, greeting card creation and soft pastels. Check their online calendar for details.
OK, yes, perhaps these may not be events for the tightly budgeted among us, but what's to stop you from heading to Hobby Lobby or Michaels, picking up a couple of paint-by-numbers, grabbing a bottle of wine and calling a friend? Nothing but laziness, my friends! Get your art on, and have a great time!