At Hamilton County Tourism, we take our research very seriously. For this blog we conducted ample research and taste testing to provide accurate descriptions of holiday cookies from a few bakeries throughout the county. Yes many cookies were harmed and consumed for this and no, we do not regret it!
Below is a sampling of cookie deliciousness that we tried in the name of research for this post. To find even more bakery treats in Hamilton County, visit the dining page.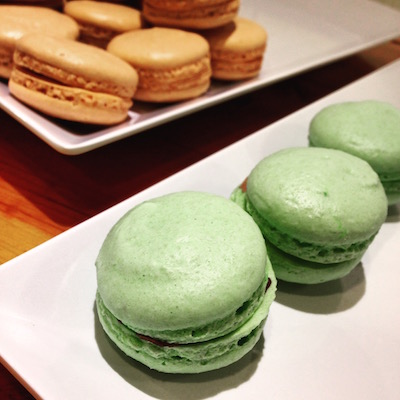 Union Baking Company
Location: Westfield
Cookie type: mint chocolate macaroons
Description: Fancy petite cookies with a hint of mint chocolate sandwiched between two cookies. Also offered in gingerbread, salted caramel and peppermint for the holiday season.
Consensus: This bite-size French inspired treat will wow guests. The light texture of the cookie crumbles upon biting and leads to the minty chocolate filling.
| | |
| --- | --- |
|   | |
Pat-A-Cakes and Cookies Too
Location:Fishers and Noblesville
Cookie type: A boxed assortment of thumbprint, eggnog log, spritz, wedding cake and gingerbread cookies. We also sampled the holiday cutout buttercreams.
Description: A lovely box of cookies that comes wrapped and ready to gift. The buttercreams were a necessity to try as well, as they are the #1 seller at the bakery.
Consensus: The eggnog logs were a favorite of the staff. "The icing on the top and the sugar coating on the bottom make it really different and delicious," Chris.
Betsy preferred the thumbprints, describing them as being raspberry filled with a hint of almond.
The buttercreams were indeed crowd pleasers as well with a mixture of soft cookie and rich buttery icing, literally causing Tina to say, "This is heaven."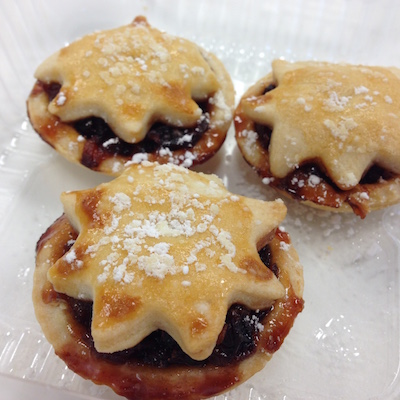 Tina's Traditional Old English Kitchen
Location:Carmel
Cookie type: mini mincemeat pies and spiced shortbread tea cookies
Description: These treats are British traditions. The mincemeat is filled with assorted dried fruits that are cooked with a hint of brandy. No, there is NO meat in them! The shortbread cookies have an added spice for the holidays with extra ginger.
Consensus: Some people just couldn't get past the name "mincemeat", but I could and I was glad I did! The fruity filling balanced perfectly with the salty, buttery crust. It was a tasty mini pie for sure. We all agreed that the dainty shortbreads were a bit dry but would be perfect with a spot of tea in the tearoom.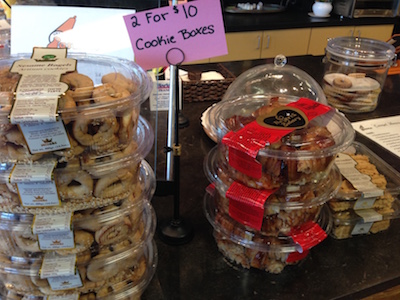 Urban Pastries 
Location: Noblesville
Cookie type: cinnamon rogalach and Moroccan cookies
Description: Urban Pastries imports these cookies and has a two boxes for $10 holiday special. The rogalach is comparable to a mini cinnamon roll and the Moroccan cookies are much like almond shortbread.
Consensus: Both cookies would be tasty paired with coffee or tea. The Moroccan cookies were the favorite of the two and were dense and buttery in texture.
| | |
| --- | --- |
| |   |
Blu Moon Café
Location: Carmel
Cookie type: A gift box filled with decorated sugar cookies, lemon bars, Blu's famous chocolate chip, white chocolate peppermint fudge, caramel corn cookies, raspberry linzers, chocolate wedding cakes and gingerbread cream sandwiches.
Description: This hefty box came with 3-4 servings of each treat type and is wrapped and ready to go. There are small boxes and large boxes available at the café and for ordering. This would make a very impressive gift for someone with a sweet tooth.
Consensus: The box was very gorgeous, the presentation was impeccable! Every staff member seemed to have a favorite in this assortment. Ashley exclaimed that the peppermint fudge, "Gave me goosebumps." The snowman sugar cookies won over her son's heart and taste buds too.

Many of these bakeries are taking orders now for these holiday cookies, don't miss out on these seasonal treats!
Share where you find your favorite holiday treats in Hamilton County in the comments below.