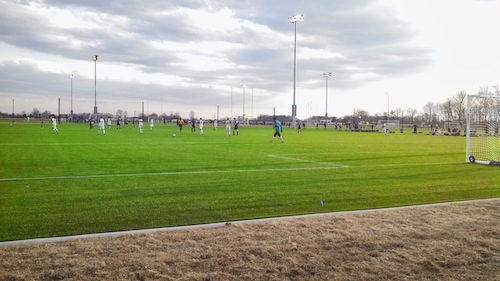 The other weekend I was able to explore Grand Park - The Sports Campus at Westfield in all its glory! It was busy and active weekend for Grand Park, as it will be from now until forever, due to WYSA hosting the Westfield Select Soccer Showcase and Indiana Bulls hosting college level baseball.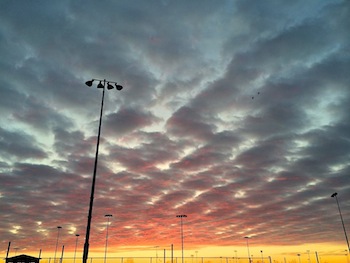 Since the groundbreaking construction ceremony in 2010, I have been following Grand Park's progress. At first it was just a giant, open field (400 acres to be exact). Then the giant field turned into giant mounds of dirt being moved here and there. (Although it didn't look like it, a lot was happening with that dirt - irrigation, drainage, lakes being made and fields being laser-leveled.) I kept hearing things about Grand Park being one of the country's largest sports campuses, but it didn't look very conducive to sports yet.
Fast forward to this past fall, long winter and now "spring", and we're talking a whole new ball game. Over the past few months, lights have gone up, dugouts have gone in, grass has grown and paths have been paved. Grand Park is now officially in full swing, and boy, it is more than one could dream!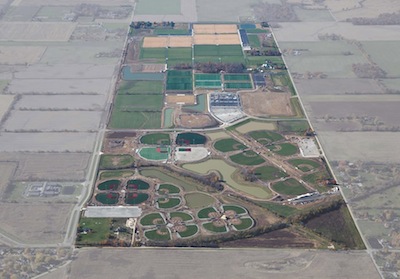 Let's get some facts straight first: Grand Park consists of 26 baseball/softball diamonds, 31 soccer fields, over 10 miles of trails and pathways and 7 concession and restroom facilities. To put it another way, the park is one-mile long! I have been told these staggering numbers for a while but actually parking my car and walking the fields gave me a whole new perspective. Grand Park is massive!
Walking around, I was able to see these fields and players in action - all performed magnificently well, and I give special kudos to Mayor Cook throwing the first pitch. As I was watching the action I got goose bumps thinking about all the entities coming together - the construction people, sports teams, Indiana Sports Properties, Indiana Bulls, WYSA, HCSA, Henke Management, the community and the City of Westfield - and creating a family friendly, competitive, state-of-the-art environment; something that is truly unique. This thought not only makes me excited for Grand Park's upcoming, busy summer, but also for the future. Grand Park - the Sports Campus at Westfield will be a destination for people of all ages and interests and will positively impact thousands of lives creating lasting memories for years to come.
If you haven't seen Grand Park in person, I highly suggest taking a stroll up to Westfield and seeing it for yourself. Prepare to be amazed!