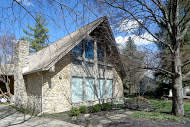 Head Back to the Future in Carmel on June 4th with Indiana Modern, an affinity group of Indiana Landmarks, for their ninth annual Mid-Century Modern Home Tour. The tour features five standout Mid-Century Modern homes in Carmel's Eden Glen and Eden Estates neighborhoods.
Avriel Christie Shull's name is synonymous with Mid-Century residential architecture in Carmel. Two of the homes on the tour feature late Avriel designs, including the home of Chris and Amy Scott. Tour attendees will appreciate the large windows which allow ample natural light into the Scott's home. Stone veneer features dominate both the exterior and interior and will deepen the public's appreciation for Shull's design aesthetic. A second Avriel design on the tour is the home of Jeff and Priscilla Ball. If you've never experienced an Avriel Shull design first hand, don't miss an opportunity to explore both of these properties.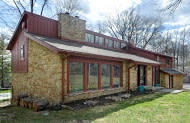 Jack Munson designed a home for noted neurosurgeon Dr. Julius Goodman in 1976. Goodman co-founded the Indianapolis Neurosurgical Group and was a national leader in neurosurgical education. Goodman collaborated on the design for his home with Munson, which includes stone veneer and wood paneling. This Mid-Century design is nestled into a robust tree canopy and overlooks Cool Creek. Now the home of Jeff and Nan Gerson, tourgoers will be delighted by the Gerson's art collection which includes several original animation cells.
Tickets are $15 in advance and $20 on the day of the tour. Tickets are available online. Mohawk Trails Elementary School, 4242 E. 126th St. (east of Keystone), serves day-of tour headquarters, where you'll find parking and tour shuttles. Tickets are available at the school and each tour home the day of the tour.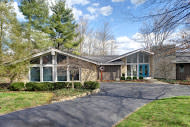 Proceeds from the tour support Indiana Modern's advocacy, documentation, and preservation of important Mid-Century Modern buildings and landscapes across Indiana. Indiana Modern stages Back to the Future: A Mid-Century Modern Home Tour to raise awareness for the preservation of Mid-Century residential architecture. Gain a new appreciation for Mid-Century architecture and interior design after touring the five distinct homes on the tour.
*ENTER TO WIN 4 MID-CENTURY MODERN HOME TOUR TICKETS!*
Photography credit: Garry Chilluffo