Make your holiday list and check it twice! Hamilton County, Indiana is the perfect destination to shop small all season long. These local businesses bring magic to the Christmas season. From unique handmade crafts to delicious locally sourced treats, this guide is designed to showcase the best gift giving options from Hamilton County. Explore and make this holiday season truly special in Hamilton County, Indiana.
Gift Ideas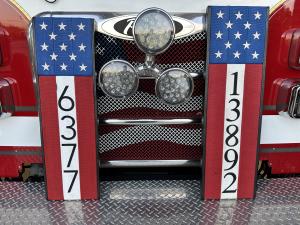 Elevate your home's curb appeal with our NEW Patriotic Address Sign, handcrafted from retired fire hose. Our unique address sign combines rugged durability with a touch of American patriotism, making it a one-of-a-kind addition to your property.
Delightfully Scented Soaps, Bath Bombs, Laundry Soap and more.
From roundabouts to local art, this gift shop celebrates everything Carmel.
Commemorative items from Hamilton County's 2023 Bicentennial. Souvenir book, socks, shirts, hats, drinkware and more. All available on line with shipping, or some items at the All Things Carmel Store (daily), Nickel Plate Express or Hamilton County Historical Society (Saturdays only).
Philanthropic jewelry boutique.
All of our handmade game boards are made from reclaimed wood and finished with a durable topcoat. Marble solitaire is a challenging single player game in which you jump marbles, trying to end up with just a single marble. It makes a great addition to any coffee table!
Hand beaded decor, lighted bottles, sun catchers, wreaths and other one-of-a-kind works.
Buy a railroad, build an empire, master the game! Each Rail Raiders board game at the NobleMade shop is hand signed and numbered by the creator and Noblesville local, Robert Blair.
Hoosier Holiday gift box is the perfect gift to send to family and friends near and far. This box includes goodies made by four local makers.
Cat lover? This mug and a gift card to the local coffee shop makes a purr-fect gift. Or, treat yourself with a visit to the cat-lover coffee shop.
RTIX Tumblers - Keeps your beer ice cold or your coffee warm with one of the limited release Sun King.
Local book shop with a nice variety of books for the readers on your list. Don't miss the eclipse options, just in time for the 2024 Total Solar Eclipse!
Festive hand-made Evergreen Porch Pots to decorate the outside of your home or a friend for the Holidays. The arrangements come in a variety of sizes in decorative pots or drop-ins that can be added the current pots on any porch.  Choose from pre-made pots or order a custom creation. 
Experiences
Hand painted ornaments will be treasured keepsakes for years to come.
Conner Prairie
Museum
Give the gift of a membership that will allow access to the grounds and exciting programing. Conner Prairie memberships offer affordable options and valuable benefits to suit every family size and type. With most levels, a membership will pay for itself after just 2-3 visits. With our expansive grounds, engaging programs, and popular festivals and events, there's always something for you to enjoy!
Gift cards to a Koteewi experience is guaranteed FUN!
Perfect for gift giving - Wood sign workshops provide guided instruction and a relaxed environment. Just bring your creativity and a willingness to learn and you will build a project sign piece from scratch.
Sprouts
Cooking Classes for Kids
Give the gift of cooking. Children ages 3 through 10 will learn basic culinary skills and use kitchen tools just their size.
Give the gift of art this holiday season to the Wondering Peacock, a warm, colorful, and inclusive Bohemian pottery studio with an undercurrent of art therapy flowing through every room.
Tasty Treats
Our Couple's Graze Box is perfect to send as a gift this holiday season! It is a graze for ~2-3 people and includes: Cheddar, Aged Manchego, Blueberry Goat, Brie, hard Salami, Prosciutto, Honey, Jam, Fruits, and more! You can add a greeting card to the order with a message for the recipient plus choose to have the box wrapped up in cellophane and bow if you would like as well.

Loren's AF
Alcohol-Free Gift Items
Shop alcohol-free drinks and mixers for gift giving or a holiday party.
Regalique
Wine & Cheese Club
Wine & Cheese Club that includes 203 bottles of wine curated by Realique experts for a one time charge for 3-month membership.
Gwendolyn Rogers' magical Cake Bake Shop opened in Carmel City Center in 2019, serving up glittery slices of cake alongside cocktails, champagne and savory food. Her Crumb Cakes have earned national recognition in Oprah's Favorite Things 2019 List. Oprah said, "Sugar was never my thing, which is why I fell for Gwendolyn Rogers's crumb cakes. In flavors like maple walnut or blueberry, they're moist, old-fashioned, sweet but not overly, and pretty in pink – the color of her signature box."
Make someone's stocking a little sweeter with chocolates from XChocol'Art, located in the Carmel Arts & Design District. Owner and chocolatier, Joann Hofer, trained in Europe, so you know her chocolate will taste out of this world. Rotating flavors include chili pepper, whiskey honey, pistachio, lavender and more. You can also gift the experience of one of Joann's new hands-on chocolate making classes, which take place in the studio above her storefront.   
Our homemade, preservative-free jar goods are a wonderful addition to a holiday gift basket. Customize your own here at Rise N Roll Fishers!
Fresh home brewed coffee from the cafe to your kitchen. Rivet has great gift ideas for the coffee lover on your list.
A food allergy shouldn't make it difficult to find a sweet treat to eat. Purchase cookies, breads and more from No Label at the Table in Carmel, which only makes gluten- and dairy-free baked goods. No Label started as a farmers market business before opening their storefront, which employees individuals on the autism spectrum. Order chocolate chip, lemon almond, snickerdoodle and ginger cookies online.
For more events in Hamilton County, check out our calendar. Be sure to follow us on Facebook, Twitter and Instagram to see what's happening in #VisitHC.