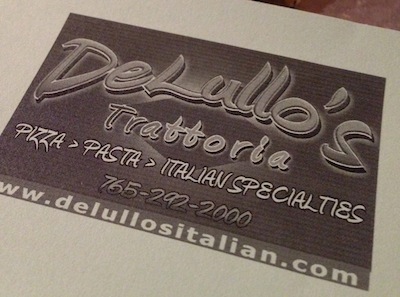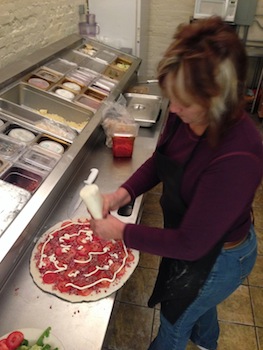 Tucked away in Northern Hamilton County, Indiana is a hidden gem of a destination restaurant- DeLullo's Trattoria. Formerly located in Westfield, the eatery took a brief hiatus and has now re-opened a little farther north on Main Street in Atlanta. DeLullo's opened its new doors in March of last year to serve up its classic family recipes to please the palates of visitors and locals alike. 
After hearing so much about the former location from my co-workers, I decided to give DeLullo's a try. My rather Italian boyfriend (surname Terzini) and I headed up north to see what the fuss was about. Upon our arrival, I caught up with DeLullo's owner Kay who was busy in the kitchen preparing for a party at the restaurant that evening. While swiftly whisking Alfredo sauce, she explained that she'd be cooking up some samples of their most popular dishes, plus whatever else she felt moved to fix for us. As a lover of cooking myself, I know that some of the best dishes can come from cooking what you feel at that moment!
Our first selection was a trio of garlic breads. One was topped with mozzarella, one with pesto and mozzarella, and one with garlic and cream cheese. Garlic and cream cheese? Yes. I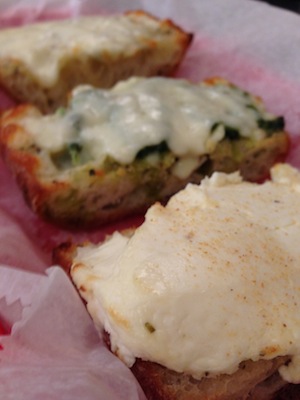 loved the creamy texture of the topping on the crunchy warm bread, it was amazing! My boyfriend preferred the pesto, which was a close second favorite for me. 
Next came samples of spaghetti with marinara and chicken fettuccini Alfredo. Both were hearty and delicious, and the homemade Alfredo sauce hit the spot. Kay mentioned that she prefers to use local ingredients whenever possible, so I'd love to come back when more things are in season! She even runs her own farm on the side that supplies the restaurant with produce in the summer- talk about local eats.
Next was our favorite, the pizza. Kay supplied us with a seemingly small pizza dubbed "DeLullo's Special." Don't let the size of their smaller pies deceive you, I had 1 piece and couldn't eat another bite! The pizza was topped with prosciutto, Italian sausage, red onion,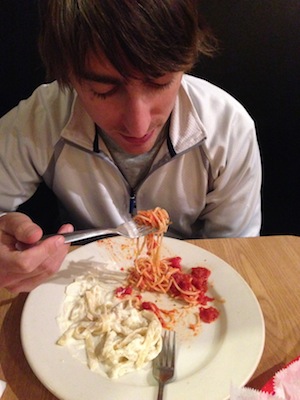 ricotta cheese, roasted red peppers, fresh spinach and a sprinkle of fresh garlic. This blend of flavors got the thumbs up from the boyfriend and two thumbs way up from me. I especially liked the little bit of sweetness that the roasted peppers added.
After trying all of those fantastic Italian flavors, we are definitely planning on coming back to DeLullo's to try even more. Next on my list to try is their pesto ravioli made with marinated grilled chicken, homemade Alfredo sauce, pesto, and sautéed onion. It's definitely worth the little bit of extra drive and makes for a great date night adventure!
DeLullo's is open Tuesday - Saturday, 4-9 p.m.
177 West Main Street
Atlanta, IN 46031