All Hoosier foodies invited!
Join Visit Hamilton County and Visit Fort Wayne for the first Indiana Chef Swap event featuring two of the state's best chefs. Toby Miles of Rail Restaurant & Bar in Hamilton County and Aaron Butts of Copper Spoon in Fort Wayne will leave their home base for a brunch takeover where they will swap kitchens, share spatulas and exchange recipes for a day.
Mark Your Calendars
Sunday, Nov. 17
Chef Aaron will be in Hamilton County cooking brunch alongside Chef Toby at Rail Restaurant & Bar from 10 a.m. to 2 p.m. Reservations are highly recommended through Resy app. The menu price will range from $12-$25. Kids are allowed.

The menu will offer several dishes with an open bar for morning cocktails. Dishes include:
•    Biscuits and local mushroom gravy with sunny egg
•    Pork belly tartine, chicken liver mousse, pickled carrot, arugula, spicy mayo, red fife toast
•    Breakfast fried rice, sausage, cheddar, maple-soy, sunny egg, fried shallots
•    Savory steel cut oats, pumpkin cranberry, aged sherry vinegar, curry coconut soubise
•    Homemade ricotta, fermented hot pepper, local honey, grilled baguette
•    Challah French toast, foraged juneberry syrup, whipped nettle cheese
•    Banana carrot cinnamon rolls with nutmeg icing
Sunday, Nov. 24
Chef Toby will be in Fort Wayne cooking brunch alongside Chef Aaron at Copper Spoon from 10 a.m. to 2 p.m. More delicious details to come!
 
About Copper Spoon and Chef Aaron Butts
Pull up a seat at the bar or tuck into a cozy alcove booth for a relaxing and intimate experience at Copper Spoon. From food that focuses on local sustainability to an acclaimed bar program, Copper Spoon is a hidden gem in Fort Wayne where the locals celebrate and where you can enjoy a fun inventive meal that takes on classic Midwest dishes with an impressive drink menu featuring over 100 cocktail choices.
 
Aaron Butts, a James Beard-nominated chef, who made his name at Joseph Decuis and opened The Golden in 2017, now creates sustainable, locally-sourced meals for guests of Copper Spoon. From their nationally acclaimed bar program to food pairings that make every meal special, Copper Spoon is a perfect dining destination to explore Fort Wayne's foodie scene.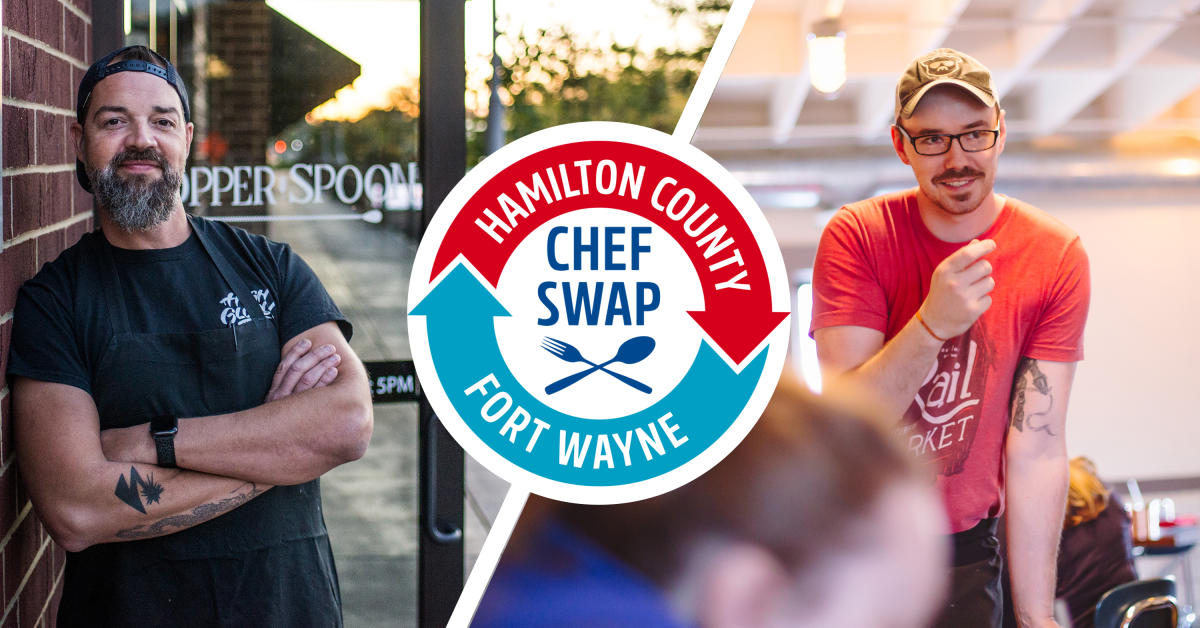 About Rail Restaurant & Bar and Chef Toby Miles
Located in a fully renovated 1860s barn, Rail serves up the best the Midwest has to offer. Sourcing from more than 15 local farms – everything from produce to meats – the menu constantly changes to reflect the seasons. The bartenders also serve up handcrafted cocktails, craft beer and an exciting wine list.
 
As a career chef, Toby worked his way up from washing dishes at a young age – absorbing knowledge as he went – to where he is today. Co-founding Rail in 2014 with his wife Melanie helped put Westfield's Park Street or "Restaurant Row" on the map. The two continued the trend with the newly opened Cone + Crumb, and ice cream and dessert shop that opened next door in July of this year.