H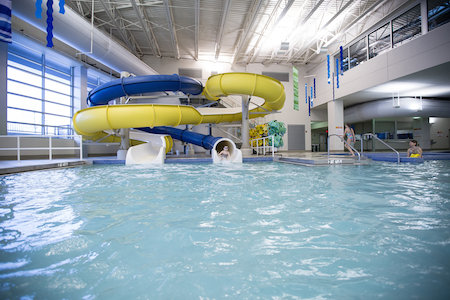 earty Midwesterners we may be, but winter is taking its toll on our spirits and our outdoor fun time. Turn that frown upside down with some indoor fun! There are plenty of places in
Hamilton County, Indiana
to get your indoor fun on. Exercise, recreation, even swimming can all be taken on in the great indoors until spring decides to grace us with its presence.
The Monon Community Center is a one-stop shop for indoor exercise and indoor pool time. There's an indoor track, lots of exercise equipment and even group classes. For those wishing to splash around, the indoor pool, complete with water slides, will do the trick until the outdoor water park's lazy river has thawed. Don't worry if you're just visiting, day passes are available for just $6-10.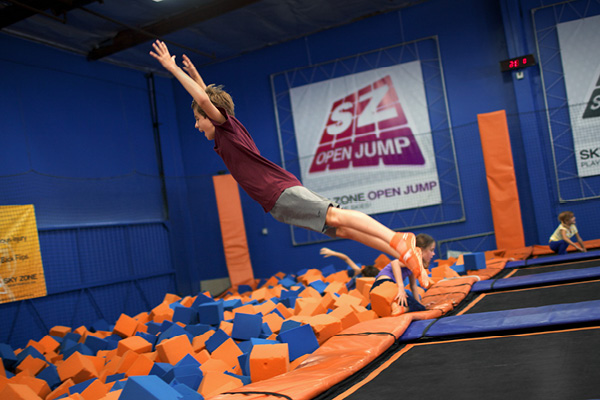 Soar up, up and away! No, there's no Conner Prairie Balloon Voyage involved quite yet, I'm talking trampolines and bounce houses. Head to Sky Zone in Fishers to take to the trampolines to jump, flip and maybe even land in a pit filled with foam cubes. Or try Jump N Play in Noblesville to try out every bounce house there that your heart desires.
Nothing beats an evening of old-fashioned competitive fun with family or friends. Cue the arcades and bowling alleys! Go for a turkey (that's 3 strikes in a row for you novice bowlers) at the newly renovated Pinheads Entertainment Center or Cooper's Stardust Bowl. For a classic arcade experience visit Ben & Ari's where mounds of tickets will magically turn into coveted prizes. To mix it up try a game or two of laser tag at Laser Flash. If you're thinking that laser tag is just for kids, think again. The staff here at HCT tried it out and, well, let's just say we all discovered our competitive sides! Racing enthusiasts will enjoy a trip to K1 Speed in Fishers for laps of high-speed go-kart racing that will get your heart racing too.
And last but not least, get some indoor exercise for your brain. Check out one of the many museums in Hamilton County that offer year-round learning and fun. History buffs will enjoy the Carmel Monon Depot Museum and Hamilton County Museum of History and Old Sheriff's Residence and Jail. Love music? Check out the latest exhibit at the Great American Songbook Foundation inside The Palladium. If kiddos are in tow, the indoor exhibits and play areas at Conner Prairie are perfect for fighting off winter boredom.
When spring finally arrives and the concert venues are not snow-covered, the pools are free from icebergs and the parks throughout the county trade in bare trees for leaves, we'll be ready. Until then, energy can be burned and fun can be had in Hamilton County's great indoors!