Jordan, our Digital Marketing Coordinator, has a passion for good eats. And as a former football player, he sure knows how to chow down on lots of grub! So who better to tell you about some of Hamilton County's fan favorite dishes and eating challenges? Read on to find out "What will Jordan eat?"
I've recently tried some interesting culinary creations in the heart of the Carmel Arts & Design District- the P-B-B & J Burger from The Pint Room and Gator Jambalaya at Mudbugs Cajun Cafe.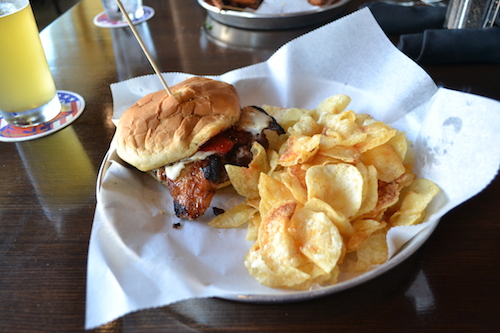 The Pint Room is one of my favorite places to, well, grab a pint. Their beer selection is out of this world! I decided to try a rather unusual pairing with my beer one evening in the form of a new burger. The P-B-B & J burger is described as being topped with sea salt peanut butter, candied bacon, Monterey Jack cheese, plus strawberry preserves and strawberry slices. I've seen burgers with peanut butter before, but jam too? This I had to try. Unfortunately, I don't think this combo was for me and there wasn't a substantial enough amount of the toppings to really make a difference in the flavor. I'll be sticking to one of The Pint Room's many other burger choices.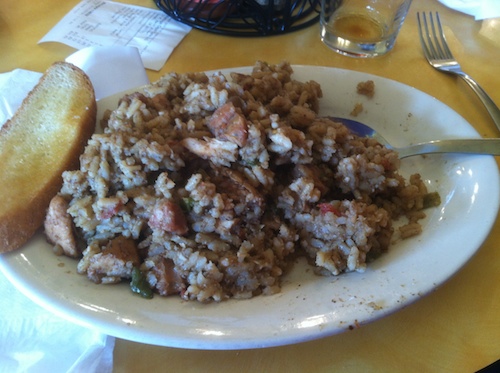 Obviously I am all for trying new foods, but the risk in trying strange new meats is something else entirely. That's why when I ordered the Gator Jambalaya at Mudbugs I was a little nervous. My food adventure turned out to be quite a delicious surprise. I have always thought highly of the local Carmel Cajun eatery, and the Gator Jambalaya lives up to their tasty standards. Having never had gator, I would describe the meat as being a mix between chicken and pork but healthier. It is on the denser side of meats but does not have a gamey or fishy flavor. I have a new favorite dish at Mudbugs! The only downside is that Mudbugs only serves Gator on certain Saturdays, but they will give you a heads up on their Facebook or Twitter pages.
Stay tuned for more of Jordan's Eats! What do YOU think he should try next?