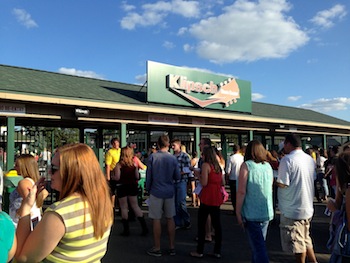 I went to Klipsch Music Center for a last minute concert last week. One thing is for sure- Lady Antebellum owned the night (along with Joe Nichols and Billy Currington)! I had never been to Klipsch for a concert, but I loved the facility and the atmosphere created by the artists and the outdoor amphitheater. The lawn wasn't just a field where you would have to stand on your toes to get a glimpse of any action, it was set on a hill where we could sit and still see the stage. Of course, once the main show started, everyone stood from excitement!
I took my friend Elizabeth, who had just gotten back from Texas and was loving the "Sunny and 75°" weather. Even though Texas is in the Deep South, she mentioned that there were hardly any country music concerts there, but that Klipsch has tons of big names in country come each year.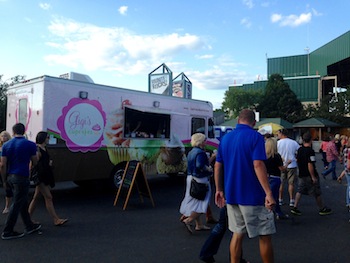 We arrived around 7:15 and there was still a lot of great lawn space available (most people were still tailgating in the parking lot). Everything was easy to find because there were buildings for everything and obvious signage- the venue was definitely built for concerts.
The food and drink sold there were quite pricey, but that's to be expected. Klipsch does allow unopened bottles of water and small bags of food, so we brought take-out and ate during the opening numbers. There were also a few food vendors that sold treats for a reasonable price, like Gigi's Cupcakes.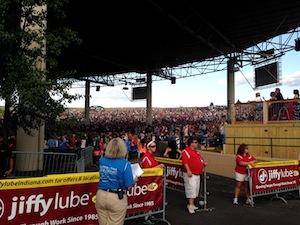 The space filled up quickly and we unintentionally started a Snapchat scavenger hunt for our friends that were also at the concert. I had sent a snap of the show from our viewpoint, and my friend sent one back showing that she was there too! With a capacity of 24,000 people, it isn't that unusual that we knew other people there!
The concert itself was remarkable. The musical groups complemented each other well and Lady Antebellum even called Billy Currington and Joe Nichols back on stage to sing one of my favorite throwback country songs, "It's a Great Day to be Alive", by Travis Tritt. They all acted like a family and kept up the energy throughout the show. The video screens and lighting were creative, and multiple staging areas let the band perform from all over the amphitheater. One of my favorite parts was when the audience raised their cell phones and lit up the night.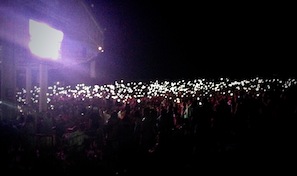 I was very impressed by the ease and convenience of parking at the venue. The parking staff had everything so organized that we got out of the lot in about 5 minutes, even after staying for the encore.
Overall, I had a great experience and I hope to return for another concert soon!
Want to see a concert for yourself at Klipsch Music Center?  Enter to win tickets to the Chicago & REO Speedwagon show!  Winner will be announced on Thursday, July 31.