Sprouts Cooking School's story begins as so many entrepreneurial ventures do: with a search for a service that didn't exist.
When Stephanie Drewry's children wanted to take a cooking class in the summer of 2015, she found that no kid-focused service like that was available in this area.
So, she created her own.
Cooking Up a Concept
Armed with a degree in elementary education and a lifelong love for creating recipes and entertaining, Drewry opened a cooking camp for kids. Operating out of a spare bedroom — all 11-by-14 feet of it — in her Carmel home, she not only taught her own children to cook but also thousands of others.
Using only Facebook ads to get the word out, she soon found her home-based business had so many would-be customers that she had to turn away as many as she accepted.
"I was asking myself, 'What's next?'" Drewry now says of those early days of Sprouts Cooking School. "My youngest was 3 and ready for preschool. I needed something for myself. I thought this might be a career path I could make my own.
And it grew into this."
"This" is the Sprouts Cooking School at Main Street and Hazel Dell Parkway in Carmel. It remains Indiana's only cooking school specifically for kids. Since moving to its own dedicated site in June 2017, the school has expanded. Now available are year-round classes, themed birthday parties, parents' nights out and family sessions, along with summer and school-holiday camps — no cooking experience required.
Sprouts' newest offering, MemberChef, is a chef-taught course Drewry developed for children who want regular, more advanced training.
A few hundred children age 3-13 pass through Sprouts Cooking School's doors in a given week. Many are from Hamilton County — mostly from Carmel, Fishers and Westfield — or from the northern part of Indianapolis. But others make the trek from Brownsburg, Avon and Greenwood.
And what they learn goes beyond how to use a measuring spoon.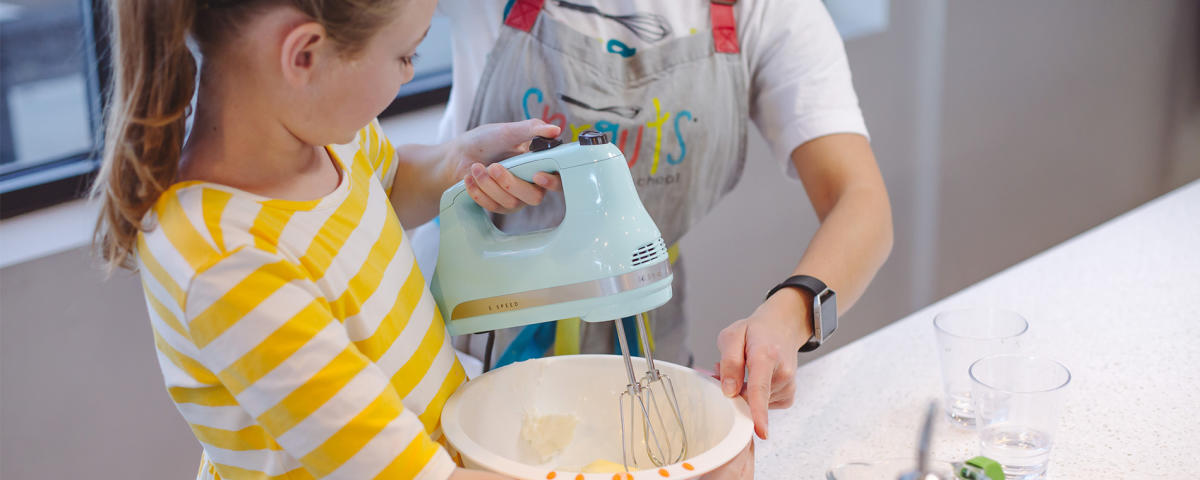 Life Lessons
"They have to learn patience, teamwork, taking turns, how to be outgoing and work with someone new and how to speak up for themselves," Drewry says. "Most important is making new friends, being a good friend to others and being a good teammate."
They also learn to create — and sample — dishes, including some that might be new to them. The display board at the front of the instructional area recently listed turkey meatballs, homemade marinara and pici pasta as the previous evening's recipes. An upcoming themed weekend was to feature recipes for Mexican street corn pizza, s'more pizza and margherita pizza.
In Sprouts' age-specific classes, children work in teams of four at stations throughout the room or, for younger chefs, at smaller tables. With ingredients at the ready, the kids do their own measuring and prep work. When they're done, they're encouraged to taste what they made.
A "no, thank you" rule allows them to decline when instructors ask them to test the food, but most students agree to at least try. And many kids discover they like it. That's another benefit of her cooking school, Drewry says: it helps children expand their palates because they're excited about trying their own creations.
Family Affair
Kids take home cards that show their classes' recipes, so they can continue cooking at home. And many, including Drewry's own children, do just that.
Her children — Emma, 13; Grace, 10; and Jack, now 8 — come up with their own culinary creations and help her develop Sprouts Cooking School's recipes and curriculum. They provide valuable insight into what types of foods and themes would be timely additions to the school's kid-centric offerings. Among the most popular are those based on Food Network shows (think "Chopped" or "Cupcake Wars") or seasonal favorites (like elf-themed goodies, based on Christmas' "Elf on the Shelf.")
Drewry developed her own love of cooking as a child growing up in Carmel. She was 6 when she first started making breakfast for her siblings each morning; later in childhood she took on the responsibility of starting dinner every evening. So, she's gratified each time she hears that one of her young students also has caught the cooking bug.
"I get these stories like this from kids all the time. This is why I do what I do," she says. "I find it incredibly rewarding to see these kids develop culinary skills and develop confidence in the kitchen."
Learn More
Visit the Sprouts Cooking School website for more information and to sign up for classes and camps, parties and the MemberChef program.