Whether your new year's resolution involved supporting the arts or exploring new places, checking out The Center for The Performing Arts in Carmel, IN should be at the top of your list. What better escape from the chill of winter than a performance in one of their three world-class spaces, including the Palladium, The Tarkington, and The Studio Theater? Below are some of our top tips to get you ready for an evening at one of Hamilton County's best arts and culture venues.
10 THINGS TO KNOW BEFORE YOU GO
1.  Tickets can be purchased online, by phone or at the box office. For a full list of performances, check out the calendar. There are performances almost every day of the week and in many different price ranges. Don't forget about the many theater performances as well that take place in the two smaller venues, including many that are family friendly.
2.  Did you know you can save up to 30 percent when you take advantage of a Series Subscription, which lets you purchase tickets to multiple performances? They also have a Choose Your Own Series that lets you mix and match your tickets. Perfect for anyone with eclectic taste. Students can also get discounts on tickets with a student ID.
3.  Unlike many performance venues, parking is FREE at The Center for the Performing Arts. There is a parking garage located onsite as well as street parking. Valet parking is also available beginning one hour before any performance at the Palladium. For a complete list of all parking options, click here.
4.  You can grab dinner at one of the many restaurants nearby before or after a performance. divvy, a small plates restaurant, is one of my favorites and is perfect for group dining as everyone shares a few bits of a variety of dishes. divvy is located right next to the Palladium and can be accessed from the same parking garage. The Carmel Arts & Design District is located just a few blocks away and features even more dining options. The Palladium also houses The Basile Café, open before select performances and during intermission.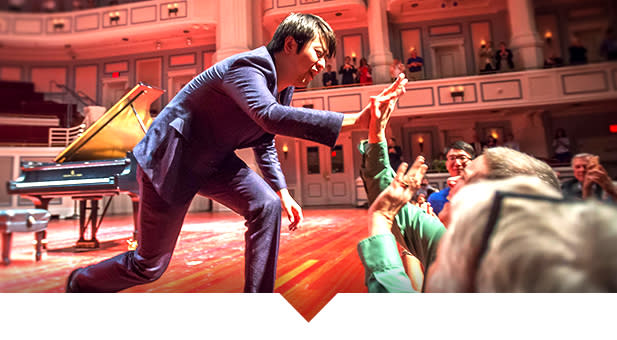 5.  The Palladium's exterior features Indiana limestone and is modeled after La Rotunda in Italy. The 8,500 square feet inside the building is filled with special details that make the space as much an attraction as the amazing performances happening inside. The acoustically perfect performance hall features a variety of seating options including some seats located behind the stage, which give you a unique view of the performer and the audience.
6.  The Studio Theater is an intimate black box space that seats 250 and can be transformed in a variety of ways. This makes each performance extremely unique and gives the performers lots of control on how they interact with the audience. Just this season, you can catch everything from Shakespeare to Broadway to a magic act and experience it up close.
7.  Don't underestimate the diversity of the performances at The Center for the Performing Arts. I was blown away by the upcoming performance schedule's wide range of music styles, performance types and international performers. If you think there is only classical music at a venue like this, you're missing out on huge range of shows that are taking place throughout the year. If you usually take in the symphony, why not stretch yourself with a country performance by Kenny Rogers? If you typically see artistic theater productions, why not try out a Latin Dance Discovery Class where you get up and learn alongside others? Be adventurous in the new year!
8.  Look for family friendly performances to introduce your kids to a love of the arts. Check out Peanut Butter and Jam sessions throughout the year that allows little ones to get up close and personal with a variety of performers. Most take place Saturdays at 10:30. The cost is $10 per ticket but each purchase includes two free adult tickets, making this a very affordable family outing.
9.  If you're between the ages of 21-40 and interested in connecting with other performing arts fans, check out The Scene for young professionals. Membership is $45 and includes 40 percent off The Center Presents tickets as well as one free ticket voucher and access to exclusive social events.
10.  Be prepared to be amazed at all The Center for the Performing Arts offers. There are more than 50 "The Center Presents" performances each year (pop, rock, country, folk, classical, jazz, world music, dance, family, holiday) and up to 400 arts and community events are held on the campus. If you've been thinking about checking out this award-winning attraction, right here in Hamilton County, this is the year to give it a try. I promise you won't be disappointed.