The hospitality industry has been hit hard by the COVID-19 pandemic. Here are ways local businesses are mobilizing their time and talents to help the greater community.
Feeding the Frontlines
Carmel's Program
The City of Carmel and the Rotary Club of Carmel, through the Rotary District 6560 Foundation, has announced a new program to support local healthcare workers and restaurants. Feed the Frontlines Carmel allows the community to donate meals from local restaurants to be delivered to healthcare workers on the front lines. Local restaurants receive the critical business they need to keep staff employed, and healthcare workers will receive a nourishing meal.
The program will provide 190 meals each day, divided between St. Vincent Carmel and IU Health North hospitals in Carmel. Participating businesses include divvy, Donatello's Italian Restaurant, Fork + Ale House, Greek Tony's Pizza and Sub Shop, Joe's Next Door, King Cal, Muldoon's and Woodys Library Restaurant.
To kickstart the initiative, the City of Carmel has funded $10,000. The community can donate HERE. Additional information can be found on Carmel's COVID-19 "How Can I Help" page.
Donations will pay for meals produced by independent local restaurants and delivered to frontline healthcare workers. Any remaining funds at the end of the initiative will go to the Rotary Club of Carmel's Community Service Fund to support our community through local food pantries.
Other Stories
Huse Culinary worked with Peyton and Ashley Manning to serve lunches to healthcare workers at St. Vincent Hospital. The restaurant group, which includes St. Elmo Steak House, Harry & Izzy's, Burger Study, 1933 Lounge by St. Elmo and The HC Tavern + Kitchen, developed a program to allow the community to help give back by purchasing donation box lunches. The meals will be served to healthcare workers, first responders and other essential employees battling the COVID-19 pandemic. Owners Craig and Jill Huse will personally match the first 1,000 donated box lunches.
Four Day Ray Brewing in Fishers is asking anyone to nominate a Healthcare Hero and each week, they will pick 20 healthcare workers to receive a $12 e-gift card that can be used toward food or drinks. Nominate someone here.
Clancy's Inc., which includes Michaelangelo's Italian Bistro, Grindstone on the Monon and Grindstone Public House, is offering free meals to all front-line doctors, nurses, medical professionals, police officers, firefighters and EMTs. Simply show a badge or valid I.D. to redeem a complimentary meal. Offer value up to $15, limit one per person. Cannot be used with any other discount.
divvy is partnering with Carmel City Center and Pedcor Companies to launch a Feeding Neighbors initiative, which will provide meals to children and their families in Hamilton and Marion counties that have been impacted by COVID-19.
Local residents began the Front Line Appreciation Group (FLAG) to support health care workers with meals from local restaurants. Learn more here.
Feeding Employees
In addition to feeding healthcare workers, local businesses have stepped up to feed their own staff and others impacted by COVID-19. Here are a few of those stories.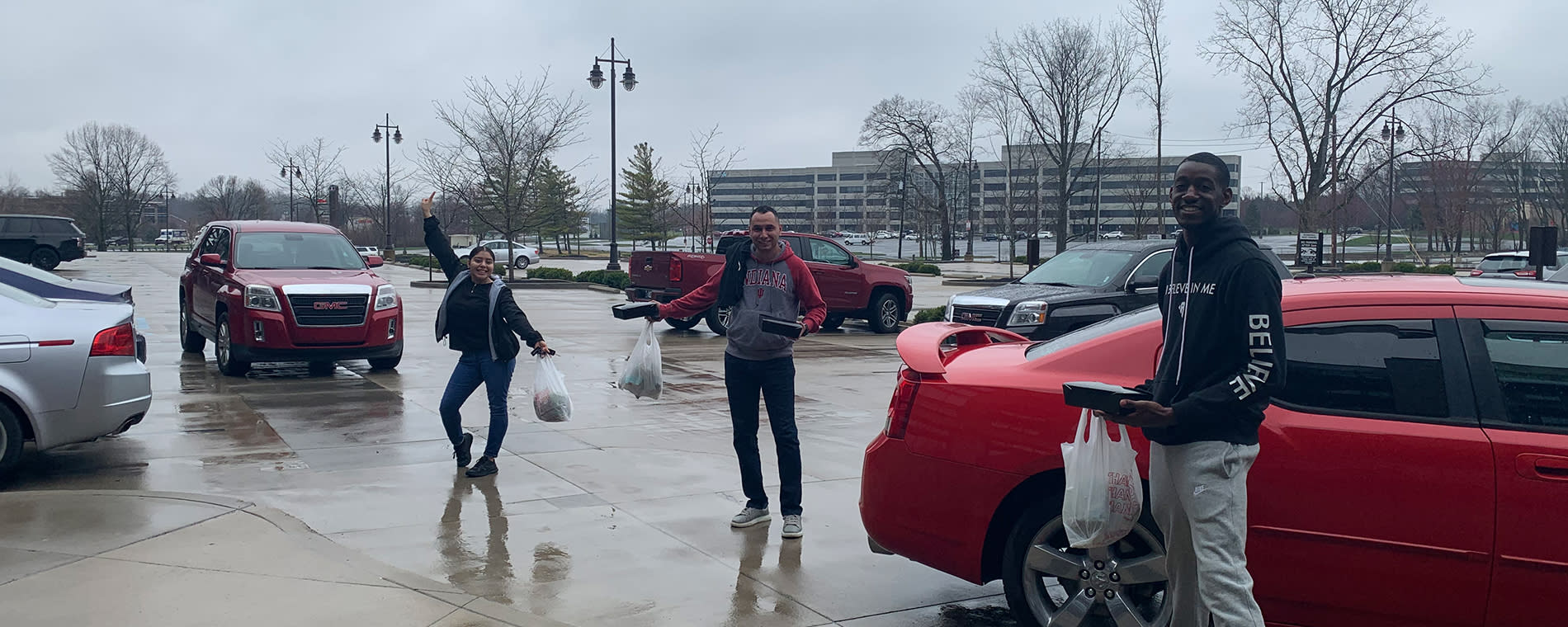 When the news came March 16 that all restaurants must be closed to dine-in patrons, Juniper on Main in Carmel had just finished replenishing their food preparations. Taylor the kitchen manager quickly organized all staff to fill bags with food to take home to their families to help them get through these closures. Taylor then organized with Refuge Place to deliver the remaining inventory for hot meals to serve the homeless.
Renaissance Indianapolis North Hotel in Carmel hosted a care package drive-thru to support their associates that have been most affected by the quarantine. Gordon Food Service donated 70 pounds of pork shoulder that Renaissance chefs cooked into pulled pork for staff.
Ruth's Chris Steak House - Indianapolis North's culinary team makes curbside pick-up meals every weekday for the staff that is currently able to work to take home to their families.
Sahm's Restaurant Group has pivoted their restaurants to become a Food and Provision Marketplace with a goal to "Feed to Flatten" and feed the people at grocer-like prices. This includes a touch-less carryout process and a menu that encourages customers to order for the whole week. In conjunction with the "Feed to Flatten" initiative, Sahm's has partnered with Second Helpings and One America to supply more than 10,000+ meals every week to the people in the community that are unable to do so on their own.   
The Director of Sales at the Cambria Hotel Westfield has been delivering groceries bi-weekly to laid off Cambria housekeepers.
Visit our blog for more feel-good stories of relief efforts in Hamilton County communities.