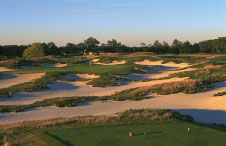 Just a few minutes north of Indianapolis is Hamilton County - a community dedicated to golf. Beautifully manicured and affordable public courses are located within minutes of each other, bundled together is easy Stay & Play packages. In Golf Digest, seven of the 15 courses named the best courses in Indiana are located in or partnered with Hamilton County. With countless other endorsements from Golf Week, Golf Magazine, and more, it's no wonder that Hamilton County is Indiana's true premier golf destination!
Want to play more than one course? Our Stay & Play packages easily bundle together courses and overnight stays at hotels for a great golf getaway to Hamilton County, Indiana. Hamilton County golf offers the most discriminating player a reason to return again and again. Special rates for lodging and golf are provided to visitors and area hotels automatically setup tee times. All inclusive packages include accommodations with breakfast, confirmed tee times with cart, welcome gift upon check-in and a pro shop apparel discount. One call does it all!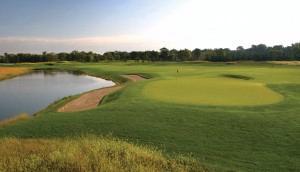 The 19th Hole is as much a part of golf as the previous 18. Whether you're celebrating a hole in one, trying to ease the pain of your score or settling up, you'll find the perfect spot to quench your thirst and satisfy your appetite. From local breweries to tenderloins and steaks, Hamilton County serves up local neighborhood eateries featuring all of your traditional favorites. Or book a tour with BrewsLine and get ready to enjoy a premier craft beer experience.
Read about our favorite holes from Hamilton County's public access golf courses Par 5's:
Introducing Hamilton County's mythical 18 hole course made up from public access golf courses Par 5's!
Hole 1 | "Diabolical Dogleg" | 18th at Prairie View, Carmel
Off the tee there is a 90 degree corner to turn, but Sycamores left and bunker sand right guard the bend. Cut it too close and a good day's score is shot to...well, you know. A smart layup to the creek fronting the green can yield a closing birdie.
Hole 2 | "The Equalizer" | 15th at River Glen, Fishers
Two controlled shots are needed to an approach over a creek. A white knuckler, but a well-played second strike can offer a chance for an eagle. Leaving the green, one has an equal opportunity to surge ahead or get behind.
Hole 3 | "Saint Patrick" | 9th at Purgatory, Noblesville
The clubhouse chimneys provide the tee target for this best as 3-shot hole. A well bunkered green falls away. Playing patient along the left side can make opponents green with envy.
Hole 4 | "Classic Conclusion" | 18th at Wood Wind, Westfield
Heading home to a classic clubhouse backdrop, landing zone bunkers test the player's shots along the way (see green complex). Regardless of score, the end of the round is an unforgettable finish.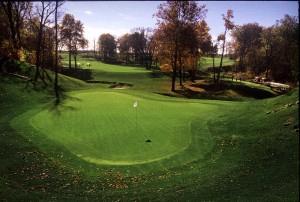 Hole 5 | "The Adventurer" | 12th at Bear Slide, Cicero
The tee shot has a large landing area and then offers two roads. The low runs along a lake with a better angle to the green. The high is dryer but tougher on the third shot. The road less traveled usually gets a birdie. But which one is it?
Hole 6 | "Most Unique" | 15th at Brickyard Crossing, Indianapolis
Located at the heart of Indy car racing, Brickyard Crossing's signature feature is the four holes located inside the oval track at the Indianapolis Motor Speedway. On the 15th hole, the water hazard starts on the right side of the fairway and crosses the hole midway through before finishing on the left side of the hole. This Indianapolis golf course is included in the Hamilton County Stay & Play packages.
Hole 7 | "Temptation" | 12th at Plum Creek, Carmel
Direction and discretion are needed off the tee with left and right trouble in view before a golfer even thinks about going for green in two. It is more of the same on the third shot to a small, water and bunker protected, undulating green.
Hole 8 | "The Gryphon" | 18th at Purgatory, Noblesville
It is a classic risk reward with a wishbone fairway. But go over its center valley, blistered with bunkers, and a down slope kicks your ball to just a mid iron from the green. Close attention to pin locations can yield a closing birdie.
Hole 9 | "Sneaky Seventh" | 7th at Prairie View, Carmel
After a generous open fairway, careful thought is required for the second shot. The hole deceptively waits for a pulled left or pushed right hit by a careless player. The golfer's final challenge is to a well bunkered, long narrow green tucked by the White River.
Hole 10 | "Accuracy a Must" | 4th is at The Fort, Indianapolis
The demanding, long par four doesn't play as long as the 438-yard number on the scorecard but the drive lands in a blind, downhill area that generally slopes to the left. This Indianapolis golf course is included in the Hamilton County Stay & Play packages.
Hole 11 | "Risk-Reward" | 8th at Brookshire, Carmel
The prime real estate on this hole is the fairway's right side. Accurate and long tee shots have a chance to be on in two. Left is tree trouble and costly. As per usual in Carmel, it's location, location, location.
Hole 12 | "Albatross" | 5th on The Lakes at Ironwood, Fishers
A crossing creek is the first obstacle off the tee and then water bends down the right side of the hole. A sharp right turn of the fairway can present an angle for up-and-over-the-corner tee shot. What follows is a mid-iron chance for a duce and perhaps the two shot glory of an albatross.
Hole 13 | "Take It From The Top" | 1st at Forest Park, Noblesville
In 1927, it was the first hole ever played in the county. A scenic tee box encourages a fade to start this reachable dogleg. A miss left or right to a small saucer green is short sided in kidney bean traps.
Hole 14 | "Eagles Landing" | 4th at Gray Eagle, Fishers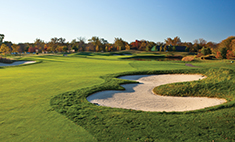 The best tee shots land adjacent to a unique wood carving of the American Eagle just off the fairway (see picture). The next ball flight should favor the left side, avoiding creek trouble on the right side of its two tier elevated green.
Hole 15 | "Dead Man's Curve" | 18th at Stony Creek, Noblesville 
The tee shot faces an avenue of trees and a blunt dead end that starts the 90 degree second shot uphill. Get the right distance off the tee and it's a clear but long shot to massive green. Go off this route and a battered 18th hole score is found in the wreckage.
Hole 16 | "Caveat Emptor" | 6th on The Ridge at Ironwood, Fishers 
This short Par 5 is reachable in two. But beware of buying into the thrill of a big tee shot too early. It can be costly if overlooking the second shot to a narrow, well bunkered green flanked by a tree and OB. Say, who knew there were Latin scholars at Ironwood?
Hole 17 | "Short-Not So Sweet" | 1st on The Central at Fox Prairie, Noblesville 
While benign in total yardage, a creek cuts the fairway halfway out and a hazard right can catch a tee shot. Up ahead, a cluster of thick trees seem out of play until a "thonk" is heard. A bogey or worse can sour golfer's start.
Hole 18 | "Loner" | 18th on The North at Pebble Brook, Noblesville 
The only par 5 on the back nine challenges a tee shot and a right side Lilly pond splashed up against the green makes slicers and faders jumpy as a box of frogs.