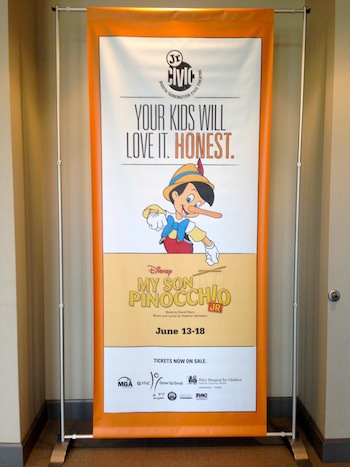 I sat and waited for the rehearsal to begin as a crowd of fairies, dolls, kids, and "parents" chatted and laughed about their day. Nothing seemed out of the ordinary to them, but their bright and colorful costumes captured my attention and made me feel like I was in a different world.
I had the opportunity to watch a rehearsal of the Jr. Civic play "My Son, Pinocchio Jr." which will open this evening at the Booth Tarkington Civic Theatre in Carmel. This charming play is a one-hour production put on by 35 kids ages 7-14 looking to have fun while gaining acting experience.
While watching the musical, I quickly forgot that some of these kids, including one of the main stars that plays Geppetto, were performing for the first time. The youth go through rehearsals that last around 6 to 7 weeks and many take classes and workshops at the theatre to learn more about movement and performance. And let me tell you- they have learned a lot!
Adults and kids alike will love this new twist on the Pinocchio story. The upbeat songs, professional lighting, and enthusiastic characters captured my attention and connected me with the plot that toys with the ideas of parenting and unconditional love.
Some classic songs, including "I've Got No Strings" and "When You Wish Upon a Star," will bring back those happy childhood memories. I also loved the original songs that were included and how many kids got to sing them.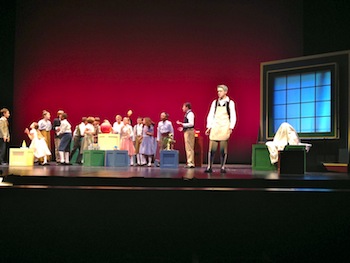 If you have never been to the Civic Theatre, it is a high quality facility located within walking distance of the Carmel City Center that has a great variety of shops and restaurants. There is free parking in the garage attached to the building. On Saturday, the farmer's market is right on it's front porch, so make a great outing by going to the market until 11:30 am, then hangout around Carmel until the play at 2 pm!
The musical runs June 13-18, 2014. Production times include: Friday at 7 pm, Saturday at 2 pm and 5pm, Monday through Wednesday at 10 am and 1 pm.
Tickets are $15 for adults, $10 for students under 18, and $8 for student groups of 10 or more. Proceeds give children from throughout the metro area the chance to participate in a professionally staffed main stage experience.
For group tickets, contact: groups@civictheatre.org or (317) 923-4597.