There is always that one special project to look forward to each school year. At my grade school, our teacher hid artifacts in a pre-mapped area of our schoolyard and called it an archeological dig. And trust me, the dig was a BIG deal in my fourth grade class. For those who don't want to create their own archeological site, Hamilton County has a great alternative Strawtown Koteewi Park in Noblesville. Strawtown Koteewi Park is a hotbed for Native American artifacts dating back to 1200-1400 A.D. Named after the Miami Native American word for "prairie", Koteewi is a 750-acre park that was once home to the Delaware Indians. Today Strawtown Koteewi offers nature trails for hiking, a canoe launch site on the White River and a web of equestrian trails. 
"Participate in an archaeological dig"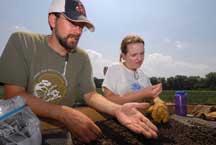 If you're more interested in the history side of the park, visit the Taylor Center of Natural History. The center has a wide-range of Native American artifacts and is open to the public Monday through Thursday, 10 a.m. to 5 p.m., and Sunday 1 to 5 p.m.  This summer, you can join in one of the Archeology in Action field days where you'll have a chance to tour the park's various archaeological sites and view digs in progress. Or, join in a lab day and watch Taylor staff and students from Indiana Purdue University-Ft. Wayne preserving, cleaning, analyzing and cataloging artifacts. Strawtown Koteewi offers a variety of park education programs. For a full list of events, visit their calendar. Strawtown-Koteewi is just one of the unique parks in our 8 Great Towns. What is your favorite park in Hamilton County?