Gut check: How are your New Years resolutions? We're six weeks into 2016 and I'll admit, some of mine hit their stride in week two but I haven't seen hide nor hair of them since.
• Commit to a better fitness routine.
• Reform my eating habits.
• Find some valuable 'me' time.
If these also dot your own list of must-dos in 2016, now is a great time to re-commit to the resolutions. Thankfully there are tons of resources in Hamilton County ready to help.
I resolve to get my fitness in gear.

Here are some "hot" ways to consider:
• Orangetheory Fitness - Exercisers wear monitors during a high-intensity workout designed to keep heart rates 'in the orange,' for maximum calorie burn. Location: 2438 E. 146th Street, Carmel.
• Reforming Indy Pilates Studio - Offers great class options for beginner to advanced students. Bonus: Child care is available at their Fishers location. Locations: 12505 Old Meridian Street, Carmel; 11250 Fall Creek Road, Fishers.
• Yoga Studio - My new fave yoga spot, thanks to the free Saturday series with Lululemon Athletica at the Fashion Mall. Offer oodles of flow options and great hot yoga classes. Location: 736 Hanover Place, Carmel
• Run at your own pace on some of Hamilton County's best trails - The Monon Trail through Carmel and Westfield, Cool Creek Park of Carmel, White River Greenway in Noblesville and Flat Fork Creek Park in Fishers are on my must-run list.
I resolve to eat healthier at home and on the go.
• Vitality Bowls - A superfood café featuring smoothies, protein bowls and more packed with vitamins and organic or local produce. Location: 110 W. Main Street, Carmel.
• divvy - Enjoy a dining experience to be shared with the small plates concept. The extensive menu offers plenty of healthy options. Location: 71 West City Center Drive, Carmel.
• Pure Eatery - Soups, dressings and more made from scratch, a healthy children's menu, and oh that delish hummus. Location: 8211 E. 116th Street, Fishers.

I resolve to carve out a little more 'me' time.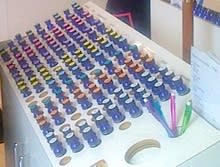 • Bath Junkie - A favorite spot to pop in for custom-blend bath and body products. Select your own scents and take home that day. Location: 741 Hanover Place, Carmel.
• Chateau Bijou Salon & Spa - Bless this luxurious spot where all treatments are performed in a castle-like setting. Feature manicures, pedicures, facials, haircuts and more. Location: 802 Mulberry Street, Noblesville.
• Noble Coffee & Tea - Snuggle up with that book on your 2016 list or catch up on correspondence while enjoying an espresso. Location: 933 Logan Street, Noblesville.