I love music - country, pop, classic, new- just music. I especially love really great live shows where everyone is up from their seat, dancing and singing along. Summer in Hamilton County, Indiana ushers in festivals and farm markets, trails and park visits - but best of all, out door concerts. For me, there is nothing better on a warm summer night than throwing down a blanket in the grass and listening as the sounds fill the air. This summer offers another great year in music, from local favorites to the big names in today's tunes. 
Family Friendly Concerts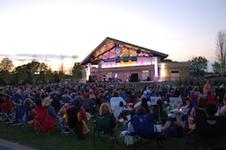 Almost any night of the week, you can pack a picnic and a lawn chair and enjoy a concert happening in a local city.
On Tuesday nights, guests of all ages are invited to visit the Nickel Plate Amphitheatre in Fishers.
Each Wednesday take your families to Carmel for the annual, free concerts at the Carmel gazebo.
Spend your Thursday evenings with the Noblesville - where local parks in the city will offer free music from fun bands.
On the first and third Fridays of the month, Noblesville Main Street will present free music on the historic Noblesville Square.
Also on Fridays, The second Friday of June, July and August will be home to the Saxony Summer Concert Series.
Visit the Carmel Arts & Design District for the popular Jazz on the Monon concert series many Saturdays this summer.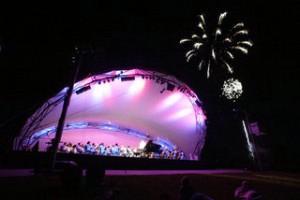 Family-Friendly or Date Night Out
For the 34th year, one of my favorite summer events, the Symphony on the Prairie is back to Conner Prairie! Rent a table or relax in the lawn, and listen to great music. For an additional fee, experience the 1859 Balloon Voyage as it travels 350 feet into the air. For more information or to purchase concert tickets, click here.
Date Night Music
One of the best outdoor venues in the country, Klipsch Music Center, is located in the county seat of Noblesville. Whether you score a ticket under the canopy, or secure a spot in the lawn under the stars, Klipsch is able to accommodate more than 24,000 fans. Showcasing the sounds from the big names in all genres, summer in Hamilton County just isn't the same without a visit to this incredible spot. For a full line up of the shows, visit the Klipsch Music Center page.

Still want to hear great music, but want to stay indoors? For a truly unique musical night out, visit the Palladium, a state-of-the-art, acoustically perfect concert hall. This summer, the Palladium is presenting music from Chris Botti, Esperanza Spalding, and Harry Connick Jr. - but that is just naming a few of the great acts coming to the Carmel hall. To buy tickets or take a peak at the rest of the shows, visit The Center for the Performing Arts page.
Check out the online calendar more information on live music, and all the other fun summer events, in Hamilton County, Indiana.